Minor, Braves can't solve Wainwright in finale
Cards' ace has two of 11 hits off lefty; Atlanta held to Freeman's RBI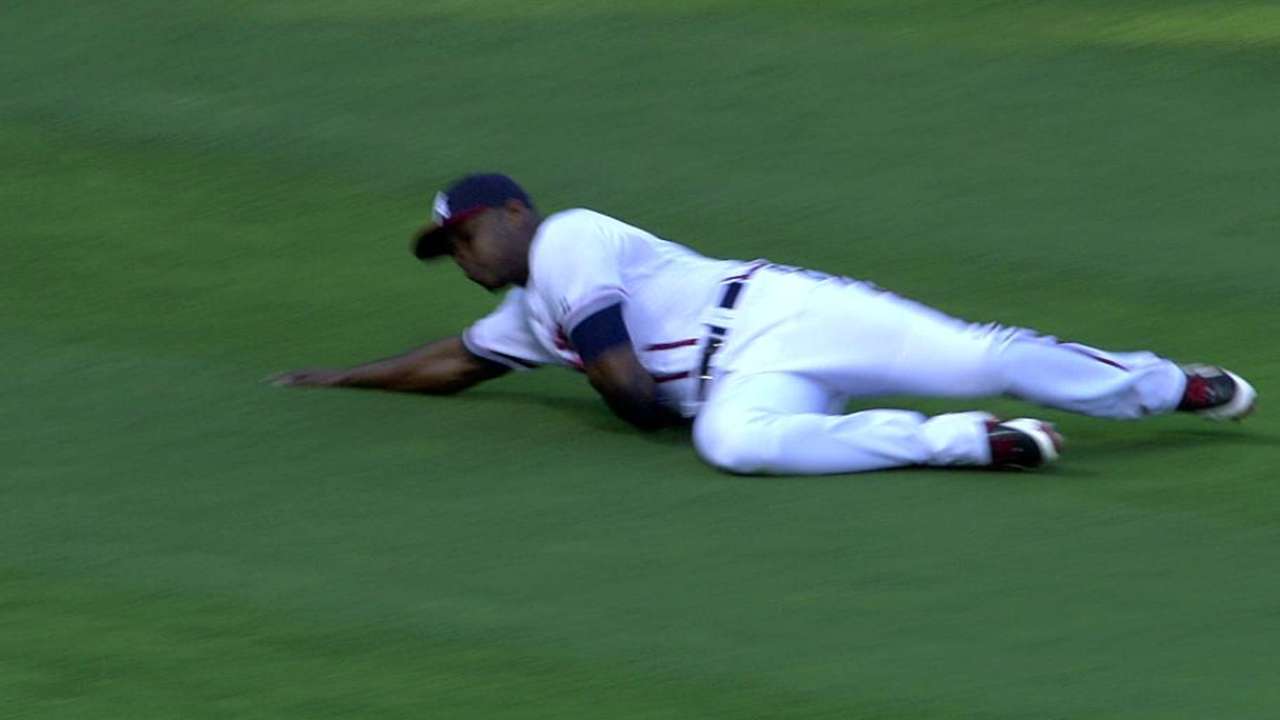 ATLANTA -- The Braves knew Adam Wainwright was not the optimal guy to face in the midst of their recent offensive woes. But they didn't necessarily expect their former top prospect to also add injury to insult by becoming the latest pitcher to record a pair of hits against Mike Minor.
Instead of extending the momentum they had created by snapping a seven-game losing streak on Tuesday night, the Braves spent Wednesday evening being frustrated by Wainwright, who used his arm and bat to help the Cardinals cruise to a 7-1 victory.
"Yeah, it's tough," Braves third baseman Chris Johnson said. "We got a little bit of momentum going last night and then you run into a brick wall in [Wainwright]. He's tough. He's real good. And he grinds out there, too."
Wainwright experienced little trouble as he surrendered one run over eight innings against the Braves, who have scored fewer than two runs in six of their past 10 games. The Cardinals' ace also contributed a pair of hits -- a single and a double -- that helped create an early cushion.
By the time Justin Upton and Freddie Freeman bruised Wainwright with consecutive opposite-field doubles in the third inning, the Cards had done all of their necessary damage against Minor, who allowed six earned runs and matched a career high with the 11 hits surrendered in 4 1/3 innings. This marked the sixth time in 33 games that an Atlanta starter allowed more than two earned runs.
Making just his second start of the season, Minor got three of the first five hitters he faced to look at a called third strike. But as he continued to rely too heavily on his two-seam fastball, he did not prove to be nearly as efficient as he had been when two solo home runs served as his only damage in last Friday's season debut against the Giants.
"I'm not worried about it," Minor said. "I have one good start and one bad start. I think there will be a lot of people who speculate, 'What's the move now? Minor had a bad start.' Well, it's my second start up here, and my first one, I thought was pretty good, other than the home runs."
At some point within the next week, the Braves will likely need to find a rotation spot for Gavin Floyd, who impressed during Tuesday's season debut. While Minor will not be the odd man out, he knows he will have to end a troublesome trend that was extended when Peter Bourjos gave Wainwright an early lead with a two-out solo home run in the second inning.
Bourjos' solo shot began his three-hit night and served as the 10th home run Minor has allowed over his past eight starts. Even more maddening for the Braves southpaw is the fact that a pitcher has recorded two hits against him in three of his past six starts.
Wainwright, who has batted .400 (8-for-20) this season, began the third inning with a double that helped position him to score on Matt Holliday's RBI single. The veteran pitcher also delivered a two-out single that gave the Cardinals a chance to score three runs in the third courtesy of the run-producing singles notched by Matt Carpenter and Holliday.
Each of the 11 hits surrendered by Minor came within a span of 19 batters.
"It was only his second start coming out of his Spring Training," manager Fredi Gonzalez said. "So we'll work on that. His secondary pitches weren't as good as we've seen them before."
Minor's assessment differed in the fact that he felt he should have thrown his secondary pitches more frequently. As the command of his two-seam fastball wavered during the third and fourth innings, he was damaged by bad location and what he perceived as some bad luck once he watched video of his start.
"I got a lot of looking strikeouts on the two-seamer in," Minor said. "I think we just kept going to it and going to it. Then, later in the game, when I would try to go fastball away, I'd leave it more middle, and the changeup the same thing, it was more middle. So those pitches were either off and taken or they were hit hard."
Since being acquired by the Cardinals in the trade that brought J.D. Drew to Atlanta for the 2004 season, Wainwright has allowed two earned runs or fewer in six of 10 career starts vs. Atlanta. The Brunswick, Ga., native seems to pitch with a little more adrenaline every time he gets to face the Braves, a team he admired long before he became a part of the organization as a first-round selection in 2000.
"There is something to that," Cardinals manager Mike Matheny said. "Not that they just gave up on him. They had a good move in mind of what they wanted to do. But you don't forget that. You head into your first pro team and you think that's the place you're going to be for your entire life, especially when it's your hometown team."
Upton's first-inning double accounted for the first of the four that Wainwright surrendered through the first four innings. But the Braves, who have hit .137 with runners in scoring position over the past 11 games, were only able to dent the scoreboard with the consecutive doubles Upton and Freeman hit in the third inning.
"It's never easy pitching against a team like that," Wainwright said. "I had several pretty big jams early on that ended up probably being key to our win. Getting out of those early jams and only allowing one run instead of crooked numbers was huge."
Mark Bowman is a reporter for MLB.com. This story was not subject to the approval of Major League Baseball or its clubs.