Wainwright burns Braves, joins six-win club
Ace goes eight strong, collects two hits; Bourjos' tater sparks support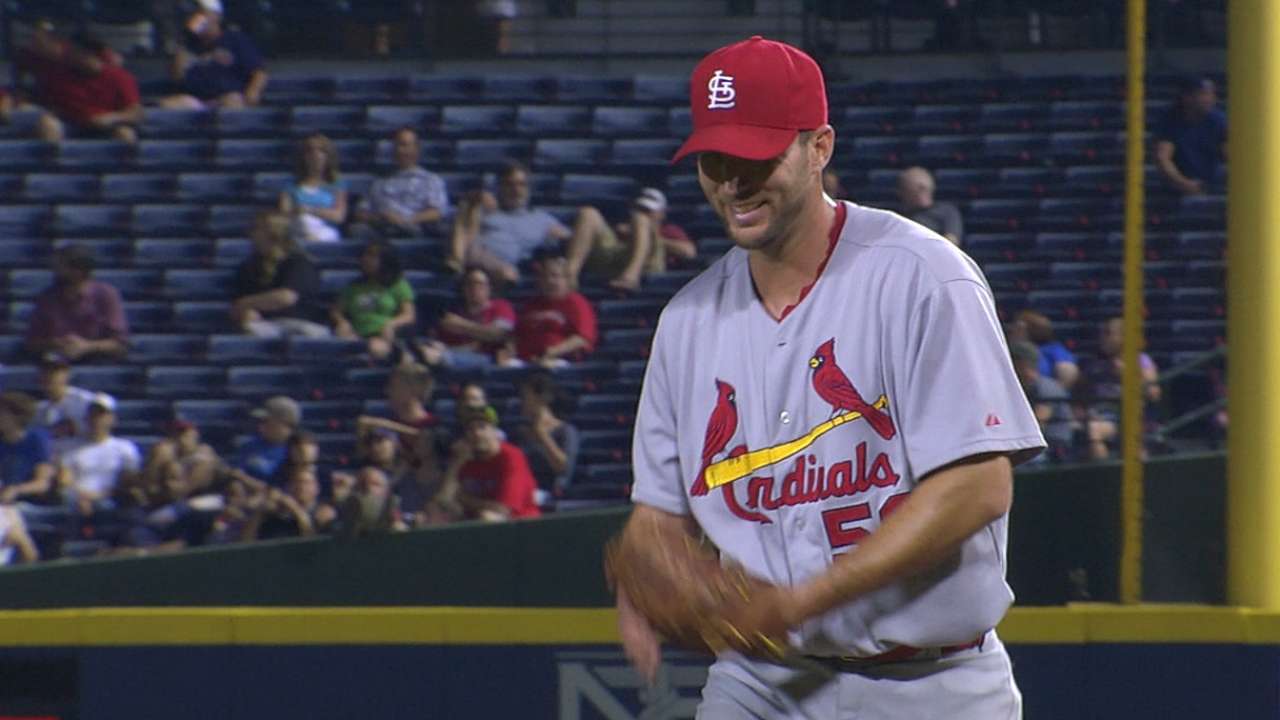 ATLANTA -- Adam Wainwright has not let the Braves forget their loss from a deal made more than a decade ago. The Cardinals' ace has started 10 times against the hometown team that shipped him away as a prospect, and he's tallied a quality start in all but one of those outings.
On Wednesday, he reminded Atlanta that it gave up a pretty good hitter, too.
Helping his own cause with a pair of hits and runs scored, Wainwright pitched the Cardinals back on track with a 7-1 victory in front of 21,796 at Turner Field.
"Typical Waino," manager Mike Matheny said afterward. "We need something, he delivers."
Help actually came from all over, as Peter Bourjos, Matt Holliday and Matt Carpenter each produced three-hit games on a night when the Cardinals reached the 13-hit mark for the fifth time this year. The team scored four of its runs with two outs and went 5-for-12 with runners in scoring position.
The offense was unrelenting, too, scoring in five separate innings and chasing Atlanta starter Mike Minor out of the game with one out in the fifth.
"I wish we didn't have an off-day tomorrow because of how well we swung the bats today," Bourjos said. "It would be nice to keep this rolling."
Bourjos had fingerprints all over both of the Cardinals' wins in this three-game series, and the contributions, Matheny said after the game, have likely earned the center fielder at least a temporary stay in the lineup. Bourjos had started only one of the team's previous 10 games.
A start Friday against lefty Francisco Liriano is likely. Bourjos hopes for a longer leash, too, in order to maintain some of the momentum created with a five-hit series.
"Coming in the last few days when I hadn't been playing, I just wanted an opportunity to go out and take advantage of it," he said. "I think when you go eight, nine days without getting a start, it's tough. When you get to start two games in three days, it obviously helps out a lot. You get a lot more comfortable in the batter's box and a lot better rhythm and timing."
On Wednesday, Bourjos jumpstarted the offense with a first-pitch homer in the second inning.
"That was a big spark for us," Matheny said, "and sometimes that's what a pitcher like Wainwright needs to realize that we're going to do something offensively."
Wainwright didn't need much more.
Coming off his shortest outing of the season, Wainwright returned to form against a Braves team that fell to 2-8 against its former farmhand. The right-hander spent the time between Friday's substandard start at Wrigley Field and his Georgia homecoming reviewing tape, from which he pinpointed problems with his delivery.
He righted those with relative ease as he became the National League's first six-game winner with Wednesday's eight-inning gem.
"We got a little bit of momentum going last night, and then you run into a brick wall in that guy," said Atlanta's Chris Johnson. "It's like every single time you go up there, he throws you something different and then in a different spot and it's uncomfortable."
The Braves mustered five extra-base hits -- including back-to-back doubles by Justin Upton and Freddie Freeman in the third -- but Wainwright did well to minimize other damage.
Freeman's RBI hit was all that marred Wainwright's third start of at least eight innings this season. He exited with a six-run lead.
"It's never easy pitching against a team like that," Wainwright said. "I had several pretty big jams early on that ended up probably being key to our win. Getting out of those early jams and only allowing one run instead of crooked numbers was huge."
So too was the offensive production from a pitcher whose stated preseason goal was to win his first Silver Slugger Award.
After Bourjos matched the Cardinals' production from one night earlier with one swing, Wainwright sparked a third-inning scoring opportunity with a leadoff double. He'd later score on a double play.
A three-run fourth would then give the Cardinals a cushion that they have mostly lacked with a slow-starting offense. After a one-out single by Bourjos, the Cardinals saw four consecutive hitters reach with two out. That included Wainwright, whose single was his eighth hit in 20 at-bats this season. No pitcher in the Majors has more.
"I know my second hit was one that kept the inning going," Wainwright said. "That was a big point in the game."
It was made bigger when Carpenter followed with an RBI single and Holliday with a two-run single. Bourjos' RBI single in the fifth was the final run scored off Minor, who was unable to finish five innings in what was his second start since coming off the disabled list.
"When we score three runs, we know that we have a pretty good chance with [Wainwright] on the mound," said Carpenter, who went 6-for-11 in the series after starting his career 1-for-12 at Turner Field. "Then when we were able to extend the lead we had like we did, we knew we were in a good spot."
Carpenter and Holliday teamed up again to push home a ninth-inning run and punctuate the pair's three-hit nights. The three-RBI night for Holliday bumped his team-best total to 22.
With the bookend victories during their visit, the Cardinals travel north to Pittsburgh with a road-trip record of 3-3 and a season record back above the .500 mark. They've also pulled to within four games of first-place Milwaukee, the tightest the top of the NL Central has been since April 23.
"We had the timely hits today, guys with two outs driving them in, doing the little things," Matheny said. "I saw good defense today. It was more of a well-rounded game. That's what we have been looking for."
Jenifer Langosch is a reporter for MLB.com. Read her blog, By Gosh, It's Langosch, and follow her on Twitter @LangoschMLB. This story was not subject to the approval of Major League Baseball or its clubs.