Eighth-inning rally lifts Red Sox back to .500
Middlebrooks rips go-ahead RBI; Pierzynski hits game-tying double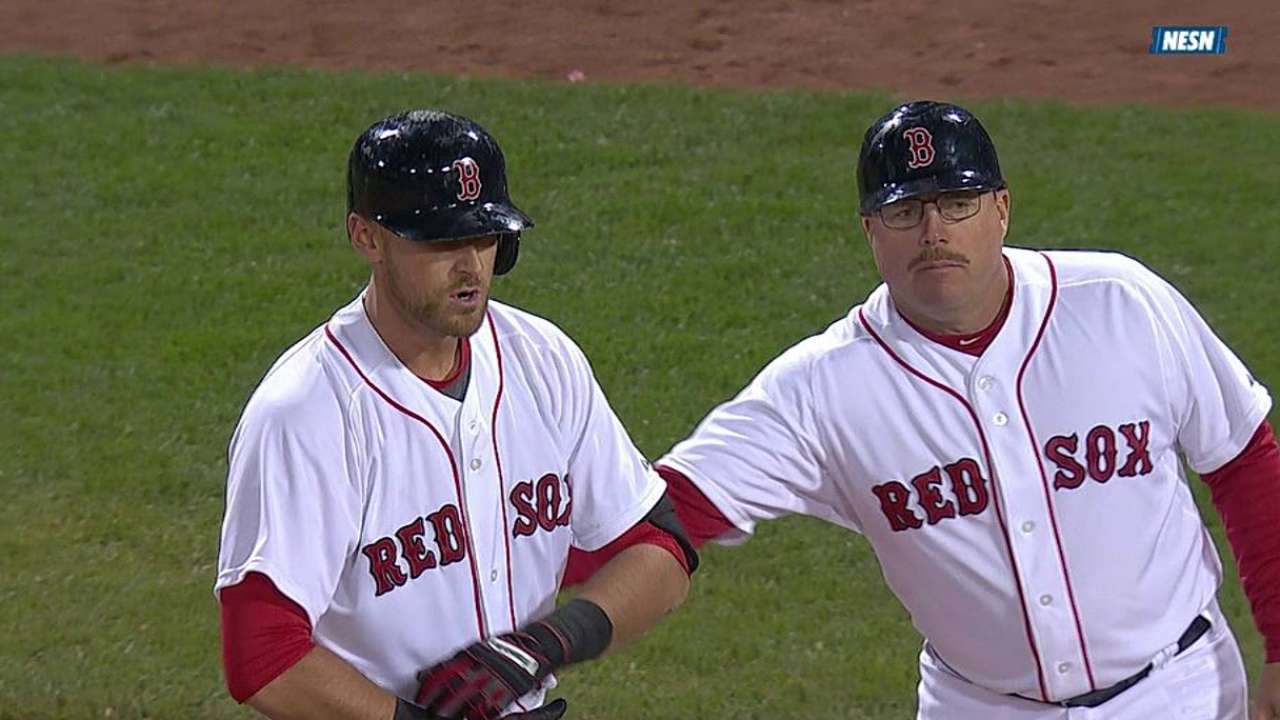 BOSTON -- For a team that won it all last year and thinks it has the talent to do so again, the quest to get back to .500 was becoming a little tedious. Eight times the Red Sox had a chance to break even, and eight times they lost.
But on Wednesday night, backed by a couple of big hits in the late innings, it finally happened.
Will Middlebrooks snapped a tie by ripping an RBI single up the middle with one out in the eighth, leading the Red Sox to a 4-3 victory.
"I didn't think it would take until May 7 to do it, but we're back to par and ready to go down to Texas," said manager John Farrell.
This is the first time Boston (17-17) has been at .500 since April 4.
It got to the point where the veterans on the team couldn't help but poke fun at the absurdity of it taking so long just to get back to even.
"Don't be afraid to get to .500," A.J. Pierzynski good-naturedly said to his teammates after Tuesday's walk-off win.
Fittingly, it was Pierzynski who looped a game-tying, ground-rule double down the line in right.
"Burke Badenhop came up to me before the game today and was like, 'Don't' be afraid to do something today.'" Pierzynski said.
And once Pierzynski did his job, Reds manager Bryan Price called for an intentional walk of Jackie Bradley Jr., hoping Middlebrooks would hit into an inning-ending double play.
No such luck.
The third baseman worked the count and belted a 3-2 fastball out of the reach of shortstop Zack Cozart and into center.
Middlebrooks came to the plate with a .200 average and had been 4-for-26 on the homestand.
"Yeah, I've been frustrated, but regardless of if you're 10-for-10 or 0-for-10, whatever, you're happy to contribute to a win in any way possible. I'm just glad to get that run in," Middlebrooks said.
Koji Uehara came on in the ninth for the save, his eighth of the season. He did it in dominant fashion, striking out the side.
Despite his 1.23 ERA, Uehara doesn't feel like he's close to the form he displayed last season.
"I didn't feel that I was sharp at all," Uehara said of Wednesday's save. "Mechanics-wise, I don't think I'm quite there. My split, I don't think I was satisfied how it was acting at all."
Jake Peavy started for Boston and had it going for most of the night. The righty went six-plus innings, allowing four hits and three runs. He walked four and struck out four.
"Yeah, I'm happy that we won. I wanted to pitch deep in the game and tried a little something new, moving on the rubber," Peavy said. "Great team win, and I'm excited that we climbed back to .500 going into an off-day."
Peavy's one mishap came in the top of the second, when Chris Heisey drilled a leadoff double off the Green Monster and Skip Schumaker launched a two-run homer to right.
Though it was just a 2-0 lead, Reds starter Mike Leake did a nice job preserving it, holding the Red Sox to four singles over the first five innings.
In the sixth, the Boston bats livened. Jonathan Herrera, making a spot start at short in place of Xander Bogaerts, led off with a single. With one out, Shane Victorino laced a single off the Monster, putting runners at the corners. David Ortiz hammered a single into the corner in right, bringing home Victorino. Mike Napoli gave the Red Sox their first extra-base hit of the night, unloading an RBI double into the corner in right that tied the game.
It didn't stay tied for long. Todd Frazier led off the sixth with a double and moved to third on a single by Brayan Pena. Ryan Ludwick walked to load the bases on Peavy's 97th and final pitch.
Chris Capuano came on and Roger Bernadina hit a fielder's choice grounder to put Cincinnati ahead, 3-2.
The game would take its final momentum swing in the bottom of the eighth.
And now the Red Sox hope they are finally ready to get hot. If they win Friday night in Texas, it would mark their first three-game winning streak of the season.
"Everybody is making a big deal out of that, but what are we, 17-and-17? How many games do we have left? There's a lot of baseball left," Middlebrooks said. "We're taking it day by day and we'll be just fine."
Ian Browne is a reporter for MLB.com. Read his blog, Brownie Points, and follow him on Twitter @IanMBrowne. This story was not subject to the approval of Major League Baseball or its clubs.