Leake's strong effort not enough at Fenway
Schumaker homers; Reds exit Boston with another one-run loss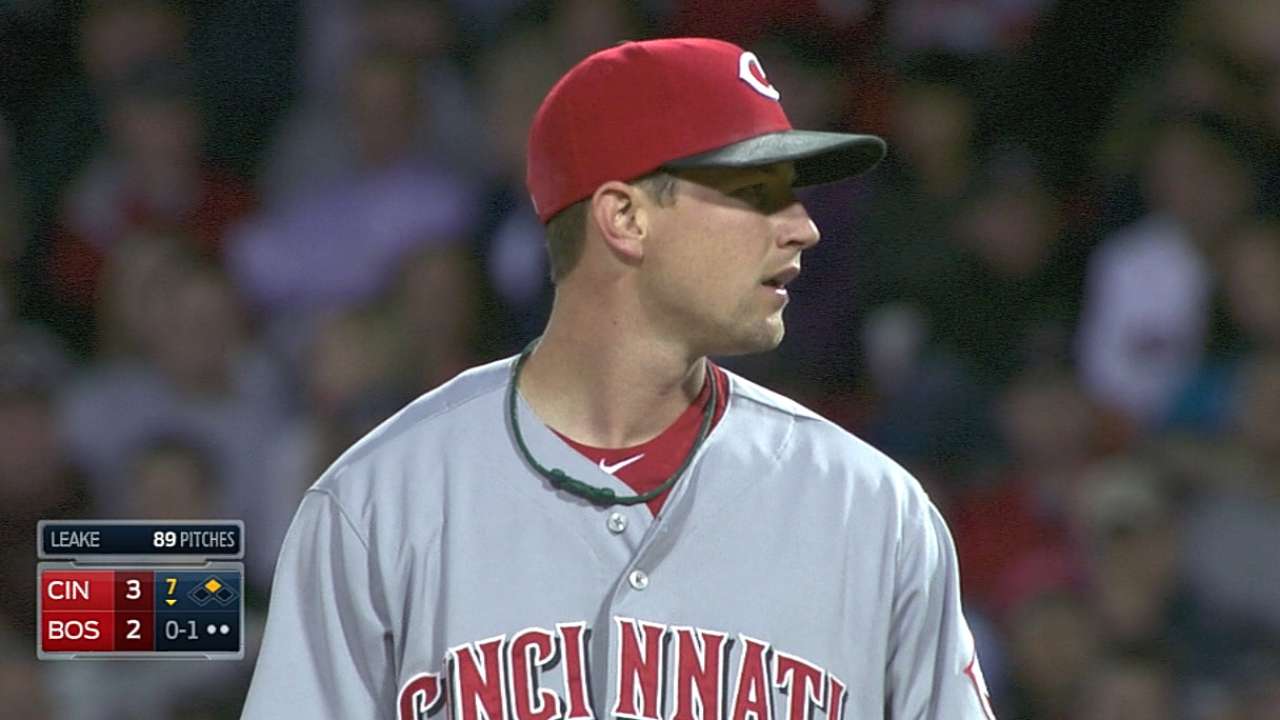 BOSTON -- One-run games have become a quagmire this season for the Reds, and two main reasons are keeping them stuck in the muck.
The bullpen isn't holding leads and the lineup isn't building on them. It was a recipe for another late-inning gut punch Wednesday night as the Reds were 4-3 losers to the Red Sox, leaving the brief two-game series at Fenway Park with a pair of one-run defeats. That extended their Major League lead to 11 one-run defeats in 16 such outcomes.
"This is a second-guesser's delight and I understand that," said Reds manager Bryan Price, whose team fell to 15-18 overall.
Cincinnati took a 3-2 lead in the seventh inning on a Roger Bernadina RBI groundout. But a chance for a bigger lead was missed, considering Bernadina batted with the bases loaded and no outs. By the bottom of the eighth, the bullpen was unable to hold the too-narrow lead.
Manny Parra walked Mike Napoli with one out and was replaced by J.J. Hoover, who retired none of the four batters he faced. Hoover, who struggled mightily last month but showed improvement in recent appearances, first walked pinch-hitter Jonny Gomes on four pitches. A.J. Pierzynski lofted a soft ground-rule double near the right-field line that scored Napoli.
Following an intentional walk, the go-ahead run scored when Hoover gave up Will Middlebrooks' hard-grounded RBI single into left field past shortstop Zack Cozart. Sean Marshall entered and struck out two batters to end the inning.
"I can't walk that guy," said Hoover, who is now 1-4 with a 9.31 ERA in 12 appearances. "I've got to be more consistent with my fastball when I'm coming into a game. I've got to get ahead of the guys and at least give myself a chance. Walks are killing me. I've got to make that adjustment, pronto."
Cincinnati's bullpen is 2-9 with a 4.52 ERA that is ranked 14th out of 15 National League clubs. It has six blown saves out of 11 tries, but the Reds have been without All-Star closer Aroldis Chapman all season. Chapman, who was struck in the face by a line drive March 19, is with Triple-A Louisville finishing up a Minor League rehab assignment.
Price explained why he went with the struggling Hoover in the situation.
"We knew we didn't have [Sam] LeCure," Price said. "My concern, really, was if they have a runner on and a chance to win the game, I didn't want Gomes or [Xander] Bogaerts hitting off of a left-hander in that situation. So when Gomes came in, I knew if we didn't get a double play that Hoover was going to have to face Pierzynski and I was OK with that. Hoover's numbers have historically been even better against left-handed hitting. And he's been throwing the ball great the last three or four or five times.
"This is our group. I have faith in them. They're not going to get any better if they don't pitch. I have to keep giving them that opportunity to pitch in those games."
Reds starter Mike Leake's chance for a win was voided, but he turned in a sixth straight solid start. Leake completed seven innings and allowed two runs and eight hits with two walks (one intentional) and four strikeouts.
Following two first-inning hits with one out, Leake got Napoli to bounce into an inning-ending double play. He then proceeded to retire the next 13 of 15 -- including a second double play from Middlebrooks to end the fifth inning.
"Leake was outstanding for the time that he was in there," Red Sox manager John Farrell said.
Skip Schumaker delivered his first home run as a Red with a two-run shot to right field on a first pitch from Jake Peavy to make it a 2-0 game in the third inning. Peavy, who is 6-0 in 11 starts lifetime vs. the Reds, settled in though and retired 10 of his next 11.
Boston came alive in the sixth with four rocketed base hits. David Ortiz's lined single to right field scored Jonathan Herrera and next was Napoli, who redeemed himself for the earlier double play with an opposite-field RBI double that scored Shane Victorino to make it a 2-2 game. Leake escaped a bases-loaded jam as eight batters came to the plate.
"This isn't a lineup you want to face the third time around," Leake said. "They made an adjustment and luckily I was able to get out of there with a tied game."
Peavy began the seventh without retiring a batter as Todd Frazier doubled off of the Green Monster, Brayan Pena singled and Ryan Ludwick walked to load the bases with no outs. Lefty Chris Capuano took over and got Bernadina to ground out to second base as Frazier scored the go-ahead run. Righty Burke Badenhop entered and the inning fizzled with the infield playing in. Chris Heisey grounded to third base and Pena was thrown out at home on the fielder's choice. Cozart squibbed a ball in front of the plate to end the inning.
"I had a chance to pad the lead and I didn't come through," Heisey said. "It's tough to feel like you have the game and let it slip away."
With the injury-riddled Reds offense leaving little margin for error, leads might keep slipping through their hands.
"We've won some one-run games [five], but when we create separation, the onus is on the other team to really go out there and battle and find ways to score," Price said. "We play a lot of low-scoring, one-run games. We need to create more separation. We're battling and we'll be whole soon but until then, we've got to be able to find ways to create some distance between ourselves and our opponent or it's going to be like this. It will come down to making every single play over the course of those last three innings in order to win a game, and that's not how a baseball season is supposed to be every day."
Mark Sheldon is a reporter for MLB.com. Read his blog, Mark My Word, and follow him on Twitter @m_sheldon. This story was not subject to the approval of Major League Baseball or its clubs.