Peacock's solid effort not enough to end Astros' skid
Springer's near homer-robbing snag looms large in fifth straight loss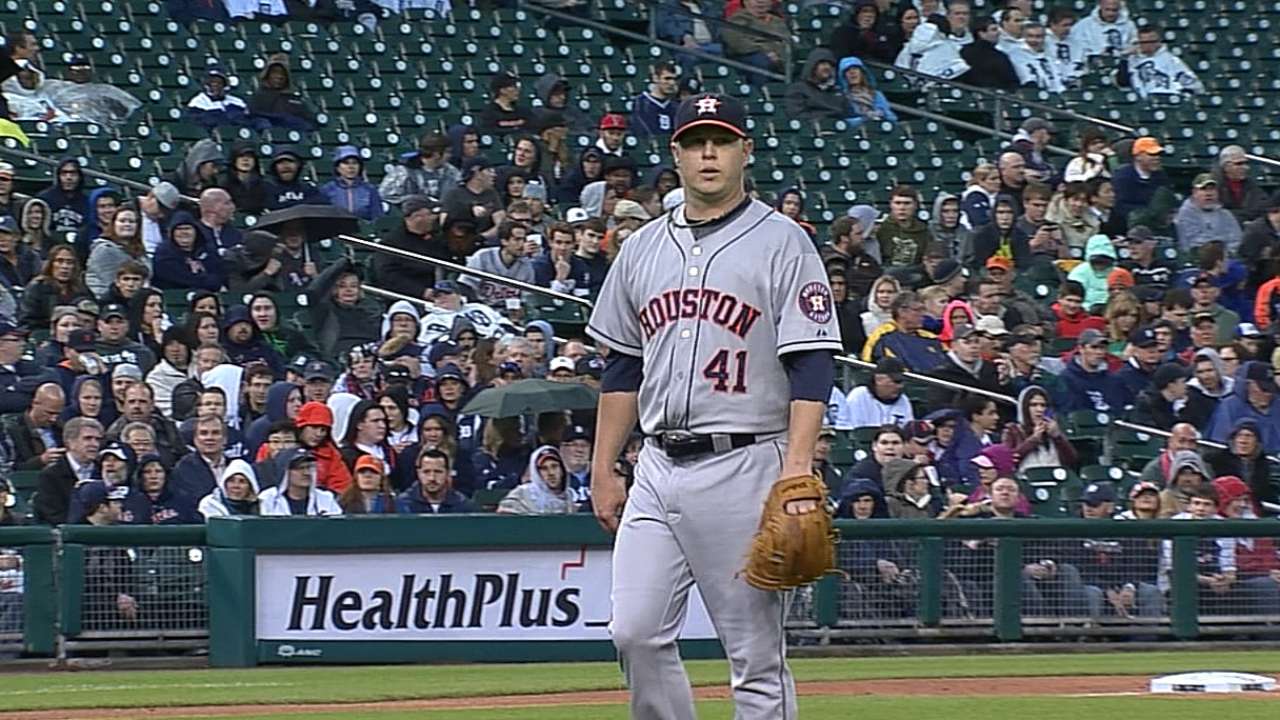 DETROIT -- High-flying rookie George Springer had no way of knowing it at the time, but when he jumped into the air and reached his glove over the right-field wall in the first inning Wednesday, the Astros' fortunes were at stake.
Springer, easily the most athletic player on the team, nearly made an outstanding catch on what turned out to be a two-run home run by Miguel Cabrera, a blast that put the Tigers in the lead and sent them on their way to a 3-2 victory over the Astros at Comerica Park.
"I was close to it," said Springer, noting that the ball went off the tip of his glove. "I probably got an inch below it."
The Tigers made the homers by Cabrera in the first and Victor Martinez in the sixth -- both coming off starter Brad Peacock -- stand up to win for the eighth time in a row. The Astros, meanwhile, have lost five straight games and seven of eight.
Houston managed to put the tying run at third base with two outs in the ninth when pinch-runner Jonathan Villar stole second and third base, but Tigers closer Joe Nathan struck out Matt Dominguez swinging to end the game. That was the Astros' 10th strikeout.
For only the third time this year, the Astros lost a game when they outhit an opponent (7-5). They managed seven hits, but the top five hitters in the order went 2-for-20. Jose Altuve, Chris Carter and Alex Presley each went 0-for-4.
"Offense is a team game," Astros manager Bo Porter said. "It's guys getting on base, and once they're on base, it's guys getting timely hits. Obviously, we're not swinging the bat as well as we were swinging them before we left home. Part of it has to do with the quality of pitching, and some of it has to do with us expanding our strike zone and missing pitches that are good pitches to hit and just not putting quality swings on them when we do get good pitches."
Regarding Carter, who struck out twice, Porter said he missed some hittable pitches. The designated hitter is 4-for-30 with nine strikeouts in the Astros' last eight games.
"Chris Carter had a spurt where he really swung the bat well and he's in one of those down turns right now, but we're going to continue to give him opportunities," Porter said. "We understand the power he possesses and what he did for this team last year -- hitting 29 home runs and leading the team in RBIs."
Still, Porter maintained faith the offense will come around. The Astros had 33 hits in the three games against Seattle prior to the Tigers series, but they have just 19 in the first three games in the Motor City.
"I completely believe we're going to break out of it," he said. "I've said this many times -- it's about getting a quality pitch and not missing your pitch. At the Major League level, you get a good pitch to hit, the odds are you're going to get one, and if you're lucky you may get two in a given at-bat. You don't want to find yourself missing the one or two pitches that you get to hit, and now you're working on hitting the pitcher's pitch."
Peacock, making his third start since joining the rotation, held the Tigers to four hits and three runs in 6 2/3 innings. Since joining the rotation April 20, Peacock (0-3) has allowed 14 hits and eight earned runs in 16 2/3 innings.
Considering ace Scott Feldman will come off the disabled list Friday to start in Baltimore, Peacock is among the guys pitching to stay in the rotation. He certainly helped his chances.
"I think all these guys that are taking their turn, they all realize we have six guys who are starting games right now and we only have a five-man rotation, so someone is going to have to come out," Porter said. "Peacock did a tremendous job tonight."
Martinez's homer, which gave the Tigers a 3-1 lead, came on an 0-2 pitch. Peacock threw the first two pitches down in the zone and was trying to get the slugger to chase something up.
"I don't even know how Victor Martinez hit that pitch," Porter said.
Lamented Peacock: "I threw two changeups down and was trying to get him to chase one up. He chased it, and he connected with it, also."
Tigers manager Brad Ausmus, the long-time Astros catcher, said you can't set up Martinez, who is hitting .378 during his 10-game hitting streak.
"He's just too good at getting the barrel to the ball," Ausmus said. "I don't think he's necessarily looking for pitches. He just loves to bat and he gets the barrel right to where he thinks the ball's going to be. I don't think it matters what pitch you throw. He's generally going to find a way to do it."
Springer extended his hitting streak to seven games with a fourth-inning single. He's hitting .310 (9-for-29) during that stretch, but it was the difficult play that he nearly made in the first inning that was dominating his thoughts.
"Obviously hindsight is 20-20, but if I was able to maybe stick my foot in the wall and jump, I might have gotten to it," Springer said. "I thought at the time that was my only play, get to the wall and jump, and I almost got there. But almost doesn't count."
Brian McTaggart is a reporter for MLB.com and writes an MLBlog, Tag's Lines. Follow @brianmctaggart on Twitter. This story was not subject to the approval of Major League Baseball or its clubs.