LaRoche slowed on field by strained quad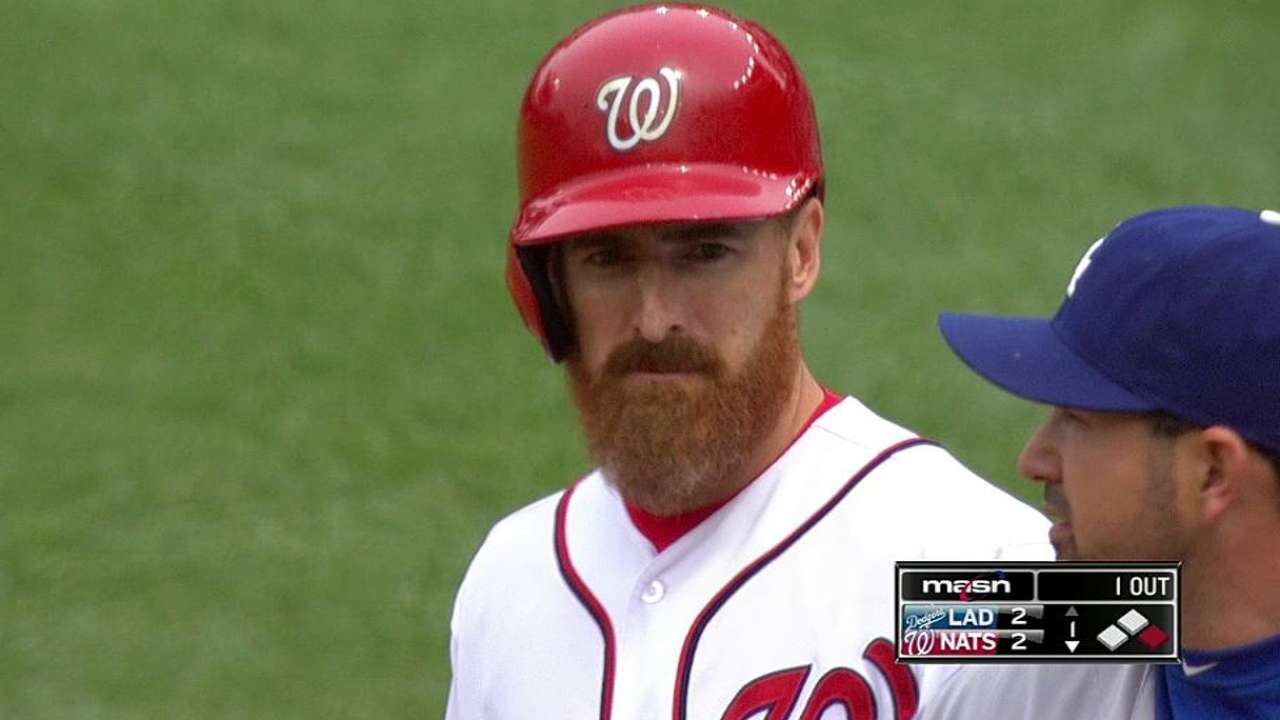 WASHINGTON -- Adam LaRoche continues to hit, but his strained right quadriceps -- an issue over the past couple of weeks -- continues to hinder him in other areas of the game. That was clear in Wednesday's 3-2 win over the Dodgers, as the Nationals first baseman went 1-for-3 with a walk and two RBIs but appeared limited on the bases and in the field.
Manager Matt Williams suggested that the muscle has been "gradually getting better," but LaRoche indicated that progress has not been steady.
"We're treating it, doing everything we can," said LaRoche, who isn't sure how the injury originally occurred. "It feels better one day, then kind of back to the way it felt at the beginning. So just keep nursing it and hope I can pull through it without going on the DL."
In the top of the first inning, the Dodgers' Adrian Gonzalez hit a ground ball to LaRoche's right. It's a play the former Gold Glove Award winner thought he should have made, but he seemed to move slowly after it, and the ball bounced into right field for an RBI single.
"That's another frustrating part," LaRoche said. "It obviously hinders me on the bases, but it's tough to move defensively, too. I don't have the range I normally would."
In the bottom of the inning, LaRoche crushed a shot that nearly went for a home run but bounced off the top of the wall down the right-field line and stayed in play. LaRoche barely rounded first base and wound up with a 335-foot single. He then jogged to third on Wilson Ramos' double into the left-center gap, where he was stranded.
Williams said that had LaRoche reached base again in the eighth inning, he would have come out for a pinch-runner. He left Tuesday's loss for a pinch-hitter in the eighth, with the Dodgers comfortably ahead.
With the Nats starting a three-game series at Oakland on Friday, LaRoche could see some time at designated hitter. However, he's not sure if only hitting would help the situation or cause him to stiffen up more than if he were playing the field. The only thing for certain right now is that LaRoche wants to remain in the lineup.
"He wants to play," Williams said. "I asked him to let me know if he's feeling too much of it, and we'll get him out of there, regardless of whether it's a day off completely or after the first inning."
Andrew Simon is a reporter for MLB.com. Follow him on Twitter @AndrewSimonMLB. This story was not subject to the approval of Major League Baseball or its clubs.