Rough start dooms Halos, Santiago in series finale
Yankees put up five runs in first; pair of errors key in inning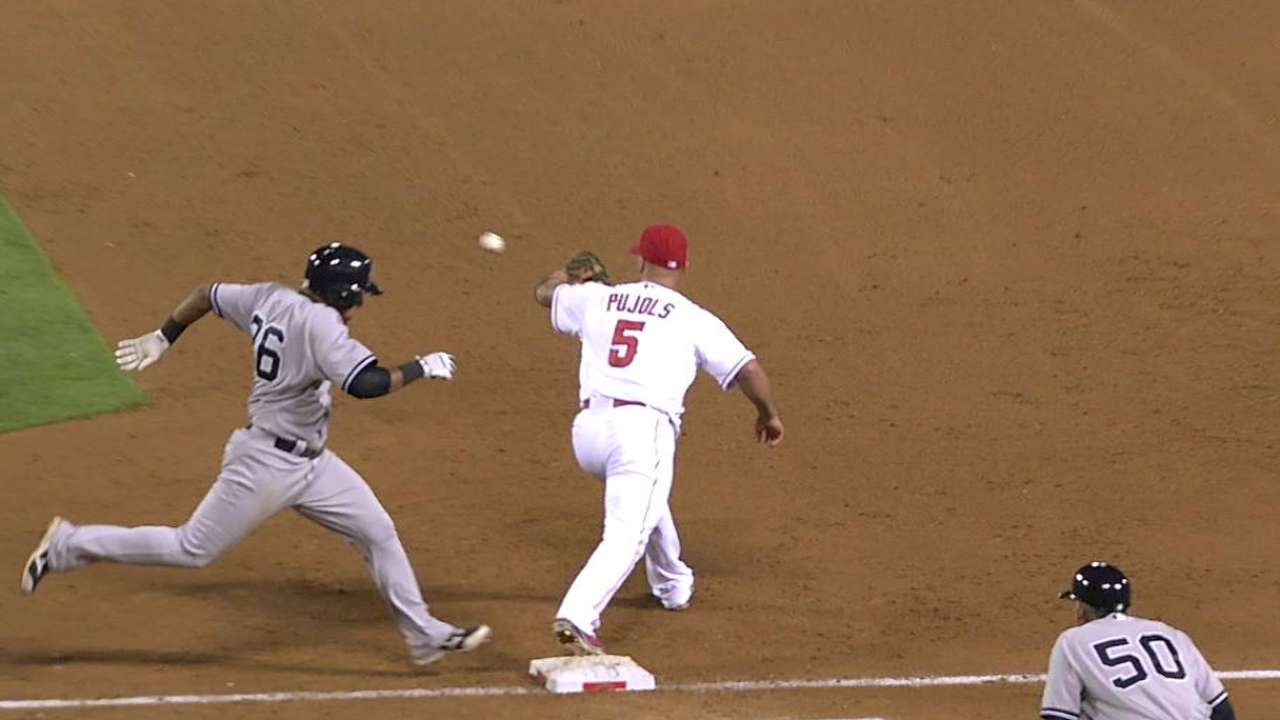 ANAHEIM -- Hector Santiago couldn't wait to get out of there.
There was one out in the third, six Yankees runs had already come across, and Santiago -- on the verge of falling to 0-6, with an ERA of 5.19 through the first seven starts of his Angels career -- saw Mike Scioscia fling his right arm in the air, signaling toward the bullpen and ending yet another one of his starts too early.
So Santiago darted toward the dugout, before Scioscia could even get to the mound to take the ball away from his starting pitcher.
"That's almost childish right there, walking off on him," Santiago said after a 9-2 loss at Angel Stadium on Wednesday night. "I apologized to him probably four times. I know I messed up. It had nothing to do with him. I wasn't mad at him. I know he's doing his job. It's nothing against him. I put a lot on myself right there. As soon as I saw that right arm go up, I knew I was out of it, and I was already kind of in a tough spot."
The top of the first included two walks, a wild pitch, a dropped fly ball, two potential injuries and five Yankees runs. The second inning saw Derek Jeter hit his first home run in his final regular-season game at Angel Stadium. The eighth witnessed three additional Yankees runs, with Nick Maronde -- optioned to Triple-A Salt Lake after the game -- loading the bases before Cory Rasmus gave up a two-run single and a sac fly.
And all throughout the night, a shorthanded Angels offense -- without Josh Hamilton, Kole Calhoun or David Freese -- never got close to catching up as Vidal Nuno dropped his ERA from 6.87 to 5.47 with 6 1/3 innings of one-run ball.
The Angels are now 0-7 when Santiago starts, and 16-10 when everybody else does.
"I don't know what my ERA is, but 0-6, it [stinks]," Santiago said. "You try to give your team as many wins as you can. Right now, it's like I'm not even giving us a chance to win."
Santiago gave up a leadoff walk to Jacoby Ellsbury, then watched as Mike Trout and Collin Cowgill nearly collided while dropping Jeter's fly ball, putting runners on the corners with none out to start the game. Cowgill was charged with an error.
"Mike went a long way for it," Scioscia said, "but it was an obvious miscommunication."
The next batter, Carlos Beltran, walked to load the bases. The hitter that followed, Mark Teixeira, laced a two-run double down the left-field line, giving the Yankees (18-15) a 2-0 lead four batters into the game.
With two outs, after Yangervis Solarte's sacrifice fly made it a 3-0 game, Santiago fielded a slow roller from Brett Gardner, spun quickly and made an off-line throw to first base, rolling his right ankle while also tweaking Albert Pujols' left arm as it collided with Gardner at first base.
Pujols stayed in until the game got out of hand, and Santiago said he was fine, physically.
"Besides the ankle thing, I felt pretty good," Santiago said. "I felt like I was under control, wasn't trying to overthrow. I was making decent pitches."
Santiago believes he mainly needs to work on "staying within myself a little bit more" when situations get difficult, because his stuff "is good enough that I don't need to make anything better." The 26-year-old left-hander wears his emotions on his sleeves and takes the mound with a lot of energy, but sometimes that can work against him.
"There's definitely some validity to that," Scioscia said. "Hector is trying to slow some things down. He's really aggressive and competitive, but you have to understand what you're trying to do out there, and sometimes you're not just going to run through that brick wall. You may have to take a little finesse and see the door that's two feet to the left. Hector needs to exhale a little bit and try to put together pitches better, execute pitches better.
"There's no questioning his talent and his arm. It's a live arm, and he can do some things with the baseball. He's just not able to do that right now. When he's out of that rhythm or things start to get a little hot, he has to find a way to make pitches to get out of it, and not just try to throw the ball as hard as he can."
With two outs in the second, Santiago threw Jeter an 0-1 cutter and the Yankees' shortstop -- cheered loudly every time he stepped to the plate in this series -- launched it just over the fence in left-center field to end a 161-at-bat homerless drought and give the Yankees a 6-0 lead.
"It's good to get one," Jeter said. "You'd at least like to get one. But I'm not catching Babe Ruth or anything."
Four batters later, after a Solarte single up the middle put runners on first and second with one out in the third, Santiago was done -- having thrown only 58 pitches, and having failed to complete six innings for the fifth time already.
He saw Scioscia's right hand go up, and felt disgusted.
"I knew I was out of the game, and it just felt like the longest walk ever," Santiago said. "I think after I passed him the ball and went past him, I was like, 'Did I really walk off that far?'
"When you go out there for two innings and they're expecting six, seven out of you, that's tough. Especially for me. It's disappointing for me to be out there for two innings and have to come out of the game."
Alden Gonzalez is a reporter for MLB.com. Read his blog, Gonzo and "The Show", and follow him on Twitter @Alden_Gonzalez. This story was not subject to the approval of Major League Baseball or its clubs.