McGee throwing gas earlier than expected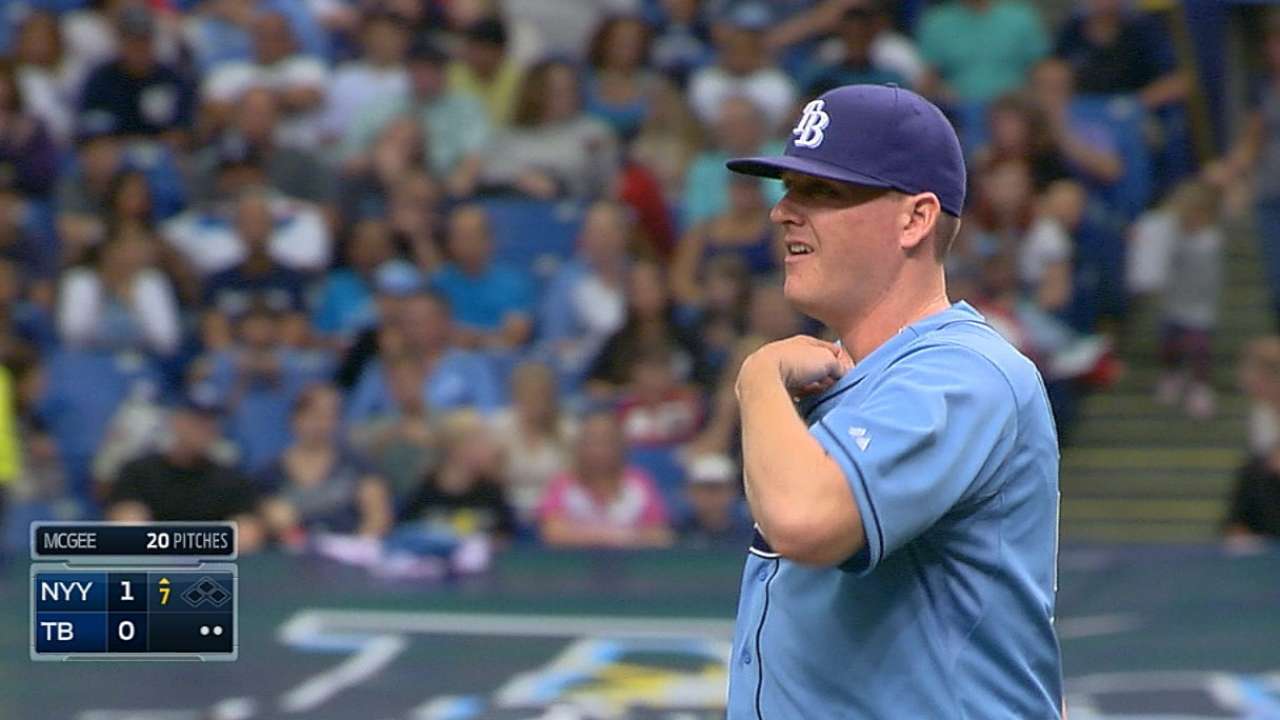 ST. PETERSBURG -- Jake McGee has been pumping three-figure fastballs through the strike zone, which is no surprise to Rays fans since the left-hander has always thrown hard. What's surprising is that he has been hitting 100 mph this early in the season.
Normally McGee bites off a little more of the season before he's blistering the strike zone with his fastball.
"Yeah. I've been a little surprised," said McGee when asked about numbers his fastball has been registering thus far. "I was most surprised in Spring Training, because I'm usually like 91, 94 most of spring, then the last week I get my velocity.
"But earlier this spring, I was already throwing hard. So it's kind of nice to see that and maintain that each game. Even the low is 94 or 95, that's fine with me."
McGee noted that he didn't consciously try to get faster this season.
"No, I just wanted to be stronger every outing," McGee said. "I just don't want to go back to the outing where I'm 97 and the next day I'm 91 and 93. I just want to maintain my consistency with my velocity."
McGee did allow that he focused his offseason workouts on his legs.
"I did more leg workouts," McGee said. "I did [the workouts] a few times a week. Focused on more weight for the legs. And gained strength in the area and balance, too."
Joe Maddon has his own theory about McGee reaching the velocity he's at so early in the season. The Rays manager called it his "weird analyzation of this."
McGee "stopped trying to throw a slider and a cutter and went back to the more conventional curveball," Maddon said. "And I think part of the reason the arm strength came back is because he's not trying to manipulate the ball in a way that he's not used to."
Maddon noted that he's seen a lot of young pitchers adopt a cutter when they don't need one and it takes away velocity from their fastball.
"The fact [McGee has] gone back to more of how he grew up type of pitching," Maddon said. "It probably took some stress off his arm in a way that his fastball is more electric right now."
So, given the fact that McGee has reached a high of 100.7 mph this season -- this early -- how high can his velocity reach this summer?
"How do you say Chapman's first name, Aroldis, Aroldis Chapman," said Maddon mentioning Cincinnati's hard-throwing lefty before adding: "I'm happy with [McGee's] 96 to 98 located."
Bill Chastain is a reporter for MLB.com. This story was not subject to the approval of Major League Baseball or its clubs.