White Sox willing to take risks with defensive shifts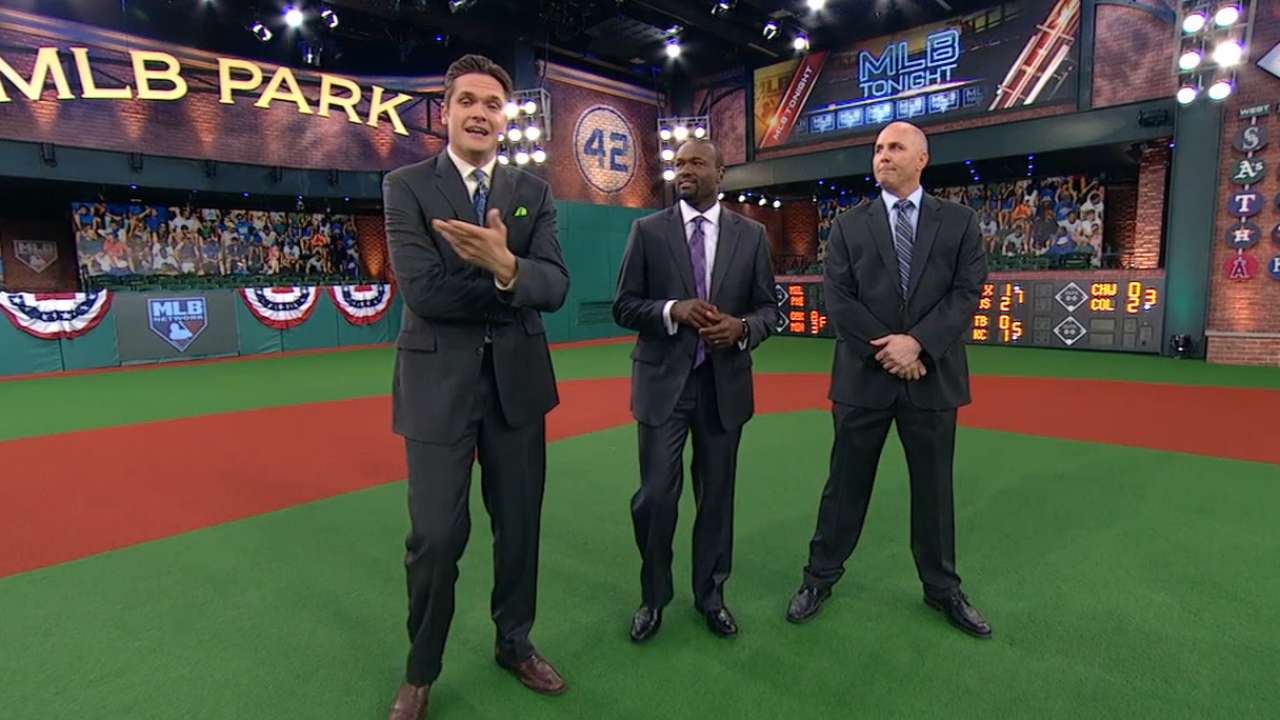 CHICAGO -- The White Sox frustrated Cubs first baseman Anthony Rizzo through the first two games of the four-game home-and-home series, and not just with stellar pitching.
Rizzo does have two of the Cubs' eight hits, but he also had two singles taken away by second baseman Gordon Beckham because of the White Sox defensive shift. That shift features three infielders between first and second, with Beckham in short right, and third baseman Marcus Semien playing shortstop.
It's a shift the White Sox haven't employed exclusively against the Cubs and Rizzo. Over the weekend in Cleveland, the White Sox did the same against Carlos Santana, Jason Giambi and Nick Swisher hitting from the left side and Ryan Raburn and Yan Gomes hitting from the right side.
"There's so much information out there now to where, you know, I have the information where every ground ball they hit from the beginning of last year until the present day when we go into a series," said White Sox third-base coach Joe McEwing, who also works with the team's infield defense. "So, with all the information that's out there, and the way we are pitching certain guys, we are going to be pretty aggressive on it."
"I think it's the new fad actually," said White Sox designated hitter Adam Dunn, the victim of many shifts. "You can theoretically, if you looked at everybody's charts, pretty much you could probably shift just about everybody."
Dunn pointed out that the shifts are only noticed when you check-swing a grounder down the third-base line, which he has done, to beat the shift or when the shift takes away hits. He pointed to the first inning from Friday's contest against Cleveland, when his grounder up the middle targeted for center field turned into a routine double play because of the shift and the positioning of shortstop Asdrubal Cabrera.
McEwing added the White Sox play Semien in at shortstop to guard against a bunt from someone such as Rizzo, but if he drops it down the third-base line, there's no counter. Rizzo beat the shift with both hits against the White Sox, but it still can be a source of aggravation for opposing hitters.
"You see guys try to alter their swing to go against it and they end up down in the count because they are trying to do something they are not used to doing," McEwing said. "It benefits us for guys to try to get out of their comfort zone.
"We would rather take the percentages of a guy hitting a ground ball there than going outside of it. Sure, you are going to get beat with it once in a while. But we just have to be patient with it and ride out the percentages of it, and I think overall it has benefited us to a large degree."
Scott Merkin is a reporter for MLB.com. Read his blog, Merk's Works, and follow him on Twitter @scottmerkin. This story was not subject to the approval of Major League Baseball or its clubs.