Bourn could return to lineup on Thursday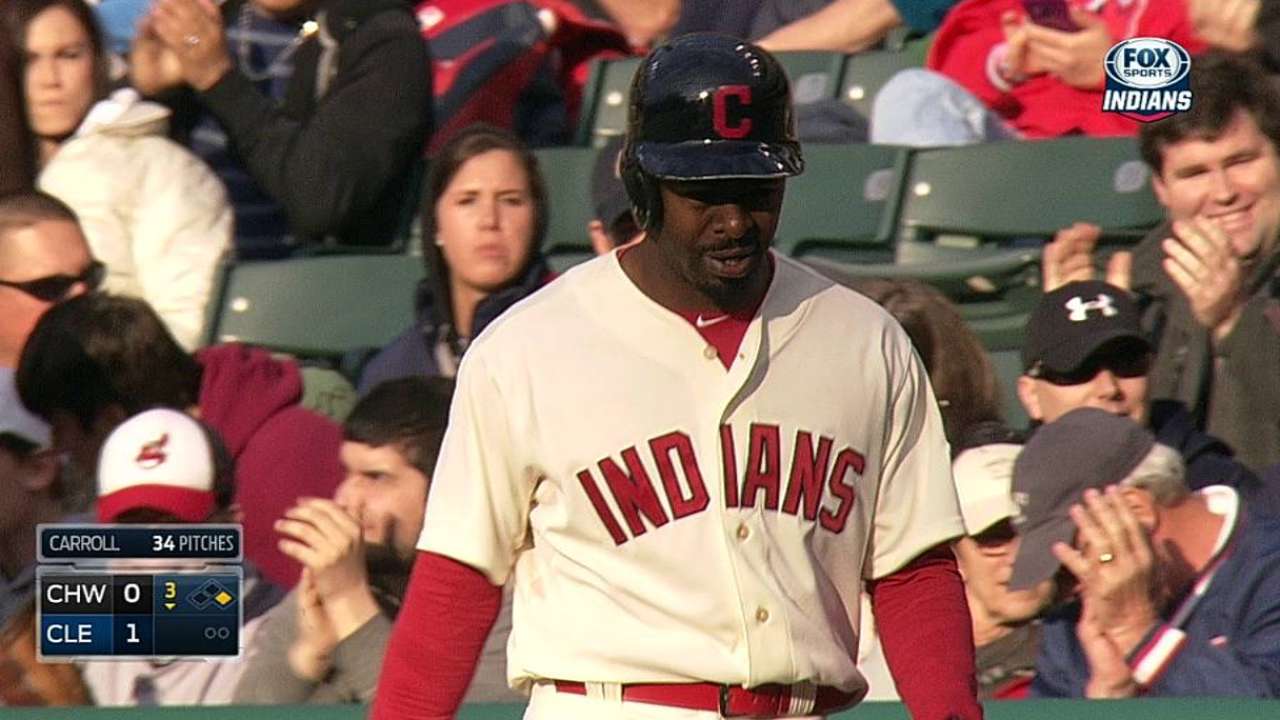 CLEVELAND -- Michael Bourn finished a baserunning workout at Progressive Field prior to Wednesday's game against the Twins and the center fielder gave Indians bench coach Brad Mills a fist bump as he headed back to the clubhouse.
Bourn was pleased with the session, which was aimed at giving his left hamstring one more test before Cleveland cleared him to return to game action. Bourn passed and the center fielder might be ready to rejoin the lineup as early as Thursday's 12:05 p.m. ET tilt against Minnesota.
"Bourny thinks he's ready to play tomorrow," Indians manager Terry Francona said Wednesday. "That's kind of encouraging, because it's a noon game. I think we were thinking maybe Friday at the latest, but Bourny thinks he's ready to go. That's good."
Bourn exited Saturday's game with tightness in the hamstring, which is the same one that required a trip to the disabled list to open the season after he strained it during Spring Training. It is also the same hamstring that Bourn had surgically repaired on Oct. 15, after he tore it while trying to stealing a base in Cleveland's final regular season game.
Needless to say, the Indians plan on using caution with Bourn's latest return. Beginning Friday, the Indians will embark on a six-game, seven-day road trip with games on artificial turf at Tampa Bay and Toronto. Bourn might be out of the lineup Saturday with Rays left-hander Erik Bedard on the mound and Cleveland has a scheduled off-day Monday.
"I think we'd always use common sense," Francona said. "Some of that's going to be determined by how he feels. The one thing, we are going on turf. I think the lefty is the middle day in Tampa, so that seems like it's an easy one. And then we have a day off when we go to Toronto. It should be OK."
When Bourn injured the hamstring during the spring, the center fielder said he lost some strength in his leg. With the latest issue, he indicated that strength has not been a problem. That has led both Bourn and the Indians' medical team to believe the current setback was a case of scar tissue breaking up in the hamstring.
"I'm going to go out there and try to play," Bourn said. "They think it's ready and I think it's ready. When you first get out there, of course you're a little careful with it, because you don't want to hurt it again. At the same time, you've got to be aggressive, because it's part of playing the game.
"Hopefully this is the end of it. If it's not, I'm going to keep pushing until it is the end of it."
Jordan Bastian is a reporter for MLB.com. Read his blog, Major League Bastian, and follow him on Twitter @MLBastian. This story was not subject to the approval of Major League Baseball or its clubs.