Schoop, Jones power Orioles to series victory
Center fielder launches two homers to help back solid Norris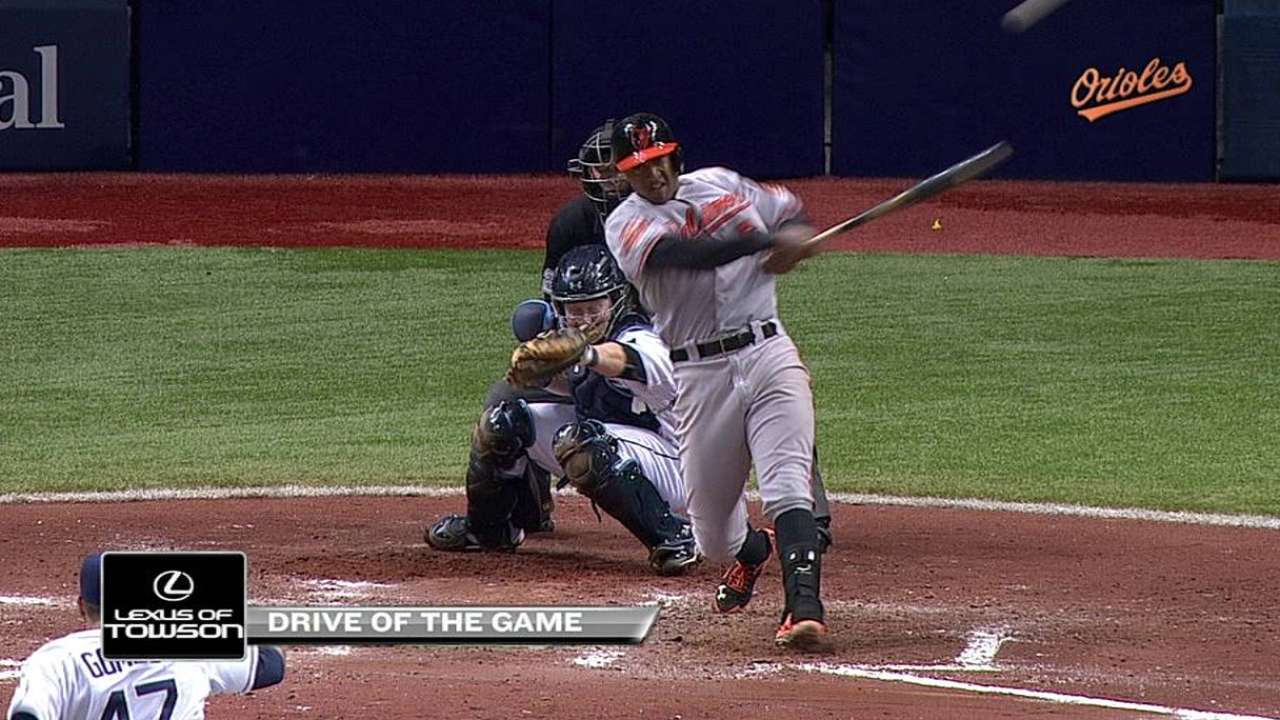 ST. PETERSBURG -- Through the offensive ups and downs typical of a rookie season, Orioles manager Buck Showalter has been steadfast that Jonathan Schoop's defense will be what keeps him penciling the second baseman in the starting lineup.
And with a starting nine Wednesday night missing two of the team's top hitters -- Chris Davis and Matt Wieters -- Schoop not only rewarded his manager's trust, but continued to give Baltimore a glimpse of the future. The 22-year-old crushed Rays reliever Brandon Gomes' 0-2 pitch for a decisive two-run, seventh-inning homer that granted the Orioles a 4-3 series-clinching victory.
"You can't protect these guys forever, you are going to have to throw them in the fire," center fielder Adam Jones, who homered twice, said of Schoop getting an opportunity in a big spot. "And we're in the East, it's always a fire. So, if he's going to be in there playing every day if Showalter has the confidence in him, he has to have the confidence in himself. And go out there no matter what and have good at-bats and put the ball in play, hit the ball hard. The kid is talented. It's fun to see his progression over the first month."
The win keeps the O's with at least a share of first place in the American League East as the previously power-starved O's ensured that a quality night their pitching staff wouldn't go to waste as they picked up their 10th road win in 16 games.
But it wouldn't be easy.
Closer Tommy Hunter, who stranded the bases loaded in Tuesday's win, got into another jam that led to an RBI single from Ryan Hanigan to bring the Rays within a run. Hunter got American League Player of the Week Desmond Jennings on a liner back to the mound to strand runners on the corners and secure his 10th save in 11 tries.
"You'd like to mix one [clean inning] in every once in a while," said Hunter, who has two clean save opportunities, both under an inning, on the season. "It's getting a little ridiculous, but we're winning ballgames. That's the bottom line. J.J. [Hardy] just said it good in there. He said, 'Hey, man you did your job.' You'd like for it to go a little smoother. ... I try not to make this stuff very exciting, but I'm going to try to do it better."
While Hunter provided late-game theatrics, Schoop, who was in a 2-for-17 stretch, seized the limelight in an impressive piece of hitting. Gomes, on for his second inning, allowed a two-out single to Steve Pearce before getting ahead of Schoop, 0-2. The second baseman, who made a pair of stellar defensive plays as well, turned on an inside fastball for a line-drive shot, his third of the year, into the seats to give the O's a lead they wouldn't relinquish.
"Jonathan, his contact to damage ratio is always good," Showalter said. "He's a strong young man that's growing into his body and he's always a pitch away from doing something good for you."
"I was just trying to see the ball up and put one in play," Schoop said of his approach against Gomes. "The guy put a fastball in and [I] just reacted and I put the ball out."
Jones provided the rest of the O's offense, proving to be a thorn in Rays starter Cesar Ramos' side in driving in both runs off the lefty. The Orioles' cleanup hitter, Jones entered the game with one homer on the season and doubled his total in ambushing Ramos' first pitch of the second inning.
"We like him," Showalter said of Jones' aggressive nature. "I like him the way he is. The guy hit 30 home runs and drove in 100 and almost hit .300. I like it. He plays Gold Glove defense. If you want a bunch of robots, it would be boring. I love his personality, I love what he brings. Every day he's slashing. He's not going down without a fight and he kind of epitomizes a lot of things that we hope to be about. You're going to like the finished product."
Jones repeated the leadoff homer in his next at-bat in the fourth inning, pushing the O's lead to two and giving him 17 RBIs on the season in the process. It marked the first multi-homer game for Jones since July 26, 2013 against Boston.
"Felt good to get the ball out of the infield," Jones said. "It's a process, you got to stay after it. You got to keep swinging. Eventually, I was going to do something."
Added Rays manager Joe Maddon: "You look at the replays, they were almost identical pitches. One I think was a fastball and the other a changeup, but both were in the same spot. It's unusual."
What's not unusual is another shutdown inning from lefty Zach Britton, who navigated through the eighth to lower his ERA to 0.89, before handing the ball off to Hunter. Britton was preceded by righty Ryan Webb, who came on after Brian Matusz faced one batter in relief of starter Bud Norris.
Norris allowed the leadoff man on in four consecutive innings before David DeJesus opened the fifth with a solo homer to cut Tampa Bay's deficit to one. The righty got into some two-out trouble the following frame, hitting James Loney with a pitch and allowing an infield single to Wil Myers to end his night.
Matusz, who has stranded a baseball-best 55 of 60 inherited runners dating back to 2012, gave up a bloop single to pinch-hitter Sean Rodriguez and Jones' errant throw home got past rookie catcher Caleb Joseph -- in his big league debut -- to tie the game at 2. Showalter brought on Webb, who recorded the next four outs.
"You are obviously trying to get the first guy out, but some tough at-bats and some walks," Norris said. "Obviously, I'm frustrated, but I know I can get some double play balls during the game. You can't let it phase you too much, you got to get the next guy out too."
"Obviously, you want to get through the sixth and pitch deeper in the game, but we won tonight and that's the number one priority."
Brittany Ghiroli is a reporter for MLB.com. Read her blog, Britt's Bird Watch, and follow her on Facebook and Twitter @britt_ghiroli. This story was not subject to the approval of Major League Baseball or its clubs.