Arenado leads Rockies to another lopsided win
Third baseman goes 3-for-5, extends hitting streak to 27 games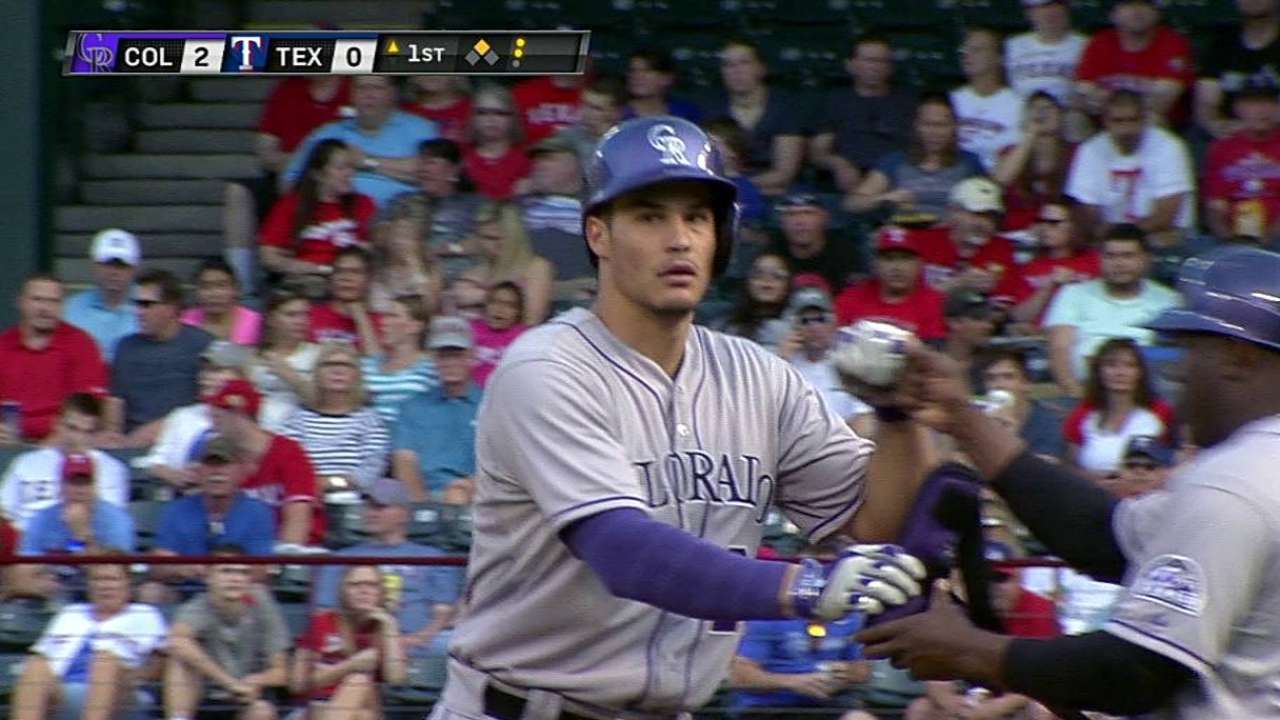 ARLINGTON -- Coors Field, Globe Life Park, maybe even Yellowstone, it doesn't seem to matter to the Rockies right now.
After two lopsided victories in Denver, the Rockies put up 12 hits in 3 2/3 innings against Rangers starter Colby Lewis -- 16 overall -- en route to a 9-2 victory at Globe Life Park on Wednesday night in front of 29,467.
"It won't last for six months so we have to ride this wave while it's going good," Rockies manager Walt Weiss said.
Nolan Arenado extended his hit streak to a club-record-tying 27 games on a 3-for-5 night with two doubles. Arenado matched injured teammate Michael Cuddyer's club-record hit streak with a two-run double off Lewis in the first inning.
"I'm just trying to hit the ball hard -- I'm going to be saying that until the year is over, and every year," said Arenado, who at 23 seems to have a lot of years saying the same. His streak is the longest for a player 23 or younger since Albert Pujols went for 30 straight games at 23 in 2003.
"It's always nice to have an opportunity to do things with people on base. I guess it puts a little pressure on the pitcher, too, when you've got people on base."
Carlos Gonzalez homered and doubled while running his hit streak to nine games -- .400 (16-for-40) with seven doubles and three home runs. Troy Tulowitzki singled and had an RBI, and went to bed with a .414 batting average.
Oh, there's more. Leadoff man Charlie Blackmon added two hits to finish the night at .359. And Drew Stubbs, who not much more than a week ago was having a hard time getting on the field, had two hits and pushed his average to .323.
The Rockies (22-14) won their third straight, their sixth in their last seven and their 16th in the last 22 and are tied with the Giants atop the National League West.
In three straight victories over the Rangers, the Rockies have a combined 29 runs for 50 hits, including 17 doubles, five homers (Gonzalez's Wednesday night was his seventh of the year) and a triple by DJ LeMahieu (3-for-3) on Wednesday.
"I've never seen anything like it," Stubbs said. "There's no telling how long it's going to last, but it's one of those deals where you try to ride it out as long as you can."
The final game of four straight between the clubs is Thursday night. It's safe to say the Rangers will be happy.
"We're a really good team, too," Gonzalez said. "We've been feeling it since they showed up in Denver. We get a lot of hits, a lot of runs. Our pitchers are holding them. They have a really good offense, too, but they haven't done anything the whole series. Everything is going well for us now. It's always fun to play that way."
The game was essentially over when the Rockies ignited against Lewis (2-2) for five runs, including Gonzalez's solo shot and sacrifice flies by Corey Dickerson and Tulowitzki.
"They're swinging the bats well," Lewis said. "I got beat. That's all there is to that."
Gonzalez said the home run he hit off Lewis was "absolutely a bomb" but the changeup was "a good pitch." Lewis was ready to move on after it was over.
Rangers manager Ron Washington said, "Everything Colby threw up in the strike zone, they hit and they hit hard."
Rockies left-hander Jorge De La Rosa (4-3) turned in his fifth straight solid start -- two runs on three hits with four strikeouts against three walks in six innings.
Since beginning the year 0-2 with 9.69 ERA in three starts and losing his fourth start in a solid outing (six innings, three runs, two earned), De La Rosa has won four straight. It's the fourth streak of wins in at least four straight starts in his career.
"I never lost my confidence, especially with the way my arm feels," said De La Rosa, who believes his arm is at full strength nearly three years after Tommy John surgery. "I knew everything was coming. The first four outings, I think, were real tough for me. But I'm here now."
De La Rosa didn't give up a baserunner until Michael Choice's one-out single in the fourth, which was followed by Adrian Beltre's second homer of the season to dead center. Beltre became the fifth player in Major League history to hit 100 home runs with three different teams. Darrell Evans, Reggie Jackson, Alex Rodriguez and Jim Thome are the others.
The Rangers had their chance in the sixth when De La Rosa issued all three of his walks. But Donnie Murphy grounded to Arenado at third to end the threat and De La Rosa's night. Arlington native Chris Martin, who at one time was working in a warehouse about 10 miles from Globe Life Park when he thought a shoulder surgery had ended his career, Nick Masset, Boone Logan and LaTroy Hawkins received work that they hope will make them sharp for a close game.
The pitching underscored an unsung fact in the Rockies' dominance of the Rangers. Yes, the games all have been played in hitters' parks in Denver and Arlington and the Rockies have taken advantage. But the Rangers have managed just five runs in the three games.
"That's a dangerous lineup over there -- it can erupt at any time," Weiss said. "The fact that we've played well against them, we've played good defense this entire series, that's what it's going to take over the long haul."
Thomas Harding is a reporter for MLB.com. Read his blog, Hardball in the Rockies, and follow him on Twitter @harding_at_mlb. This story was not subject to the approval of Major League Baseball or its clubs.