Smoak, teammates delivering in RISP situations
First baseman also coming through with two-out hits, late-inning knocks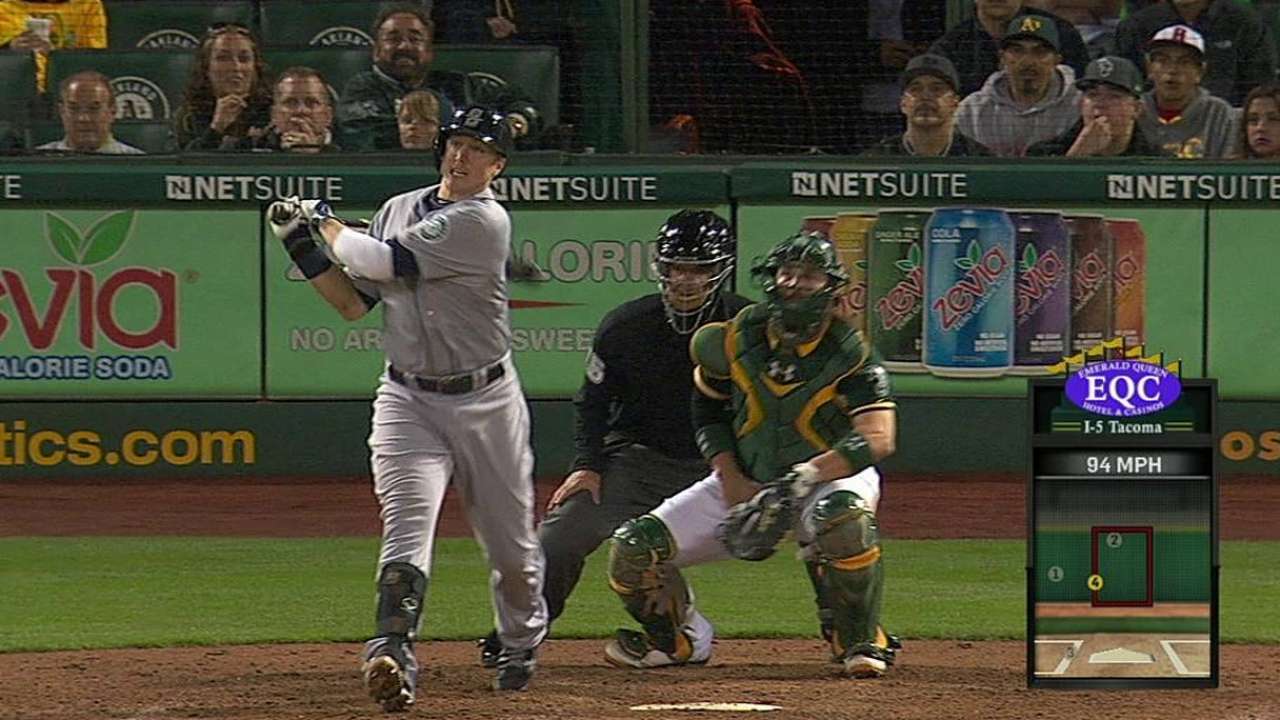 OAKLAND -- Justin Smoak had plenty of reasons to be excited Tuesday night. Not only did he drive in three runs during Seattle's 8-3 win over the A's, but he got to show off his wheels in the ninth inning while going from first to home on Kyle Seager's RBI double.
Listed at 6-foot-4, 230 pounds and not known for his speed, Smoak couldn't help but brag to his teammates.
"Believe me," manager Lloyd McClendon said, "we heard it in the dugout."
Smoak doubled home Robinson Cano in the first before driving in two more with his ninth-inning single into center field. All three RBIs came with two outs, giving him an MLB-best 16 through Tuesday's action, while he leads the team with 20 total RBIs. Smoak has also been productive in the late stages, posting a .351 (13-for-37) average with four doubles, four homers and 12 RBIs in the seventh inning or later.
"I'm seeing it all right," Smoak said. "Just a matter of getting hits at the right time. It's part of it. Still got things to work on and trying to get better."
As a whole, the Mariners have been an opportunistic bunch. Entering Wednesday, Seattle was tied with the White Sox for the fifth-best team average (.266) with runners in scoring position.
"It's what you've got to do to win ballgames," Smoak said. "When you get guys in scoring position, got to do whatever it takes -- hit a sac fly, even a ground ball to an infielder to get a guy in -- whatever it takes. I think on this road trip we've seen that."
Alex Espinoza is an associate reporter for MLB.com. This story was not subject to the approval of Major League Baseball or its clubs.