Dodgers cool off after first, drop series finale
Haren gives back early lead vs. former club, then allows go-ahead run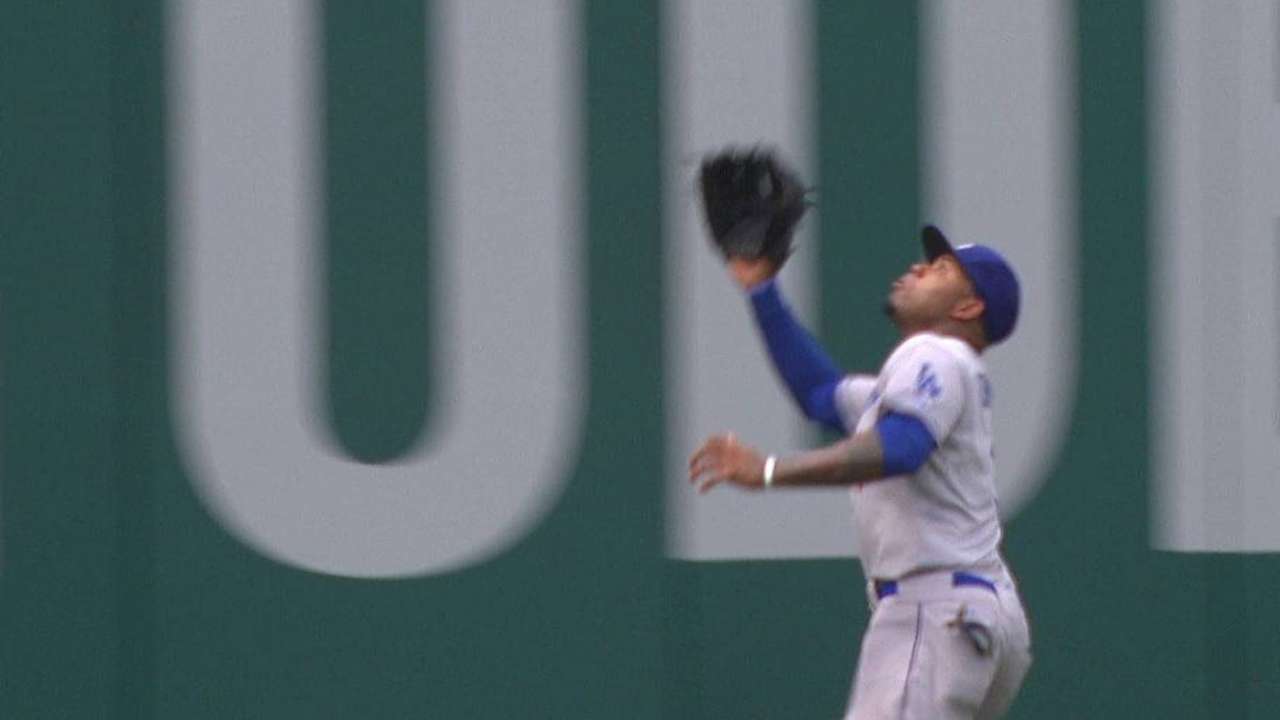 WASHINGTON -- Dan Haren labored in the first inning of the first start against the team he struggled with during the first half of last season. The right-hander settled down from there. However, his counterpart and former teammate, Stephen Strasburg, settled down even more against a Dodgers lineup that included Yasiel Puig.
The Dodgers' offense started fast against Strasburg before stalling out in a 3-2 loss to the Nationals on Wednesday afternoon at Nationals Park in the final contest of their nine-game road trip
Los Angeles scored twice in the first inning following a one-hour, 40-minute rain delay. The Dodgers never crossed home plate again against the Nationals' ace. Strasburg struck out six and held the Dodgers to seven hits overall, three over his final 6 1/3 innings.
That was enough to outduel Haren (4-1), and enough for the Dodgers to lose their second straight series. The right-hander, who started 4-11 with Washington last season, also allowed two runs in the first inning and the go-ahead score in the fifth.
"I haven't had that much success on that mound," Haren cracked after being unable to start 5-0 for the first time in his career. "The game started off like my first half of last year. I'm sure the fans were happy with that."
The loss turned a "pretty good" road trip into a just "OK" one in the opinion of manager Don Mattingly. Los Angeles finished 5-4 on its three-stop trip, which started with a three-game sweep over the Minnesota Twins. The Dodgers return home Thursday to open a four-game series with the San Francisco Giants.
"Getting a chance to go 6-3 would have been good. 5-4 is OK, but if you're going to play .500 on the road you have to play better at home," Mattingly said. "We haven't played better at home yet, so we'll see what happens."
After missing two games following a collision with the right-field wall in Miami, Puig went 1-for-3 with a walk and an RBI in his return. He also flied out with two runners on and two outs in the eighth.
"Obviously we tried to win a few more games, but we came across tough teams in Miami and [Washington]. That's just how it is," Puig said through an interpreter.
Haren allowed three runs and seven hits over six innings in front of the crowd of 34,756. The right-hander, who ended up going 10-14 with the Nationals last season, lost the lead and then allowed the go-ahead score in the fifth on Wilson Ramos' sacrifice fly with the bases loaded. Ramos was activated from the disabled list on Wednesday.
"A lot like [Strasburg], once they get past that first inning, they settle in, they compete," Mattingly said. "It's on at that point."
Strasburg (3-2) went from initial struggles to sustained dominance, though Los Angeles had chances. The Dodgers had two runners on in the sixth and eighth innings but were unable to score.
"I tried to stay to the game plan," Strasburg said. "I have given up a few hits. For the most part, they were ground balls. That's kind of how baseball is sometimes. It's great to see the offense answer back there and give it back to me. It was basically a zero-zero ballgame. I kind of started over after the first."
Replacing Strasburg with one down in the eighth, relievers Jerry Blevins and Tyler Clippard induced outs from Adrian Gonzalez and Puig, respectively. Rafael Soriano worked the ninth for his seventh save.
Continuing his torrid pace since being benched Saturday in Miami, Carl Crawford finished 2-for-4. He had the first of four straight ground-ball hits off Strasburg in the first inning and finished the series 8-for-13.
The road trip dotted with weather delays ended with one. Monday's game included a midgame holdup of over three hours. Wednesday's stoppage came pregame as Strasburg threw the game's first pitch at 2:45 p.m. ET.
The Dodgers started scoring runs moments later. Four straight singles in the first, including RBI hits by Gonzalez and Puig, gave Los Angeles a 2-0 lead.
That lead didn't last long. Washington scored twice off Haren in the bottom off the frame with four hits and a walk. Adam LaRoche's towering single off the wall in right drove in two.
Asked postgame about him showing signs of discomfort on the mound, Haren mentioned "general soreness" and copped to a stiff back that was "maybe a little bit worse than normal, but I'm fine.
"I feel discomfort 24 hours a day, seven days a week pretty much at this point in my career," the 33-year-old said. "Some days are worse than others."
Ben Standig is a contributor to MLB.com. This story was not subject to the approval of Major League Baseball or its clubs.