Bukauskas asks to be left out of 2014 Draft
Potential first-rounder opts instead to keep commitment to North Carolina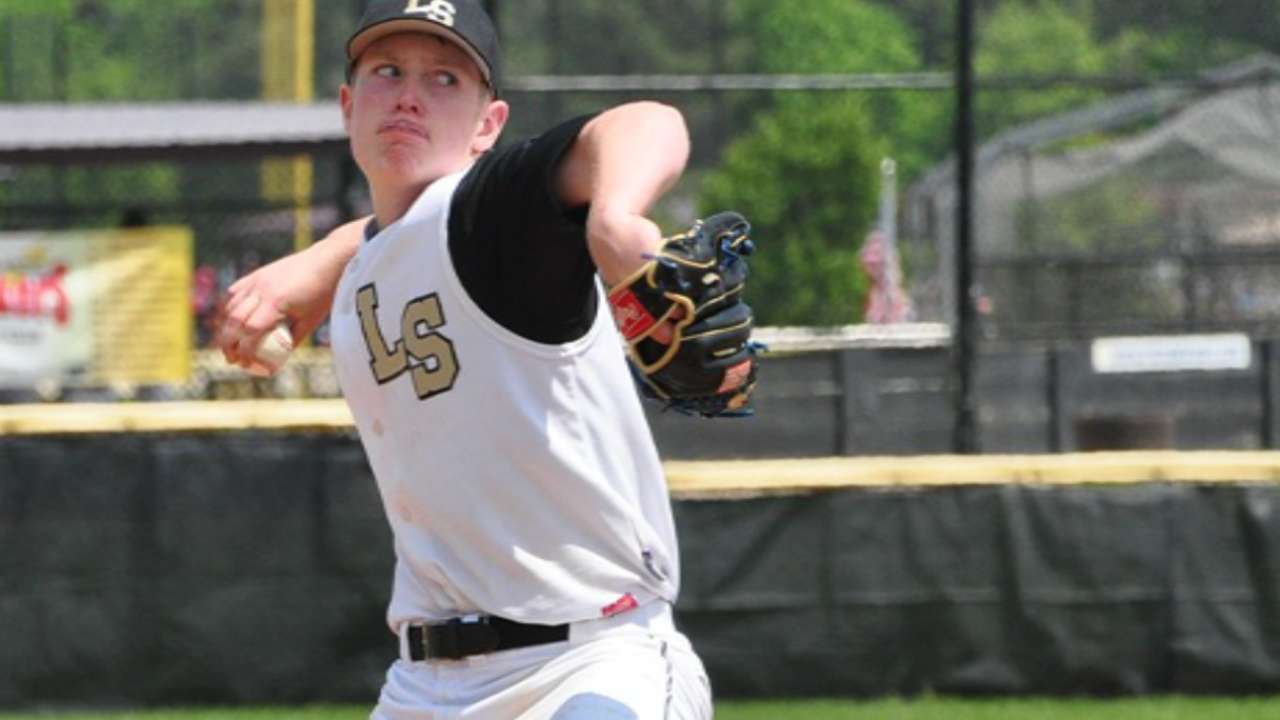 When J.B. Bukauskas reclassified from a junior to a senior at Stone Bridge High in Ashburn, Va., last summer, he did so to graduate early this June and attend the University of North Carolina a year ahead of schedule. The right-hander's Draft stock soared this spring when his fastball repeatedly hit the upper 90s and topped out at 100 mph, suddenly making Bukauskas a possible first-rounder.
If Bukauskas gets his way, however, he won't get drafted at all. According to multiple teams, Bukauskas has emailed the area scouts from all 30 clubs to ask them not to select him, thanking them for their interest but saying that he wants to attend college.
This marks the third straight year that Virginia's best high school pitching prospect has requested to be left out of the Draft. In 2012, James River High (Midlothian) left-hander Nathan Kirby went a step further and made himself ineligible for the Draft by declining to submit to a mandatory drug test after the Major League Scouting Bureau ranked him among the Top 200 prospects. Last year, Great Bridge High (Chesapeake) righty Connor Jones sent a letter to all 30 clubs, turned down the Padres when they took a flier on him in the 21st round and joined Kirby at Virginia, currently ranked No. 1 in the nation by Baseball America.
Asking out of the Draft doesn't guarantee that a player won't change his mind. Some scouts considered Dallas Jesuit High outfielder Josh Bell the best all-around prep hitter available in 2012, but he told teams not to select him because he was set on attending Texas. Bell was a good student, his family valued education highly (his mother is a professor at Texas-Arlington) and the consensus was that the Pirates wasted a pick by taking a second-round gamble on him -- until Bell signed for $5 million at the Aug. 15 deadline.
Scouts paid Bukauskas little attention before this spring, because he worked at 88-92 mph a year ago and didn't figure to be eligible before the 2015 Draft. But Bukauskas came out throwing 94-97 mph in the first inning of his first start in March and has continued to light up radar guns ever since.
While Bukauskas' fastball definitely is worthy of the first round, there are some concerns. With his lack of size (5-foot-11, 190 pounds) and the amount of effort he expends in his delivery, some scouts wonder if he'll be able to hold up starting every fifth day as a pro. Craig Kimbrel has led the National League in saves in each of the last three years and he's only 5-foot-11, though he has a stronger build and smoother mechanics.
Bukauskas backs up his fastball with a promising low-80s slider, and he's still developing his changeup, control and command. He won't turn 18 until Oct. 11, making him one of the youngest players in the 2014 Draft, though his apparent preference is to wait until he becomes eligible again in 2017.
Jim Callis is a reporter for MLB.com and writes a blog, Callis' Corner. Follow @jimcallisMLB on Twitter. This story was not subject to the approval of Major League Baseball or its clubs.