Wood splinters in third straight loss to neighbors
Left-hander gives up eight runs over four-plus innings; Renteria ejected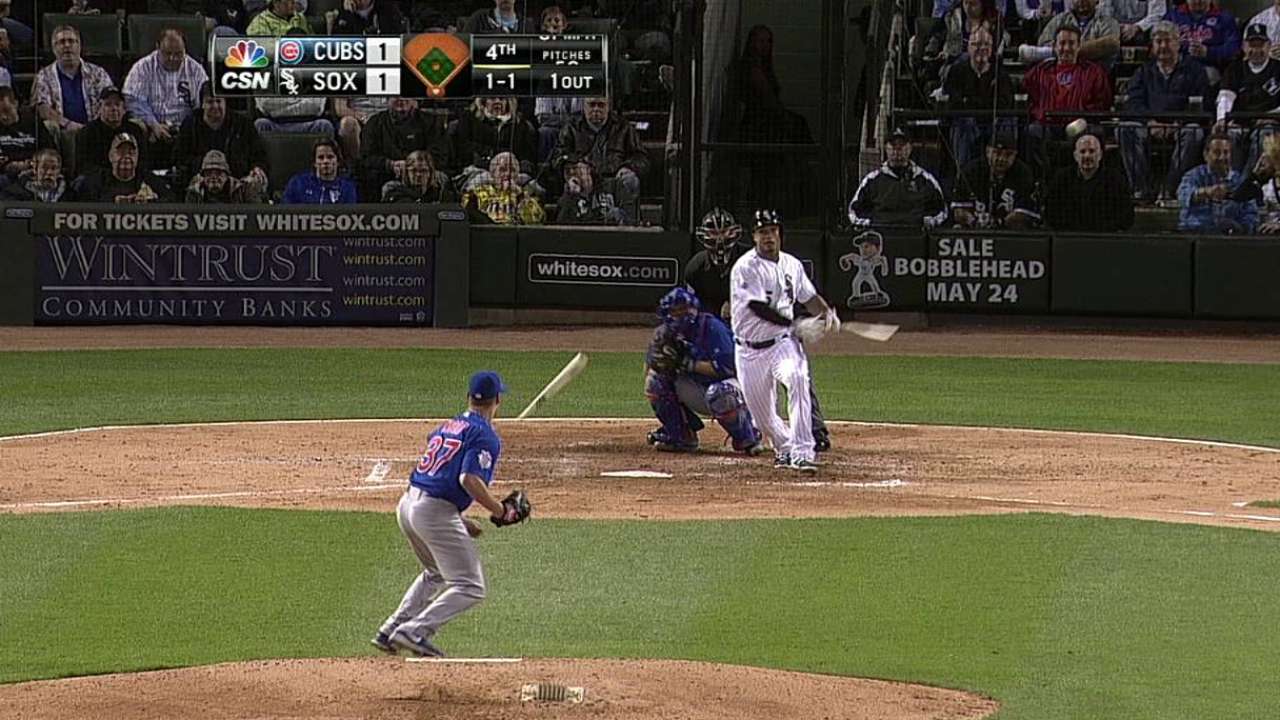 CHICAGO -- Travis Wood is a career .179 hitter, but the pitcher does like to hit, and last year, belted a grand slam in the Cubs' Interleague series against the White Sox.
With the crosstown series moving to U.S. Cellular Field and American League rules, did the Cubs consider having Wood bat rather than use the designated hitter?
"Everyone talks about it," Cubs manager Rick Renteria said. "Obviously, because [Wood] hit the grand slam against them before and because he swings the bat well, it's an outside thought, but you wouldn't do that."
The Cubs could've used the offense. Gordon Beckham belted a three-run homer and Paul Konerko added a three-run double to lead the White Sox to an 8-3 victory over the Cubs, and clinch the four-game intracity series. The Cubs are a season-low 10 games under .500 at 11-21.
In the first three games of this four-game, home-and-road series, the Cubs have collected four hits in each game.
"We need to start hitting," first baseman Anthony Rizzo said. "Four hits is not enough to win a ballgame at the big league level."
"I thought we were going to be a little better, back on track," Renteria said of the offense, which has totaled five runs in the three games. "We have to put ourselves in situations where we continue to get better at grinding out at-bats, putting balls in play with some impact in hitters' counts, which are things we talk about. They're things that are being addressed on a daily basis and being worked on. It's just a matter of having it occur. Tomorrow's another day."
Wood took the loss, giving up eight runs on eight hits and a season-high five walks over four-plus innings, his shortest outing of the season.
"I don't like walking anybody, let alone as many as I did," Wood said. "I know it wasn't good."
The lefty did survive a scare in the fourth, dodging a broken bat on Moises Sierra's single. A large shard of the bat flew toward the pitcher, and struck him in the lower abdomen. He was able to do an acrobatic move to avoid serious injury. Marcus Semien then walked, but catcher Welington Castillo picked him off at first. Wood then walked Adrian Nieto to set up Beckham's homer, his second in as many days, and open a 4-1 lead.
"I was really scared," Castillo said of the bat incident. "I was in front of him and saw the bat shatter. I thought it was something bad that happened. It was really scary."
Mike Olt was the Cubs' designated hitter, not Wood, and he delivered a leadoff homer in the fifth to pull within 4-2. One out later, Darwin Barney singled and advanced on a fielder's choice by Ryan Kalish. Jose Abreu fielded Kalish's ball and tried to get the force at second, but his throw was off and everybody was safe. Emilio Bonifacio then lined an RBI double to left.
White Sox starter John Danks struck out both Junior Lake and Rizzo to end the threat. What helped him?
"The changeup," Danks said. "Really just being able to make some pitches and fortunately I got Lake to chase and made some pitches to Rizzo. That's not a comfortable at-bat, but fortunately I was able to throw the ball where I wanted to."
The White Sox loaded the bases in their half, and Konerko cleared them with a double to left, chasing Wood. Renteria got into an argument with home-plate umpire Tom Woodring during the pitching change and was ejected. Konerko scored on Semien's single to make it 8-3.
"[The umpires] are not going to get every one right," Wood said. "It is what it is. You can't do a whole lot about it. You've got to take it in stride and move forward."
The Cubs could use some positives heading into the final game of the series.
"Today, they're going to feel this," Renteria said of the loss. "Every day that we go out there and do not come out with a victory and have lapses that occur because of situations in the ballgame, they take it to heart, they evaluate it, and we talk to them about it. They have to put it to bed and we have to start again tomorrow. Tomorrow when I come here, it'll be a new day and we'll be ready to play baseball."
Carrie Muskat is a reporter for MLB.com. She writes a blog, Muskat Ramblings, and you can follow her on Twitter @CarrieMuskat. This story was not subject to the approval of Major League Baseball or its clubs.