Mariners rally late, top A's in 10 in twin-bill opener
Smoak's infield hit lifts Seattle; Cano ties it in eighth after Felix exits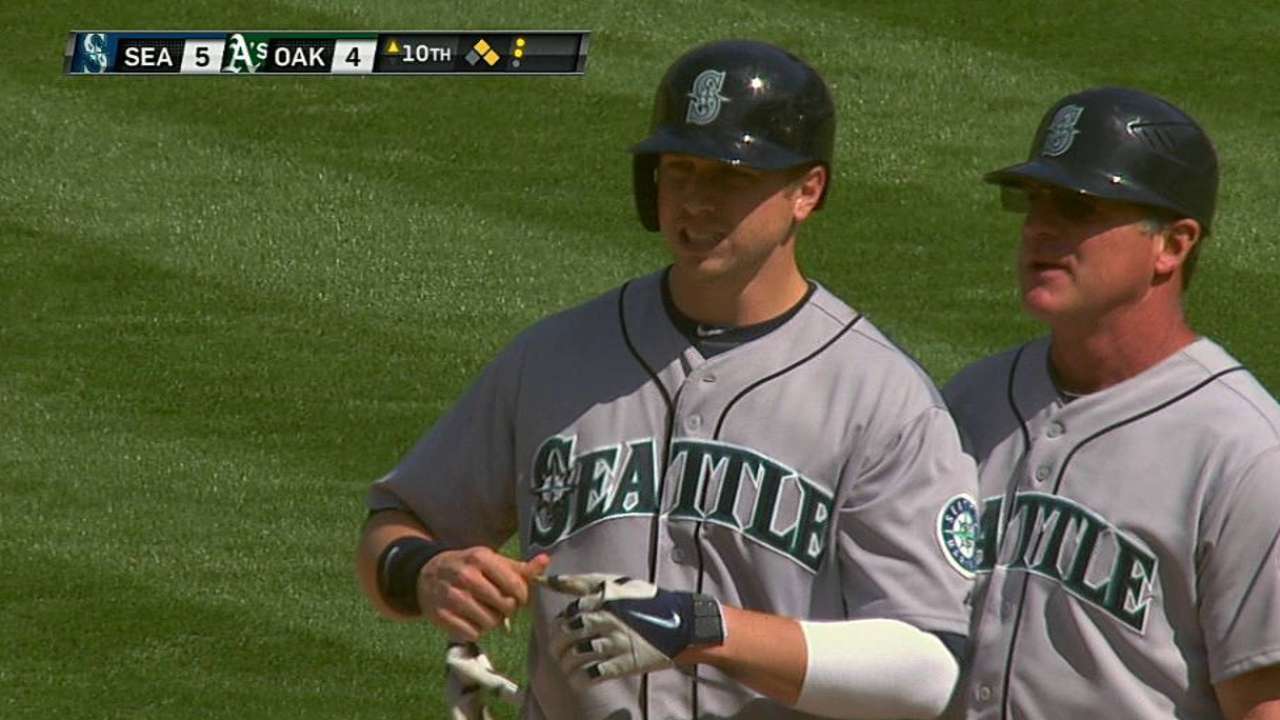 OAKLAND -- In a 10-inning affair that featured late rallies from both sides, the Mariners emerged with a 6-4 victory over the A's on Wednesday afternoon in the first game of a doubleheader.
Justin Smoak's 10th-inning chopper to A's first baseman Daric Barton was too much to handle, and Michael Saunders scored the game-winning run after Seattle used small ball to get him to third base. Kyle Seager (2-for-4, double, RBI) added an insurance run with an RBI single.
It marked the 17th run that Smoak has driven home with two outs. And it couldn't have come at a better time.
"There's nothing like confidence," Seattle manager Lloyd McClendon said of Smoak, "and I think he's feeling good about himself."
With the victory, the Mariners put themselves in position to claim their first four-game sweep in Oakland in franchise history heading into the second tilt of the doubleheader. Seattle has won 10 of 12 and gone 7-1 on a road trip through New York, Houston and Oakland.
And the team did it on an afternoon when Felix Hernandez didn't strike out a batter for the first time in six seasons.
"Feel really good about it," Hernandez said of the win. "The offense came and turned it around a little bit, and they picked me up. I appreciate that."
So is this hot streak the best Hernandez has seen the Mariners play?
"Not going to talk about it," Hernandez said with a smile, "but it's been pretty good."
After Hernandez squandered a two-run lead in the seventh, the Mariners tied things up with a Robinson Cano RBI single off Luke Gregerson in the eighth.
Oakland looked destined to fall to Hernandez again at O.Co Coliseum, trailing by two runs in the seventh. But the A's put together a rally to knock him out of the game.
Hernandez allowed three straight hits to begin the frame, the third of which came from John Jaso and scored Craig Gentry. Then Josh Donaldson delivered a sacrifice fly to center -- James Jones made a nice diving grab to record the out -- before Brandon Moss drilled an RBI triple to left-center to give the A's a 4-3 lead.
Still, Hernandez hasn't lost a decision at O.Co since Sept. 19, 2008, a span of 11 starts.
"It's frustrating," A's manager Bob Melvin said. "We actually had good at-bats against him from the first inning on. Squared some balls up and hit some balls hard at people on top of it. Our approach was really good on him today. We just let it slip away in the later innings, which we feel good anytime our bullpen's in the game late."
Hernandez gave up four runs (three earned) on a season-high 11 hits while he walked two and struck out none. It marked the first time since Aug. 19, 2008, that he didn't strike out a batter
"It doesn't bother me, but I'm shocked," Hernandez said. "No strikeouts. Not a good breaking ball, not a good changeup -- that's what happens when you don't have good stuff."
Even though Hernandez labored through his previous start and lost nine pounds while battling an illness, he didn't use that as an excuse Wednesday.
"I feel fine," Hernandez said. "Seventh inning I just made a lot of mistakes. I was more in the middle of the plate and they hit them."
For the third straight game of the series, Seattle started off the scoring. Corey Hart drilled a solo shot in the second and Mike Zunino banged one off the base of the left-field foul pole in the fifth against A's starter Dan Straily, who has given up an AL-high nine homers this year. Barton got Oakland on the board in the fourth with an RBI groundout, but Smoak hit a sacrifice fly in the sixth to give Hernandez a 3-1 lead.
Alex Espinoza is an associate reporter for MLB.com. This story was not subject to the approval of Major League Baseball or its clubs.