Peralta takes tough loss as offense held in check
Right-hander allows two runs on 11 hits over six innings in finale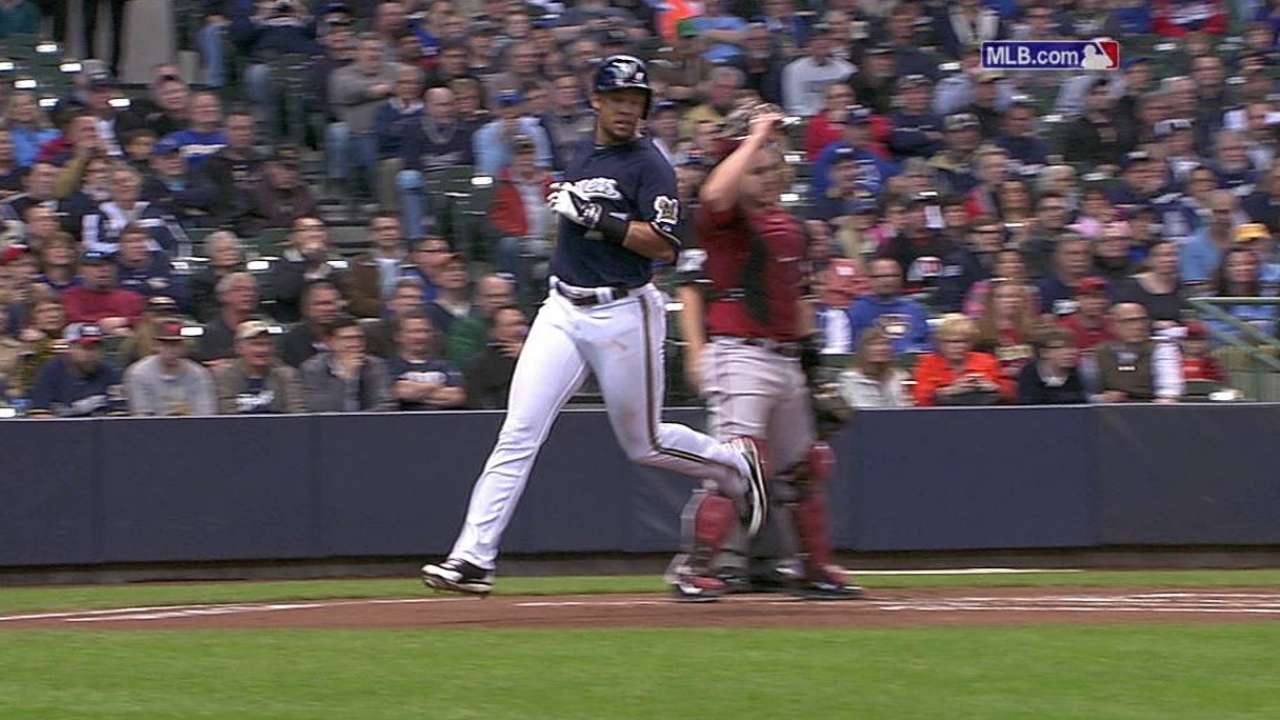 MILWAUKEE -- One did not have to look further than 60 feet, six inches from home plate on Wednesday afternoon to see why the Brewers' offense continued to sputter.
Bronson Arroyo surpassed 200 career innings against Milwaukee and was up to his old tricks, pitching into the eighth inning and inducing three of the Brewers' four rally-killing double plays in a 3-2 D-backs win at Miller Park.
Don't look now, but the Brewers are off to a rough start to May for the second straight season. They entered the series with the best record in baseball, but can no longer claim that distinction after dropping consecutive games to a D-backs team with the worst record in the National League.
The Brewers, who played Wednesday without the injured Ryan Braun or a slumping Aramis Ramirez, have now lost six of their last eight games, and have dropped consecutive series for the first time all season.
Up next: The New York Yankees, who visit beginning Friday for the first time since 2005.
"I want to score some more runs," said Brewers manager Ron Roenicke. "I know the lineup's not the same, but we still have enough guys in there that we should be scoring some runs. We'll get it going. We'll figure it out.
"But we're off. Arroyo was good, but we're off."
The D-backs did not have their best offensive day, either, collecting 14 hits but scoring only three runs. Paul Goldschmidt accounted for Arizona's first two runs when he hit a third-inning homer off Brewers starter Wily Peralta for a 2-1 lead, and the Brewers gift-wrapped a key insurance run in the eighth. Arroyo singled with one out and moved all the way to third on a wild pitch before scoring on first baseman Lyle Overbay's fielding error.
That extra run was critical when Overbay hit a sacrifice fly off Arizona closer Addison Reed in the bottom of the ninth inning to cut the deficit back to one run. Mark Reynolds struck out swinging to end the game.
"We're doing a lot of good things still," Overbay said. "Obviously, we're not scoring a lot of runs, but we're doing pretty good. We just have to get some breaks our way. We're getting great pitching, so it's not that. We just need more timely hitting."
If Arroyo's career numbers against the Brewers were cobbled into a season, it would be one of the crafty right-hander's best -- 16-10 with a 3.54 ERA and 148 strikeouts in 203 1/3 innings. He pitched 7 1/3 innings on Wednesday, allowing one unearned run on five hits, with two walks and four strikeouts.
Considering the radar-gun readings, it can be a bit maddening to watch, Roenicke admitted.
"Sitting there, we know what he's going to throw," Roenicke said. "When you're expecting a fastball, you're not getting it. But it's hard as a hitter to go up there and think that way. You get yourself ahead in the count and you think you're going to get a fastball, and it's hard sometimes to sit off-speed."
The Brewers' aggressive nature plays right into Arroyo's plan.
"The more swingers you have in your lineup, you're going to have trouble with him," Roenicke said.
Overbay explained the conundrum like this: "He'll give you a pitch to hit, but you have to wait him out sometimes. There are other times he'll come right after you. He made pitches when he had to."
The Brewers' only run against Arroyo was unearned in the first inning when Carlos Gomez bunted a 68-mph curveball for a leadoff hit and scooted to third on second baseman Martin Prado's error. Gomez scored when Jonathan Lucroy grounded into a double play.
It was their only threat until the eighth, when D-backs manager Kirk Gibson replaced Arroyo with reliever Brad Ziegler with two runners on base and one out. Rickie Weeks greeted Ziegler with a single to load the bases for Gomez, who smacked a first-pitch sinker right to the shortstop for an inning-ending double play.
"Every day is different, but I've had a lot of success here in this ballpark," Arroyo said. "It might just be coincidence, but you win some games in a certain place and in your mind you start feeling comfortable and so sometimes, if you go out on the mound the first couple of innings and you don't have your best stuff, sometimes your brain can kind of override that with the fact that you've had success in that place."
Peralta pitched his sixth consecutive quality start, but lost after allowing two earned runs on 11 hits in six hard-fought innings.
It was the sort of damage control with which Peralta struggled in 2013, his first full season in the Majors.
"I would say last year, especially early last year, if he would have been hit around like this, there would have been a lot more runs scored," Roenicke said. "You can see he's frustrated, and you can see he's emotional and mad, and after all those hits, he still keeps them to two runs. That's maturity."
Peralta agreed.
"It was a tough game today, but I was able to [keep] the game close," Peralta said. "I gave up a couple of runs early and stopped it right there. That was big. We still got the loss, but it could have been worse."
The Brewers are off Thursday before attempting to rebound over the weekend in an Interleague series against the Yankees at Miller Park.
"I got a good taste of that jealousy on the other side," said Overbay, who played for the Yankees last season. "But if we do the things we can do, we can beat anybody."
Adam McCalvy is a reporter for MLB.com. Read his blog, Brew Beat, and follow him on Twitter at @AdamMcCalvy. This story was not subject to the approval of Major League Baseball or its clubs.