First hit continues to elude Mets' pitchers
Team doesn't overreact to inauspicious MLB record, but remains mindful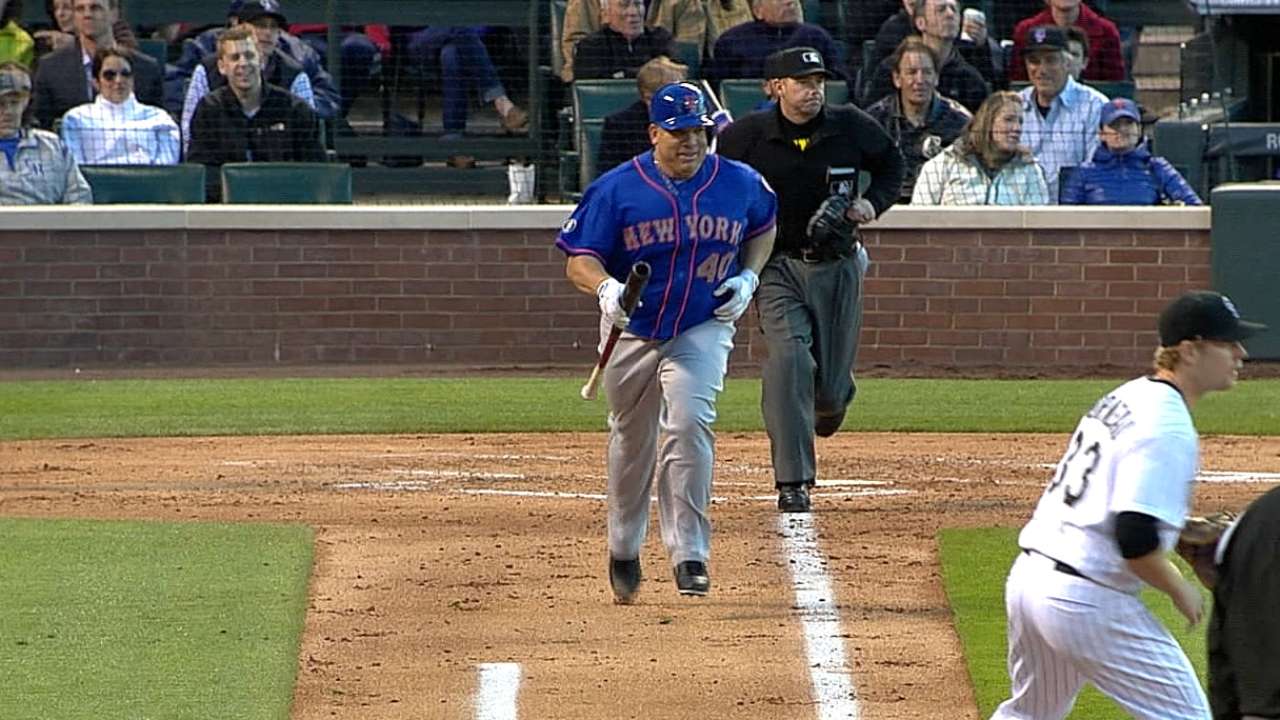 MIAMI -- With each game that passes, Mets pitchers slip into a deeper funk at the plate.
Zack Wheeler's 0-for-2 in Wednesday's loss to the Marlins extended the pitchers' collective franchise record to 0-for-58 to start the season, 13 hitless at-bats longer than the 100-year-old mark that they broke. The 1914 St. Louis Browns' pitchers previously held the all-time record, starting that year 0-for-45 at the plate.
It may be only a small part of the game, but it irks them nonetheless. To that end, manager Terry Collins said the team will switch up its pitchers' routine at Citi Field next homestand, asking them to hit regularly on the field instead of in an indoor cage.
"It's gone with the whole offensive package so far," Collins said. "We've been struggling offensively. When we start worrying about our pitchers getting hits, we've got real problems."
The pitchers themselves cannot point to any one reason for the struggles. Dillon Gee noted that he and his rotation-mates have been hitting the ball as hard as usual, but that they have simply not found any holes. As a result, Gee is 0-for-12. Jenrry Mejia is 0-for-15. Bartolo Colon is 0-for-11, while Wheeler is 0-for-10.
The pitching staff's most productive hitter has been Jon Niese, whom Gee and Collins both consider its best. But Niese's production has come exclusively in the form of four walks, and he has still contributed five strikeouts to the staff's total of 31 in 70 plate appearances.
"We stress from the first day of Spring Training that the pitchers have got to be a little more athletic," Collins said. "They've got to handle the bat a little bit better. We hit every day like everybody does. We bunt. We run the bases. We do all the things that everybody else does. We just haven't put the ball in play."
Still, the Mets are not particularly worried for two reasons. One, they are still laying down sacrifice bunts with regularity -- six in 33 games, putting them on pace for more successful sacrifices than they had last season. Two, they are paid primarily to pitch, not hit.
"We're not happy about it," Gee said. "It stinks. But I think you have to put it in perspective, too. It's not our main job. We've pitched well, and that's our main job. Even though we want to hit -- definitely, every time I go up there, I want to get a hit -- it's just one of those things where even when we do put contact on it right now, it's not falling in."
The one Mets pitcher with a built-in excuse is Colon, a longtime American League pitcher who entered this season with 104 career plate appearances in 16 years. Colon does not have a big league hit since 2005.
"I know that I'm not a good hitter," Colon said through an interpreter. "This is new for me. I'm trying to get used to this now that I have to hit."
Anthony DiComo is a reporter for MLB.com. Follow him on Twitter @AnthonyDicomo. This story was not subject to the approval of Major League Baseball or its clubs.