Belt's big day not enough in Pittsburgh finale
Lincecum takes loss after yielding four runs over four frames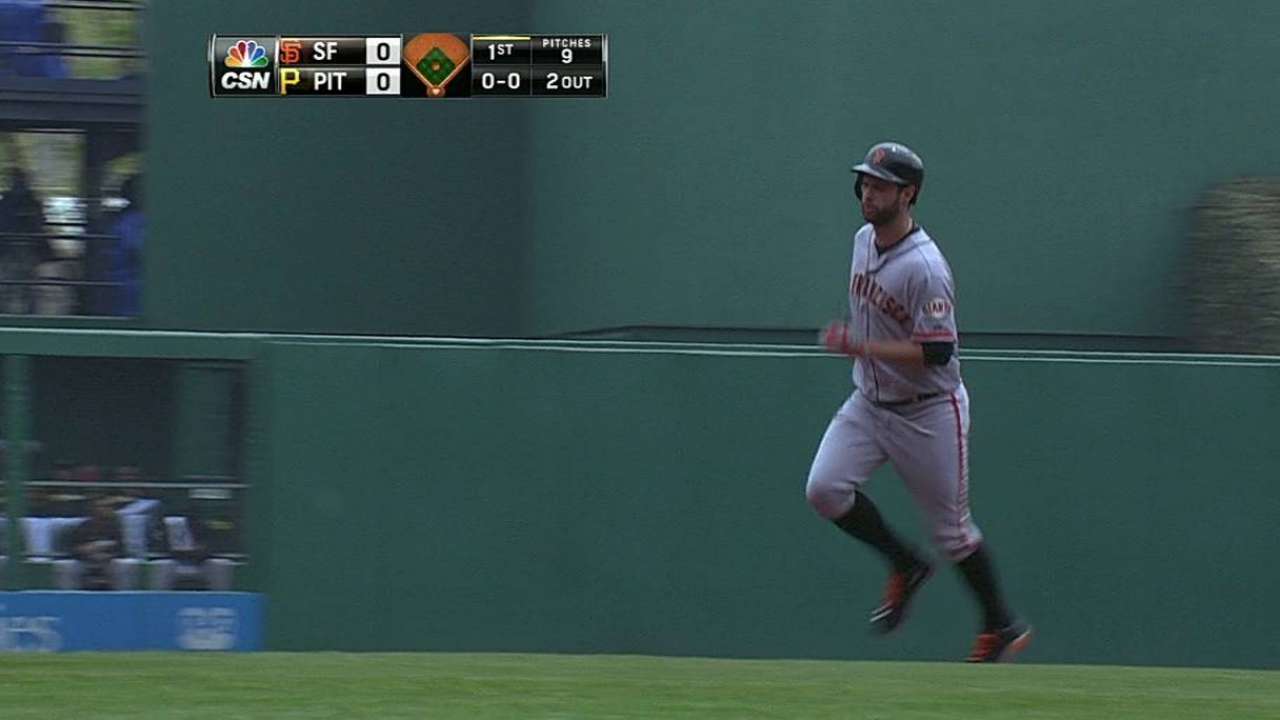 PITTSBURGH -- Right-hander Tim Lincecum, the Giants' former Cy Young Award winner, had a rough afternoon as the Pirates downed San Francisco, 4-3, on Wednesday at PNC Park.
It made for back-to-back defeats for the Giants, who dropped two out of three games in the series.
Lincecum lasted four innings and allowed four runs on eight hits, remaining the only Giants starter not to work past the sixth inning in a start this season. He took the loss, falling to 2-2.
"His issue today was executing pitches ahead in the count," manager Bruce Bochy said. "Too many 0-2 hits. We might have broke a record there today, especially the second inning. He had the eight-hole hitter and the pitcher 0-2 and couldn't get his offspeed pitches down. He was leaving them up in the zone, and they did what hitters should do. He just couldn't execute today."
"I just wasn't finishing my pitches off," Lincecum said. "You could just tell from the secondary pitches that things were kind of just rolling in the zone -- didn't really have that bite on it, even changeups.
"I kicked in just a little too late after them scoring four runs in the first two innings, and it kind of put us in a hole."
Pirates manager Clint Hurdle felt it was key to get to Lincecum early.
"For us, that's been the case," Hurdle said. "As you saw, everything tightened up. The fastball command was come and go, he left some breaking balls up, and after that the downhill angle showed back up, he started bouncing that split. He got better as the game went on."
Pirates right-hander Gerrit Cole tossed eight innings and gave up three runs on seven hits, recording seven strikeouts, to earn the win and improve his record to 3-2.
Hurdle was pleased with Cole's outing.
"Really solid, solid effort for him today," Hurdle said. "Pushing through the eighth inning, against the middle of the order -- very impressive."
Despite the loss, Bochy liked the way his club fought to the end.
"We battled back, it would have been nice to have more, except Brandon Belt made the out at third and that ended that one," Bochy said of a fifth-inning rally. "Cole's got good stuff, and I thought the guys battled. We had some pretty good at bats against him."
Belt slugged his ninth home run of the season, giving the Giants a 1-0 lead in the top of the first inning.
The Pirates came back in the bottom of the frame. Travis Snider drew a leadoff walk and scored on a one-out RBI single by Andrew McCutchen. Starling Marte doubled down the left-field line, scoring McCutchen to give the Pirates a 2-1 lead.
The Pirates got to Lincecum again in the bottom of the second. With one out, Chris Stewart singled, then Cole singled. Both advanced on a wild pitch before Snider stroked a two-run single, giving the Pirates a 4-1 lead.
The Giants sliced the lead to 4-3 in the fifth inning, with Belt delivering a two-run double to right. But he was thrown out at third by Pirates catcher Chris Stewart, who got an assist after a late throw on the play at the plate.
Belt, after a slow start, has started to heat up, going 2-for-4 on the day with three RBIs to raise his batting average to .266.
Belt says some video work is paying off.
"Just looking at some video and seeing what I was doing well when I was hitting well and what I was doing when I wasn't hitting well," Belt said. "Obviously it was just a timing issue, so we just tried to work on the timing the past two days and I'm starting to come around a little bit."
The Giants will head back to the West Coast to open a big four-game series with the Dodgers in Los Angeles on Thursday.
"I think it's always a little more when we play L.A.," Belt said. "We're going to be battling it out until the end, so it's one of those series when we want to go in and take as many as we can. We'll probably both be there in the end, so if we could take some now, we're going to try and do it for sure."
George Von Benko is a contributor to MLB.com. This story was not subject to the approval of Major League Baseball or its clubs.