Cole's eight strong nets Bucs rubber game
McCutchen, Snider pace offensive attack against Giants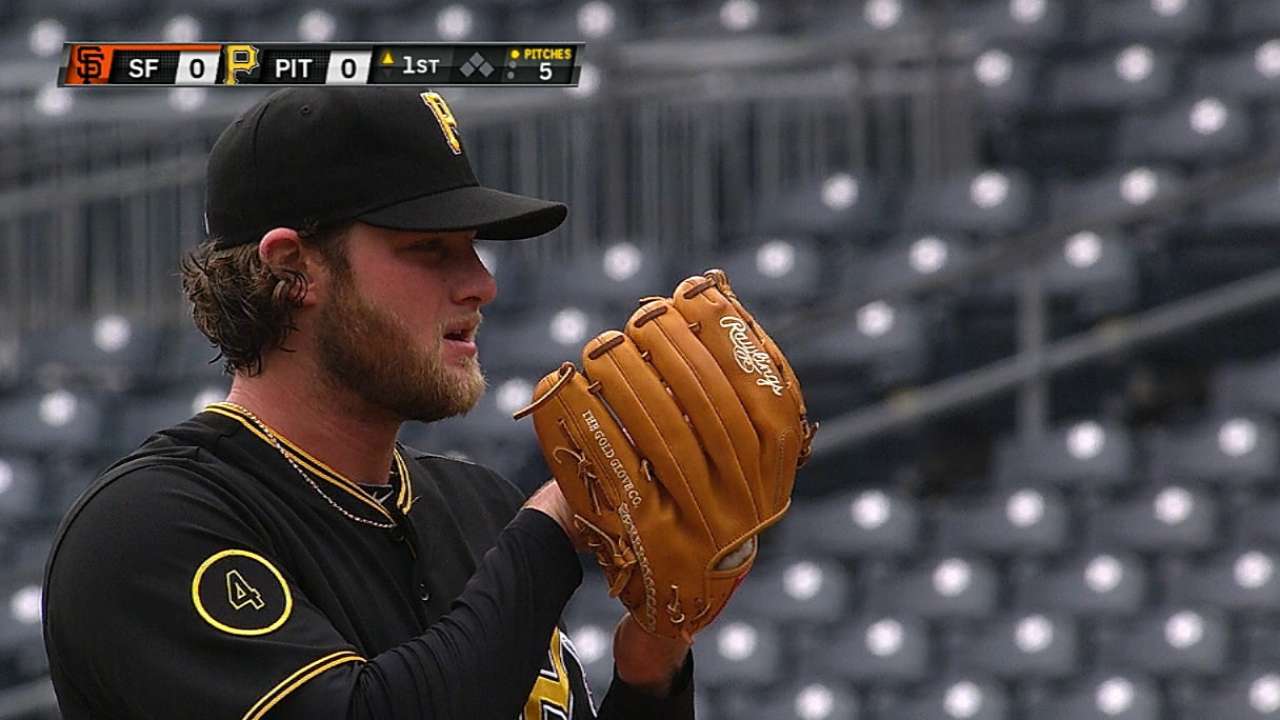 PITTSBURGH -- Several impressions were left by the Pirates' 4-3 victory over San Francisco on Wednesday afternoon at PNC Park.
One, Andrew McCutchen really enjoys hitting against one of the better pitching staffs in baseball; he went 2-for-4 and now is 25-for-54 (.463) in his last 13 games against the Giants.
Two, Travis Snider might have a future as the leadoff hitter the Bucs have been seeking; in his second start of the season atop the lineup -- and only third in the last four years -- Snider set up one rally and cleaned up another.
"Just a gut feeling," manager Clint Hurdle said of the decision to give Snider another crack at the one-hole, from where he had gone 0-for-5 in the nightcap of the May 1 doubleheader in Baltimore. "What more could you ask for? He was on base three times, scored one run, drove in two runs."
Three, there does not appear to be a conspiracy against Pittsburgh starting pitchers getting a win, as Gerrit Cole went eight innings to nail his third. He allowed seven hits and three runs, walking one and fanning seven.
Most significantly for an overworked bullpen, Cole did this a few hours after Charlie Morton had also gone eight innings in Tuesday night's game.
"A really solid effort for him today," Hurdle saluted. "After getting clipped [for a pair of runs] in the fifth, three solid [innings] with a real strong finish."
Fourth -- and this is related to No. 3 -- while many athletes are fueled by adrenaline, Cole's tank has emotion. Twice on Wednesday, it was overfilled, and his ability to cap it off both times enabled the Pirates to take the rubber game from the Giants.
"He'll pitch emotionally, rather than pitch with emotion," said Hurdle, drawing a distinction, "which can make him over-aggressive, when his velocity starts running together -- the speed variance shrinks. That's when everything seems to be in a little bit of a hurry."
Given this pattern, pitching coach Ray Searage made sure to visit the mound in the fourth, when Cole had a 4-1 lead but also Giants on second and third, only one out, and Brandon Crawford stepping in as the potential tying run.
"We just tried to help him maintain pace," Hurdle said.
Thus calmed down before pitching in the key situation to his girlfriend's brother, Cole needed only two pitches to get Crawford to pop out to third baseman Pedro Alvarez, then only one more to retire the side on a liner to center by Brandon Hicks.
Leveling off No. 2 came in the bottom of the sixth, when Cole was unable to follow Chris Stewart's leadoff single with the requisite sacrifice bunt, instead bouncing into a double play. The toll of the omission became evident seconds later, when Snider drilled a triple that couldn't change the score, keeping Cole's lead at 4-3.
"I was [ticked]," Cole admitted. "I dug my own hole, so might as well get out of it. It would've been nice to have another run, I could've used it. It didn't happen, I was [ticked], but you gotta move on."
He did so with extra, noticeable determination.
"A real strong finish. Pushing through the eighth, against the middle of the order -- very impressive," Hurdle said.
In his final inning, Cole retired Hunter Pence, Brandon Belt -- who had already hurt him twice -- and Michael Morse on a total of seven pitches, his last seven of 107.
Belt belted his ninth home run in the first, but Cole did not trail for long. In the bottom of that inning, McCutchen singled to score Snider then scored himself on Starling Marte's double. The next inning, instead of setting the table, Snider cleared it, pulling a two-run single into right for a 4-1 lead.
"You saw us click on all cylinders, and it was nice to see," Cole said. "Getting good pitching at the time we're hitting the ball, that's something we've been lacking. It seems like we're back on track."
San Francisco manager Bruce Bochy's decision to end starter Tim Lincecum's outing after four innings, and 88 pitches, immediately paid off. Pablo Sandoval, batting for Lincecum with one out in the fifth, drilled a first-pitch single to ignite a rally converted on Belt's double.
"His issue today was executing pitches ahead in the count," Bochy said of Lincecum. "Too many 0-2 hits, we might have broke a record there today, especially the second inning. He had the eight hole hitter [Stewart] and the pitcher 0-2 and couldn't get his offspeed pitches down. He was leaving them up the zone, and they did what hitters should do. He just couldn't execute today."
Singles by Stewart and Cole, both advanced by a subsequent wild pitch, were cashed in by Snider's rip to right.
It set up the Bucs' second consecutive one-run victory over a San Francisco club that had hit town leading the National League in one-run victories. The Bucs took over the lead in that department, with 10.
Tom Singer is a reporter for MLB.com and writes an MLBlog Change for a Nickel. He can also be found on Twitter @Tom_Singer. This story was not subject to the approval of Major League Baseball or its clubs.