Ramos comes off DL for series finale vs. Dodgers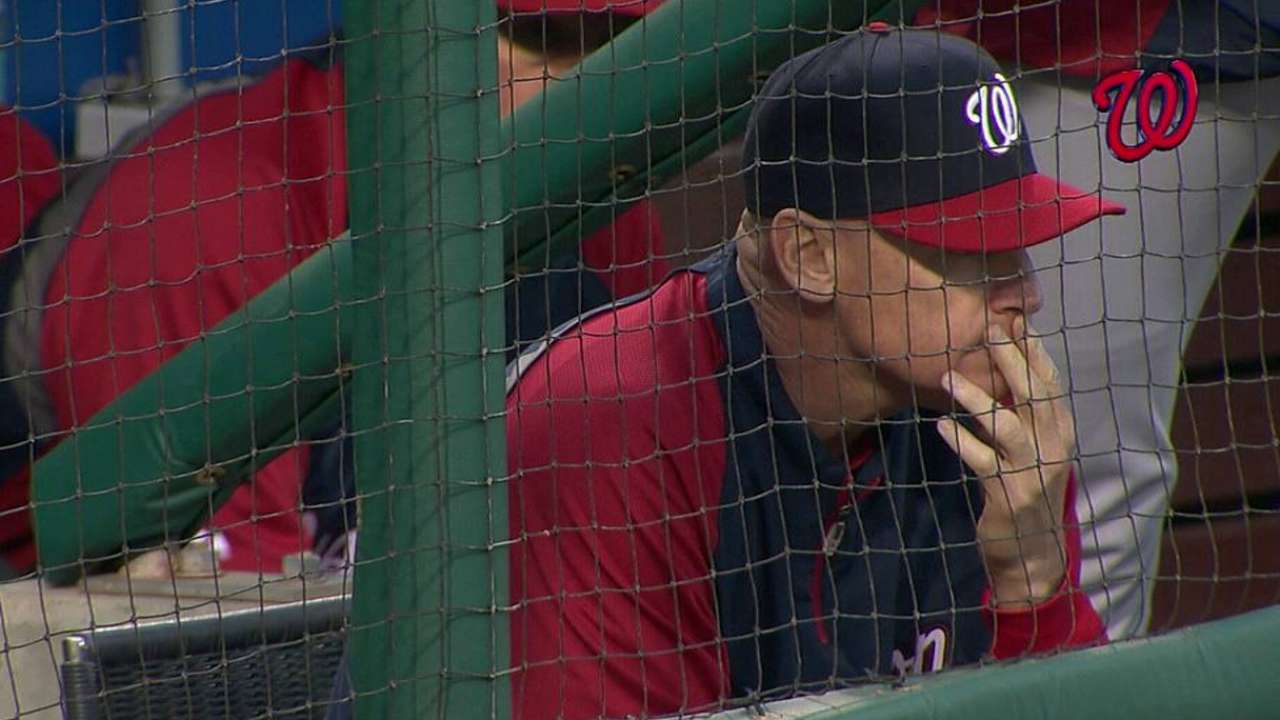 WASHINGTON -- For the first time since Opening Day, the Nationals' lineup included catcher Wilson Ramos as the Nats concluded their three-game series against the Dodgers on Wednesday afternoon.
Ramos, who sustained a left hamate fracture in the season opener on March 31, was activated from the disabled list on Wednesday morning and batted fifth against Los Angeles. To open a spot on the active roster, Washington optioned right-hander Blake Treinen to Triple-A Syracuse after the rookie made his first Major League start on Tuesday.
Nats manager Matt Williams had expressed uncertainty on Tuesday about whether Ramos would be ready on Wednesday. But the two had a conversation in Williams' office, and Williams was satisfied with the way Ramos was able run sprints.
"My legs feel good, my hand feels good," Ramos said. "I'm ready to go. I've been waiting for this moment."
Ramos played in two rehab games at extended spring camp in Florida, then two more between Class A Hagerstown and Double-A Harrisburg. He homered and drove in three for Hagerstown and spent nine innings behind the plate on Monday at Harrisburg.
"He should be fine. There's no issue with the hand. He's gotten past that," Williams said. "The lingering effect of this injury is generally some wrist soreness, so that may occur over the course of time as he goes through it, and we'll adjust to that. But I think he's good. He's ready to go. We just want to make sure we're keeping an eye on him moving forward, especially over the next week or so. But he's good."
Ramos now joins Jose Lobaton and Sandy Leon, giving the Nationals three catchers on their roster. That could change on Friday, when the club activates starting pitcher Doug Fister from the DL for his season debut. Williams said the club is still considering whether to keep three catchers for its weekend series at Oakland. Playing at an American League ballpark also gives Williams the option of using Ramos at designated hitter sometime during that series.
When he does play the field, Ramos will use a special pad at the heel of his glove to protect his left wrist area. At the plate, he doesn't feel the injury will have any lingering effect on him.
"A lot of people say that when people come back from this surgery, they lost power, but I don't feel I lose that," said Ramos, who hit 16 homers in 78 games last season. "Power's still there. Swing's still there. My approach is still there, so everything is the same."
Andrew Simon is a reporter for MLB.com. Follow him on Twitter @AndrewSimonMLB. This story was not subject to the approval of Major League Baseball or its clubs.