Blue Jays cap road stretch with rally vs. Phils
Homers, early lead give way to comeback to win third straight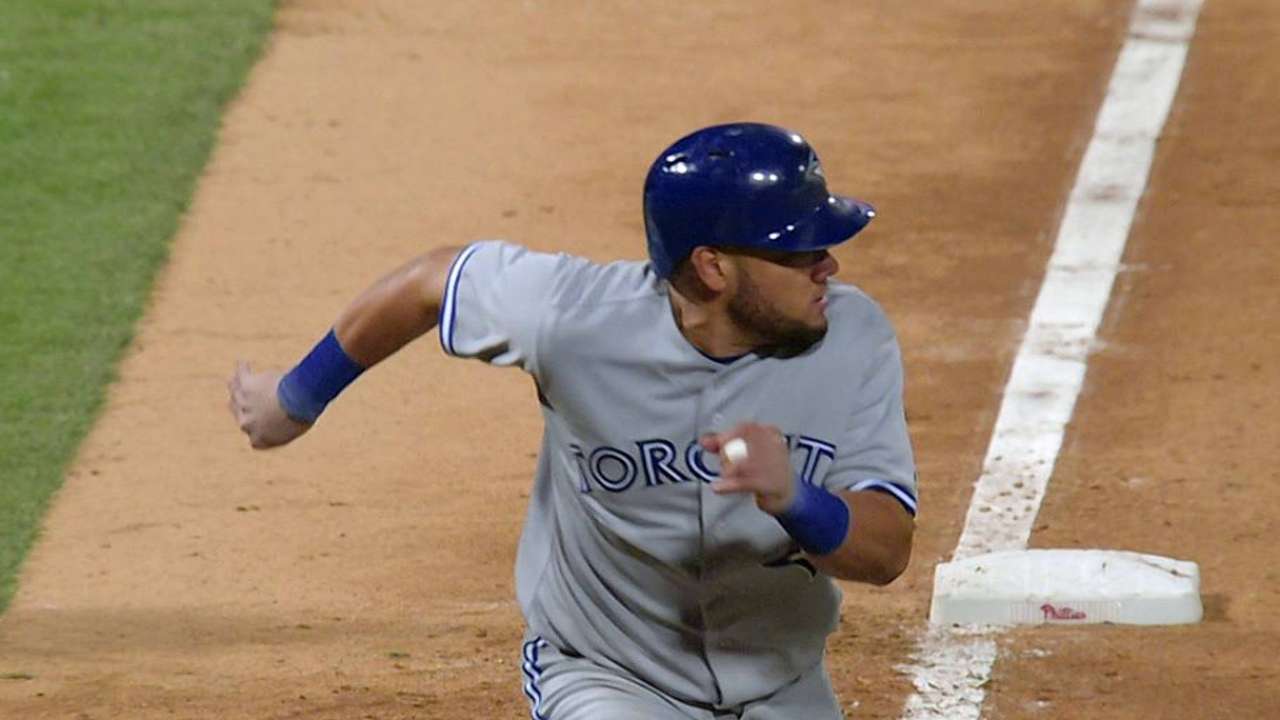 PHILADELPHIA -- Just a few days ago it appeared as if the Blue Jays were on the verge of falling apart, but before things went too awry they found a way to keep it together.
Toronto salvaged an eight-game road stretch with three consecutive wins to finish with a 4-4 record. That seemed almost impossible earlier in the week after the series of late-inning meltdowns by a struggling bullpen that led to three losses.
The Blue Jays faced similar adversity on Tuesday night in Philadelphia after blowing a five-run lead, but this time they weathered the storm until Juan Francisco hit a sacrifice fly in the 10th inning en route to a 6-5 victory.
"It turned out to be a pretty good trip other than the way it started," Blue Jays manager John Gibbons said. "Some tough losses on this trip, but you look at it, we played good baseball -- maybe one game in Kansas City when we didn't catch the ball, but we played a good brand of baseball. Tonight we had a little bit of that magic late ... and maybe that will spark us."
Toronto began its road trip with just one win in five games. Under normal circumstances that would not have been the end of the world, but instead there was the risk of serious repercussions in the clubhouse because three of those losses could easily have been wins.
In Game 1, the Blue Jays had a four-run lead in the bottom of the seventh vs. Kansas City but ended up losing, 10-7. In Game 4, the club saw a five-run lead evaporate in a walk-off, 6-5 loss to Pittsburgh. The following day, a four-run lead turned into yet another two-run defeat.
But it was then that the Blue Jays were able to begin their climb to within one win of .500. They avoided a sweep on Sunday in Pittsburgh and won a mini two-game sweep over Philadelphia.
"We were able to win the last game in Pittsburgh after a tough series, and then come here and get both is big," right-hander Drew Hutchison said. "Especially tonight, after getting up and what happened, to come back and get a run was big, and to get this win was a good job by our team."
Toronto took an early advantage when Edwin Encarnacion hit a solo home run in the second inning off left-hander Cole Hamels. The lead was extended to four in the fourth when Francisco hit an RBI grounder and Colby Rasmus hit a two-run shot for his fourth homer of the month. Another run was added in the sixth on an RBI double to the gap in right-center field by Steve Tolleson.
Hutchison had been cruising until that sixth inning. He had faced just four batters over the minimum and had thrown just 56 pitches through five scoreless innings, but that was soon to be overshadowed.
The 23-year-old allowed hits to Carlos Ruiz, Chase Utley and Ryan Howard, whose RBI gave Philadelphia its first run of the game. Hutchison almost got out of the jam but walked John Mayberry Jr. with two outs to load the bases before Asche went deep to right field for the first grand slam of his career. Just like that Toronto's five-run lead was erased, as Asche finished with a career-high four hits and four RBIs.
It seemed to be following the script from earlier in the road stretch, but instead of giving up the go-ahead run, Hutchison retired the next seven batters he faced and completed a career-high eight innings to give his team a chance.
"He showed us what he is all about," Gibbons said. "It was a rough inning, he almost got out of it and Asche had such a big day all around, it was his night, too. But that's where you find out about a guy, and he came back with two dominating innings. That's big for him."
Rookie right-hander Marcus Stroman played an equally integral role as he entered in the bottom of the ninth. Stroman got the first batter he faced before allowing a single to Asche, who advanced to second on a wild pitch, and all of a sudden the Phillies had the winning run in scoring position.
It was the type of situation that could easily cause a rookie pitcher to crumble under the pressure, but Stroman got pinch-hitter Jimmy Rollins and Ben Revere to ground out and end the threat. That gave the Blue Jays some renewed life and put them in a position to take the game.
Melky Cabrera and Jose Bautista led off the 10th with back-to-back singles, which put runners on the corners with nobody out. After a popup by Encarnacion, Francisco delivered the winning run with a sacrifice fly to center field. It wasn't that deep, but it was beyond the throwing range of Revere.
Stroman came back out to record one out in the 10th and went on to register his first career victory in the Major Leagues. Left-hander Aaron Loup picked up the win, and for the second consecutive day Toronto's bullpen was able to get the job done.
"At that point I was just doing my best to keep us in the game, and whatever they wanted me to do, I went out and battled and get it to our lineup, because our lineup is pretty powerful, and once we got there I knew we were going to win it at that point," Stroman said.
Gregor Chisholm is a reporter for MLB.com. Read his blog, North of the Border, and follow him on Twitter @gregorMLB. This story was not subject to the approval of Major League Baseball or its clubs.