Ray shows mettle in debut as Tigers rout Astros
Lefty cruises after early jam; Miggy's 4-for-5 night leads 18-hit attack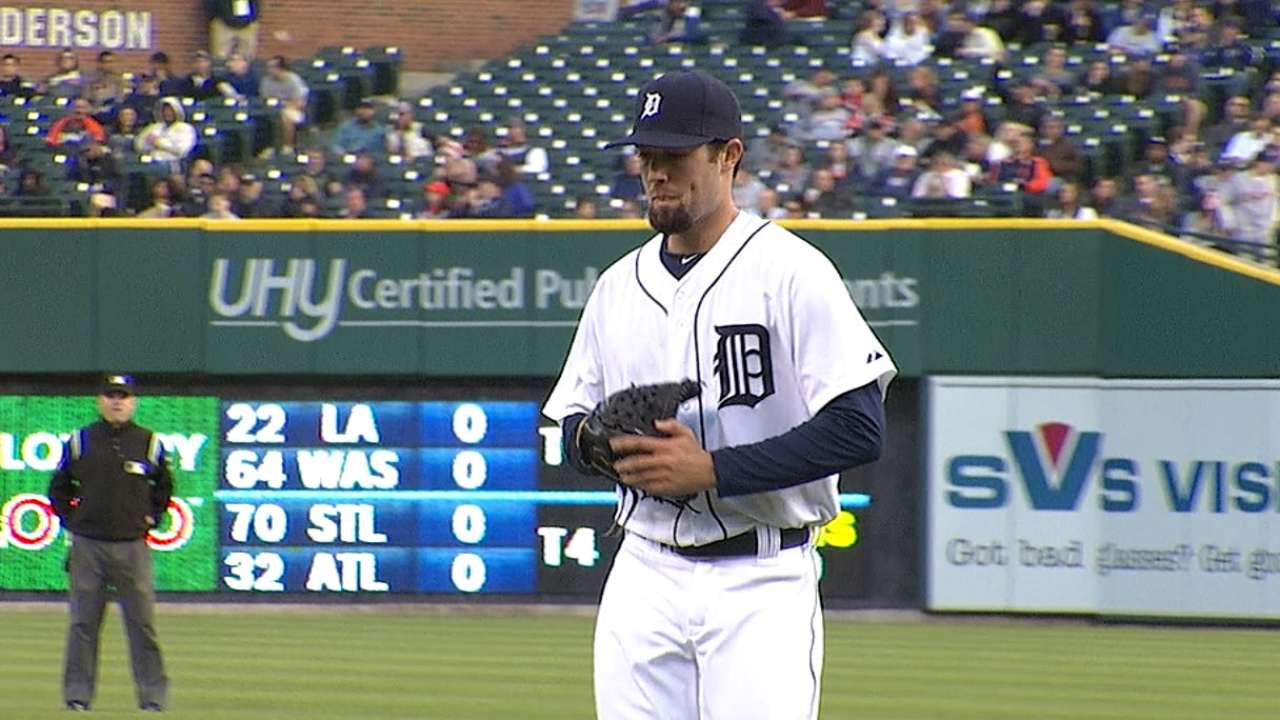 DETROIT -- Robbie Ray spent the last six months in the tall, lanky shadow of Doug Fister, the former Tigers starter whose much-scrutinized offseason trade brought Ray into the system. He heard the feedback, some directed at him, some just in general.
"You hear them talking -- not to your face, but you hear them talking," Ray said. "You just have to push it aside, and they have to wait and see."
Tuesday was the first chance to see Ray, in his Major League debut. He made it his time, and his performance in the Tigers' 11-4 win brought him fairer comparisons.
Ray's fastball was sneaky, looking harder than 92-93 mph, set up by a changeup that had very similar mechanics. His curveball came around just in time.
Most important, his nerves were tempered. Called up after just five Triple-A starts to fill in for Anibal Sanchez, Ray not only shut down the Houston Astros offense for five-plus innings before finally giving up a run, he looked quite comfortable doing so. He had a steady diet of Tigers runs -- and a season-high 18 hits -- behind, including a four-hit, four-RBI game from Miguel Cabrera, but he had the quick innings to keep sending his team back to the plate for more swings against Brett Oberholtzer.
And as Ray walked off the mound with one out in the sixth, having finally given up a run, he received a standing ovation. It wasn't about the Fister trade at that point. It was about Ray.
"I got the sense before today they didn't know who I was," Ray admitted. "I was glad to have their support tonight."
That ovation was when the emotions hit him. They knew now.
"It was a great feeling," he said. "I started tearing up a little bit. It was my Major League debut."
It was also the Tigers' seventh consecutive win, now the longest current streak in the Majors. It's the first time since its historic 35-5 start in 1984 that Detroit has won seven in a row within the first 28 games of the season.
Three of those victories have come from starting pitchers other than their front three of Sanchez, Justin Verlander and Max Scherzer. Ray wasn't even the Tigers' sixth starter or insurance man when the season began, taking the nod only when his early success vaulted him.
By the time he left, only an Ian Kinsler drop and a Dexter Fowler run kept the 22-year-old left-hander from becoming the first Tiger since Andy Van Hekken in 2002 to deliver five or more shutout innings in his Major League debut.
Van Hekken, a 23-year-old lefty at the time of his promotion, threw a shutout against Cleveland on Sept. 3, 2002, and didn't win another game in his big league career. The Tigers are hoping Ray eventually becomes a fixture in their rotation as soon as next season.
In an ideal scenario, they wouldn't need Ray this year, but they do. They got what they needed, and more. Considering where he stood two batters in, facing runners at the corners and the middle of the order up, Ray gave plenty more.
Part of it was tough luck with Jose Altuve's bloop double leading off the game, the other part self-inflicted with a bad route to first base on Fowler's ground ball. At least a little part, too, might have been the nerves.
Three batters in, Ray was looking for damage control. He got an escape.
"I was just telling myself to calm down, collect myself," he said. "That runner on third was probably going to score. Just get a ground ball, get a double play."
Instead, Ray got back-to-back strikeouts, both Jason Castro and Chris Carter swinging and missing at his fastball. It seemed odd for two veteran hitters against a young pitcher, but there was a reason.
"It's hard to pinpoint," catcher Alex Avila said of Ray's fastball, "and I'll be honest with you -- the first couple innings and in warmups, I had a tough time even following the ball to catch it. It's tough to pick up out of his hand."
Once Jesus Guzman grounded out, Ray could breathe a sigh of relief. The Astros, meanwhile, could groan. Three batters into the bottom half, Cabrera hit a drive to left-center for his third home run of the year, giving the Tigers the lead for good.
"I felt like that was a big inning, especially with a guy making his Major League debut," Astros manager Bo Porter said. "You feel like if you push a couple of runs across there, it's a different ballgame. To his credit, he made quality pitches and was able to get out of hit unscathed and went on to have a good performance."
Ray retired 15 out of 17 batters from his first out of the opening inning to his last out of the fifth, allowing only a George Springer infield single and an L.J. Hoes walk in between. He fanned Castro and Carter again his next turn through the order, this time changing speeds, in a string of 10 outs in a row.
Cabrera's first-inning drive to left-center came one pitch after Torii Hunter was caught stealing at third base. It was a lost run, but Detroit eventually made up for it as part of a long night for Oberholtzer (0-6).
Hunter, Danny Worth and J.D. Martinez padded Detroit's lead with sacrifice flies in the third, fourth and seventh innings. Cabrera's RBI single drove in Kinsler in the seventh before he slashed a double into the gap in left-center to plate two more as part of a five-run eighth.
Cabrera's 12th career four-hit, four-RBI game leads all active players and ranks fourth all time. The three ahead of him are all Hall of Famers: Lou Gehrig (20), Al Simmons and Tigers great Charlie Gehringer (15).
Perhaps, Cabrera will get more. Clearly, the Tigers hoping Ray gets more wins. The game ball he got -- the ball Castro swung and missed on for his first big league strikeout -- is one of a kind. Nothing can compare to it.
"I might give it to my dad," Ray said, "but for right now, I'm keeping it."
Jason Beck is a reporter for MLB.com. Read Beck's Blog and follow him on Twitter @beckjason. This story was not subject to the approval of Major League Baseball or its clubs.