Chavez takes first loss as A's slide continues
Mariners post three on righty in first, four on Johnson in ninth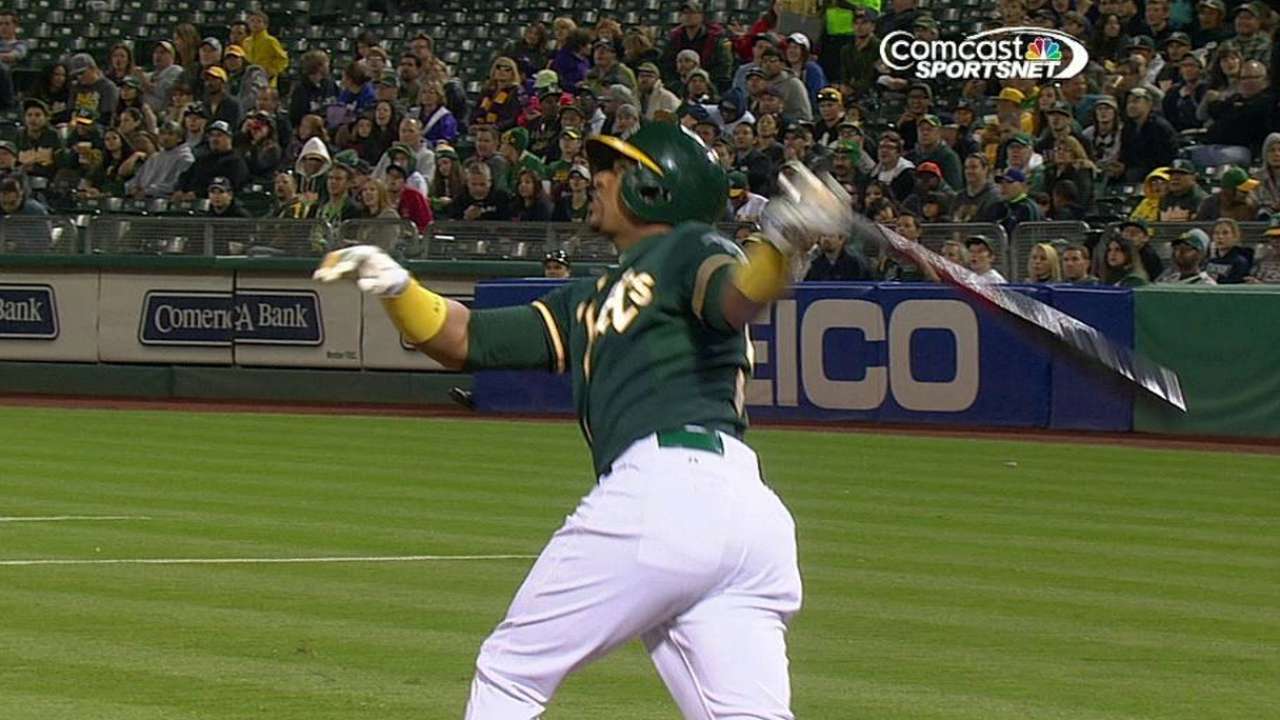 OAKLAND -- Jesse Chavez endured a rare case of first-inning woes, and the A's continued to look meek on offense in another defeat to the Mariners.
The 8-3 loss at the Coliseum was closer than the final score indicated, with Jim Johnson allowing four unearned runs on two hits and two walks in the ninth. Nevertheless, it was the A's fourth loss in their last five games, moving them to 19-14 on the season. The Mariners found their way above .500 with the win, improving to 16-15.
The A's have managed just 12 runs and 28 hits in 46 innings during their last five games, hitting .177. The next will come against Mariners ace Felix Hernandez, who is undefeated in his last 10 starts at the Coliseum.
Just a week ago, the A's were in the middle of a three-game road sweep of the Rangers in which they plated 25 runs.
"Our approach is fine," said manager Bob Melvin. "We're just not swinging our bats like we did those few days in Texas. You're going to go through those times over the course of the season. They've pitched us tough, been aggressive early in the count, gotten ahead of us."
For Chavez, who allowed three runs on four hits -- including an RBI double to Justin Smoak, who had three RBIs on the night -- in a 29-pitch first inning, it marked the first time this year he'd given up a run in the opening frame.
Nick Punto's two-run double in the second cut Seattle's lead to one run, and Chavez got through 5 2/3 innings on 97 pitches, after surrendering one more run in the sixth.
Two innings prior, Chavez nearly took a screaming line drive off the bat of Michael Saunders to his face, but he got his glove up in time avoid injury and make the catch for the third out.
"It was all reflexes," said Chavez. "I just put my glove up, and … I'm standing here."
"A Brandon McCarthy flashback," said Josh Donaldson, referring to the line drive that hit the former A's starter in the head two years ago and required McCarthy to have emergency brain surgery. "Thankfully, he caught it."
Yoenis Cespedes gave Chavez a boost in the sixth with a solo shot to left field off southpaw Roenis Elias, his fifth of the year, but the A's scoring stopped there.
Oakland went 1-for-8 with runners in scoring position and stranded nine on base. They're 6-for-31 in such situations since Friday.
Chavez, pitching on the heels of a one-hit, seven-inning performance in Texas, was handed his first loss of the season, and his ERA jumped from 1.89 to 2.47.
"He was a little out of sorts in the first inning but battled," said Melvin, "and that's a sign of a guy that can recover and pitch well, and he kept us in the game. Just got away from us there in the end."
Lefty Sean Doolittle relieved Chavez and struck out all four batters he faced. Luke Gregerson followed with a clean inning in advance of Johnson's 2/3-inning setback in the ninth.
The righty walked Brad Miller to lead off the inning and threw away Saunders' ensuing bunt to put runners at second and third. Johnson struck out James Jones and intentionally walked Robinson Cano to get to Corey Hart, who grounded into a potential inning-ending double play that the A's couldn't turn in time. Johnson proceeded to allow two more hits before departing.
Johnson had not allowed a run since April 9, spanning 10 1/3 innings.
On the other side, Elias gave the Mariners 6 1/3 innings, allowing three runs on five hits and three walks with six strikeouts.
"He's got pretty good stuff," said Donaldson. "We did a pretty good job against him, we just didn't cash in.
"It just seems like we're not getting those timely hits we're normally accustomed to."
Jane Lee is a reporter for MLB.com. Read her blog, Major Lee-ague, and follow her on Twitter @JaneMLB. This story was not subject to the approval of Major League Baseball or its clubs.