Girardi irked, but ready to move on from ejection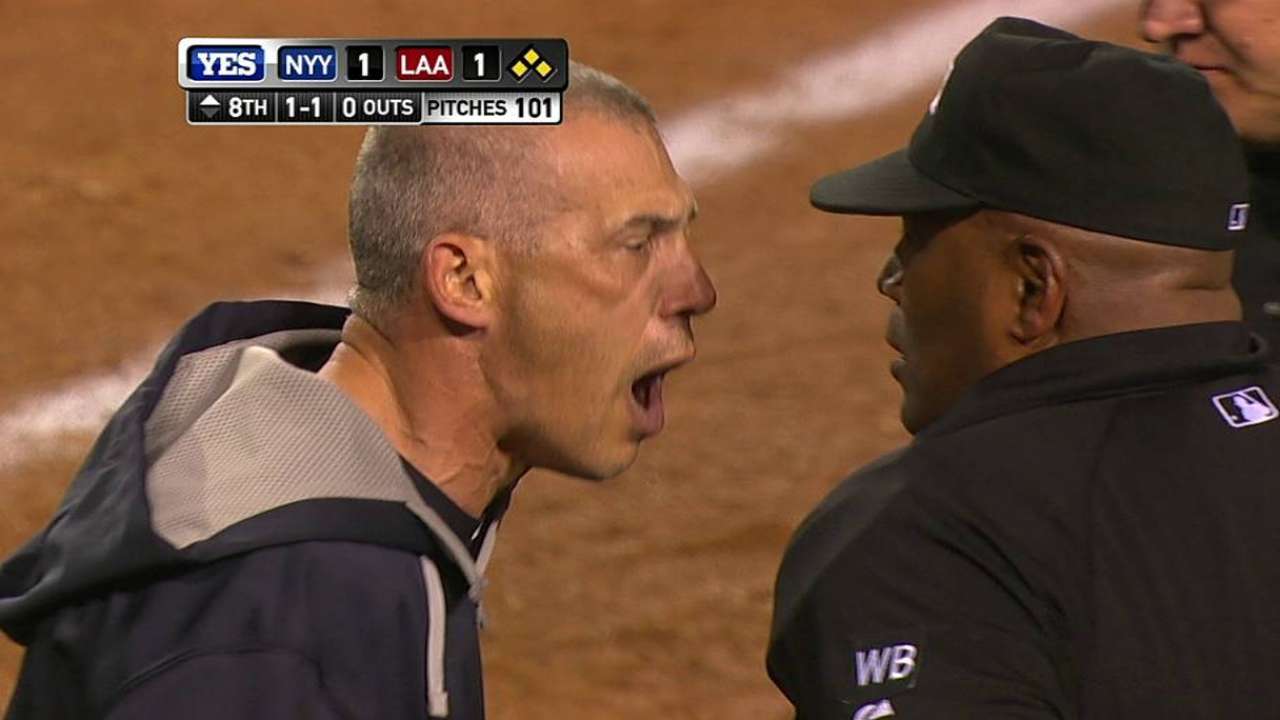 ANAHEIM -- Joe Girardi woke up on Tuesday morning with a hoarse voice and a touch of a sore throat. The Yankees' manager didn't need to think too hard to remember why, having engaged in a spectacular on-field argument with umpire Laz Diaz during a 4-1 loss to the Angels on Monday.
"I've heard people complain that there's no arguments now that there's replay; well, there was one last night," Girardi said. "If they missed it, I'm not doing it again tonight. I have no voice."
Girardi said that he was still irked by the events that took place between his team and Diaz, who was working home plate and ejected Girardi for arguing a called strike on Brett Gardner during the top of the eighth inning.
Diaz also ejected Yankees reliever Shawn Kelley in the bottom half of the eighth, dismissively waving at the hurler as Kelley left the field following a pitching change.
"That's frustrating to me. That bothers me," Girardi said.
Kelley declined to talk about the nature of his first career ejection, saying, "Everybody saw it, so I'm not going to go there."
Girardi said that he believed Diaz instigated Monday's situation, also noting that Diaz had earlier waggled his finger in what Girardi called "the Mutumbo."
Speaking to reporters from the New York Times and the New York Post, the veteran umpire denied that he was the instigator.
"[Girardi] came out of the dugout, arguing balls and strikes; that's an automatic ejection," Diaz said. "So I don't see how I instigated it. And I warned him before he came out."
Girardi said that he does not expect Monday's events to carry over for the rest of the series.
"Umpires that have been around long enough and have been through enough of them, they realize it's part of the game, too," Girardi said. "I'm sure Laz will move on. No big deal."
Bryan Hoch is a reporter for MLB.com. Follow him on Twitter @bryanhoch and read his MLBlog, Bombers Beat. This story was not subject to the approval of Major League Baseball or its clubs.