Roberts' solo blast sends Yankees to win over Halos
Second baseman's second RBI of night evens three-game series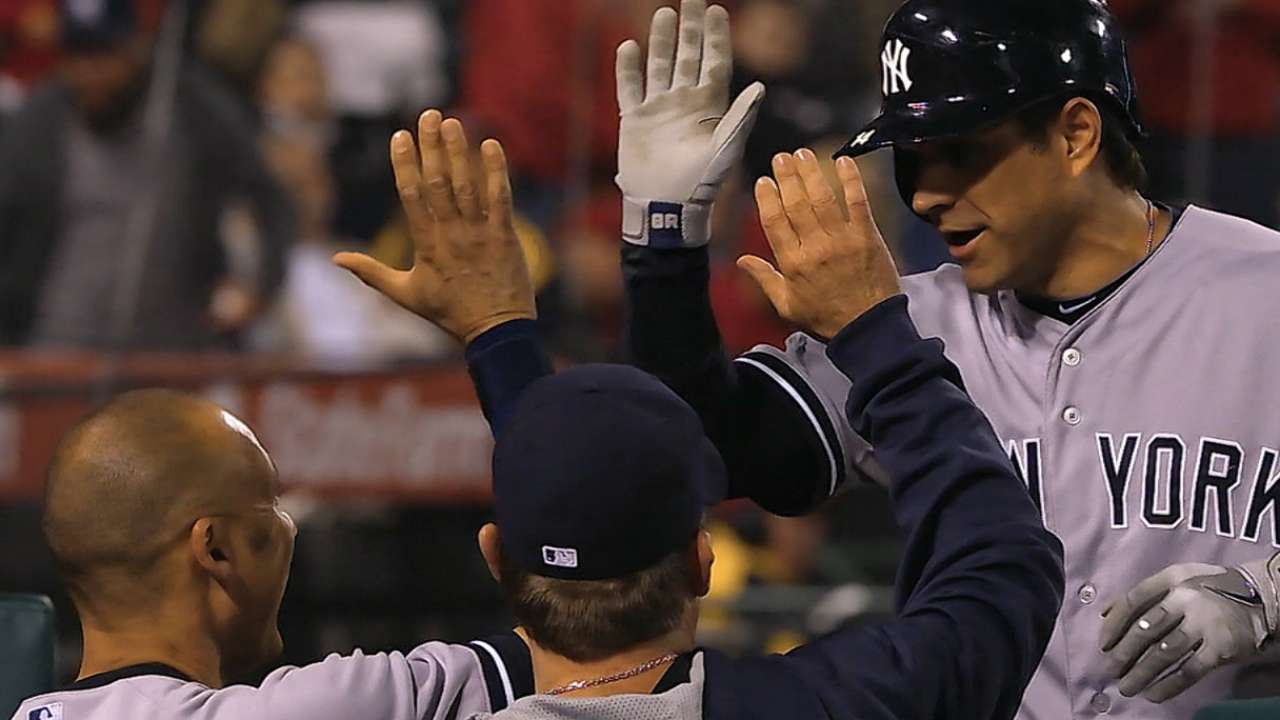 ANAHEIM -- From the on-deck circle, Brian Roberts stole a few glances at the scoreboard in right field, trying to gauge the high-octane velocity he was about to step in against. The plan was simple: he'd try to see a good pitch and speed his bat up a click or two.
Roberts swung at the first pitch he saw from Angels reliever Ernesto Frieri and launched it over the right-field wall, his first home run as a Yankee arriving at a most opportune time. The ninth-inning blast lifted New York to a 4-3 victory on Tuesday at Angel Stadium.
"I feel a lot more comfortable," Roberts said. "I probably put a little too much pressure on myself early on. I've never been on a new team, and certainly hadn't been in New York in a home uniform. It's been nice to get something going a little bit, start to relax a little bit, and have some fun."
The home run came on a 94-mph fastball from Frieri and put the Yankees back in the lead after squeezing 7 2/3 terrific innings from Hiroki Kuroda in a no-decision effort. Albert Pujols had evened the score with a game-tying single off Shawn Kelley in the bottom of the eighth inning.
David Robertson recorded the final three outs for his fifth save of the season as the Yankees won for just the second time in their last seven contests.
"It's great," manager Joe Girardi said. "We've had some opportunities to win some games, and we've been struggling a little bit offensively. You know that you're going to go through it in the course of the season, but it was nice to get some big hits tonight."
Roberts' homer provided a highlight-reel thrill, but Kuroda's 108-pitch effort delivered the encouraging signs that he and the Yankees have been waiting for, striking out a season-high eight in his best outing of the season.
"The biggest thing for me, in a game that I pitched, [is] it was good that the team won," Kuroda said through an interpreter.
Kuroda permitted just five hits, wielding a nasty splitter and a more consistent slider as he held the Angels to a pair of unearned runs over the first seven innings. Granted extra rope by Girardi, Kuroda's luck ran out when Mike Trout dented the right-field wall with a two-out triple in the eighth.
"We all know how good a hitter he is," Kuroda said. "But what I try to do is, at that moment, I tried to just attack him and see how it goes."
Kelley, who issued four walks in Monday's bullpen meltdown, relieved Kuroda and battled Pujols to a full count before the slugger laced a hard single into center field, tying the game. That stole the decision from Kuroda, who deserved a better fate.
"[Kelley] did a good job getting back in the count 3-2, but he left a slider up. That's all," Girardi said. "That's part of it. He left a slider up, and Albert hit it."
The Yankees had pushed ahead by rallying against a tiring C.J. Wilson in the top half of the eighth, as Derek Jeter was hit by a pitch and Carlos Beltran singled. Jeter was erased on a fielder's choice, but Alfonso Soriano then shot a ground ball past shortstop Erick Aybar, scoring Beltran with the go-ahead run.
Pushed to 125 pitches over eight innings, Wilson also permitted a pair of fifth-inning runs, as New York stroked three straight hits to open the inning. Roberts bounced a run-scoring single to center field, driving home Yangervis Solarte, and Brett Gardner scored on a Jacoby Ellsbury double-play grounder.
"I feel like I'm starting to swing the bat better, and things are starting to pick up a little bit," said Roberts, who has seven hits in his last 14 at-bats. "I'm having a lot of fun, and enjoying it a lot."
"We've seen him do that against us plenty, so it was nice to see him do it for us," Girardi said of Roberts.
The support was nice for Kuroda, who acknowledged recently that he may have been thinking too much about his inconsistent results. Kuroda looked much better against an Angels club that pounded him for a career-high eight runs (six earned) on April 25 in New York.
"He had better stuff tonight," Angels manager Mike Scioscia said. "It looked like he had a little more velocity, a little more bite on his sinker, a tighter slider."
The Angels' first two runs came on third-inning sacrifice flies, lifted by Aybar and Trout. They threatened in the fifth, but Kuroda stranded two men aboard by getting Trout to strike out on a splitter in what Kuroda called "the biggest key moment of the game for me."
"Hiro's got great stuff," Jeter said. "He threw the ball extremely well. It's too bad he couldn't get the win; he did exactly what we needed."
Bryan Hoch is a reporter for MLB.com. Follow him on Twitter @bryanhoch and read his MLBlog, Bombers Beat. This story was not subject to the approval of Major League Baseball or its clubs.