Late luck runs out this time for Padres in 11th
Vincent gives up two runs in extras as Royals even series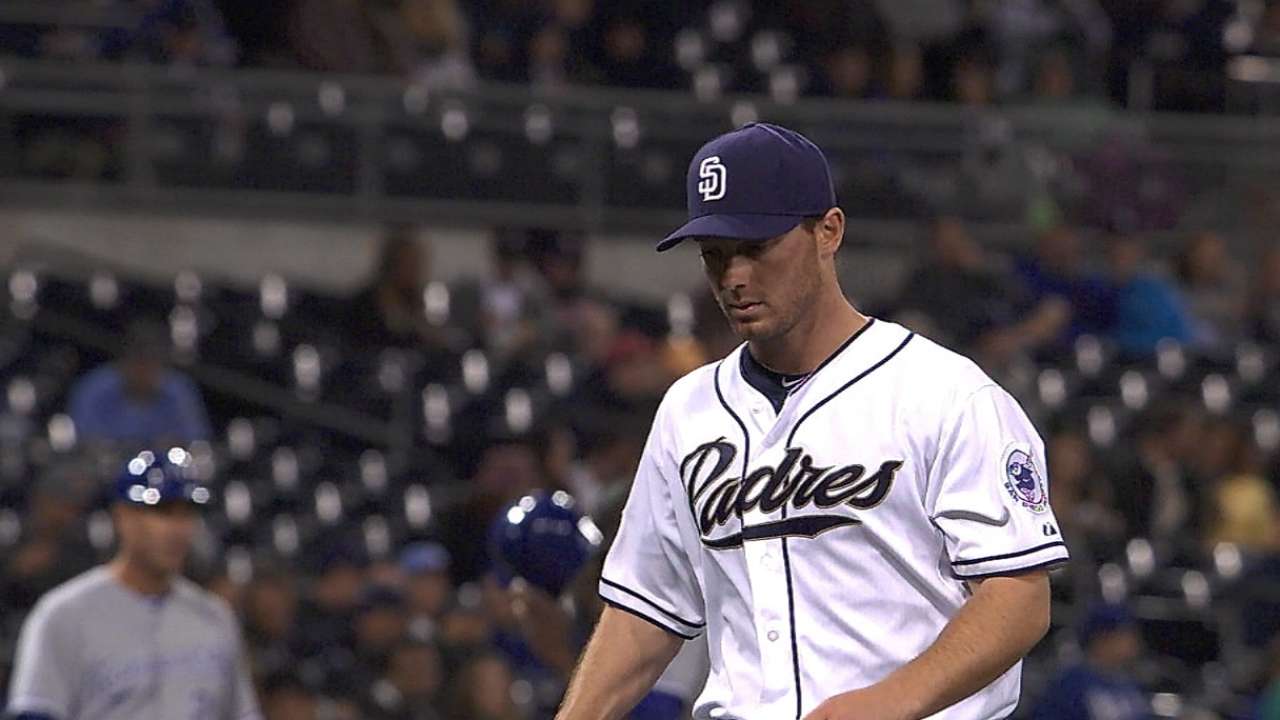 SAN DIEGO -- By no means was this an unfamiliar situation for the Padres and manager Bud Black, who found themselves in another tight game Tuesday at Petco Park.
But unlike victories in their final at-bat Sunday and Monday, the Padres couldn't get over the top in their 3-1 loss in 11 innings to the Royals before a crowd of 16,542 at Petco Park.
"I thought we were going to do it again," Black said.
Instead, it was the Royals (15-17) who came out on top during the second game of a three-game series, as they scored twice in the top of the 11th inning. Alex Gordon had an RBI single that broke a tie, a hit that was followed by an RBI double by Billy Butler.
The victory snapped the Royals' five-game losing skid and gave them their first victory in San Diego in eight games.
"I didn't know that until I was going through the line [after the game] and [manager Ned Yost] was celebrating," Gordon said. "He told me that was the first win since we've been coming here. So we'll take it any way we can."
A day after the two teams played 12 innings, and the Padres had to squeeze 7 1/3 innings out of their bullpen, the team desperately needed starting pitcher Robbie Erlin to give them innings.
The left-hander gave them much more than that. He gave them quality innings, seven of them, in fact, as Erlin allowed one run on three hits with four walks and five strikeouts. His lone mistake was a pitch to Salvador Perez in the sixth inning that became a home run.
"That was one of the better ones he's thrown," said Black. "I think that was the best curveball he's thrown. He made pitches.
"That's just what we needed with the state of our bullpen."
Black indicated that the Padres could add a pitcher before the start of Wednesday's 12:40 p.m. PT game against the Royals. The good news is the Padres' Triple-A affiliate, El Paso, is playing in Fresno.
"Our bullpen has been taxed," Black said.
Erlin wasn't the only pitcher dealing Tuesday, as Royals starting pitcher Jeremy Guthrie allowed one run on four hits over eight innings. He walked one, struck out two and got 12 ground-ball outs.
The only mistake that Guthrie made was leaving a changeup up in the strike zone to Yasmani Grandal in the fourth inning, as Grandal -- who had a three-run home run Monday -- drove it down the right-field line and over the fence for his fourth home run of the season.
"When a guy throws a high change, you should be out front of it like that. Yazzy has some power and he made him pay," Black said.
Grandal, who started consecutive games behind the plate for the first time Tuesday, the last test for his surgically repaired right knee, admitted to seeing the ball better of late.
"I'm just making adjustments … that might be one of the best things I'm doing right now," he said.
The Royals actually looked like they might forge ahead in the ninth inning as Alcides Escobar singled and stole two bases.
Escobar tagged up and tried to score on Lorenzo Cain's pop-up down the first base in foul territory but first baseman Kyle Blanks caught the ball, spun quickly back toward the plate and, standing nearly flat-footed, threw the ball home to nab Escobar for an inning-ending double play
"Kyle is a good defender and that was a tough play going back like that," Black said. "… The play was going away from him. They [Royals] had to take a chance."
Will Venable walked with one out in the eighth inning but took off for second base with Everth Cabrera at the plate. Perez threw him out for the second time in the game. Afterwards, Black was asked about the play, saying that Venable always has the "green light" to run.
"[But] that was not what we were looking for there," Black said.
Nick Vincent (0-1) took the loss for the Padres (15-19). Wade Davis struck out four in two innings for the victory, he's now 2-1. Greg Holland got the save, his eighth of the season.
Corey Brock is a reporter for MLB.com. Keep track of @FollowThePadres on Twitter. This story was not subject to the approval of Major League Baseball or its clubs.