Gomez showing power, patience in leadoff spot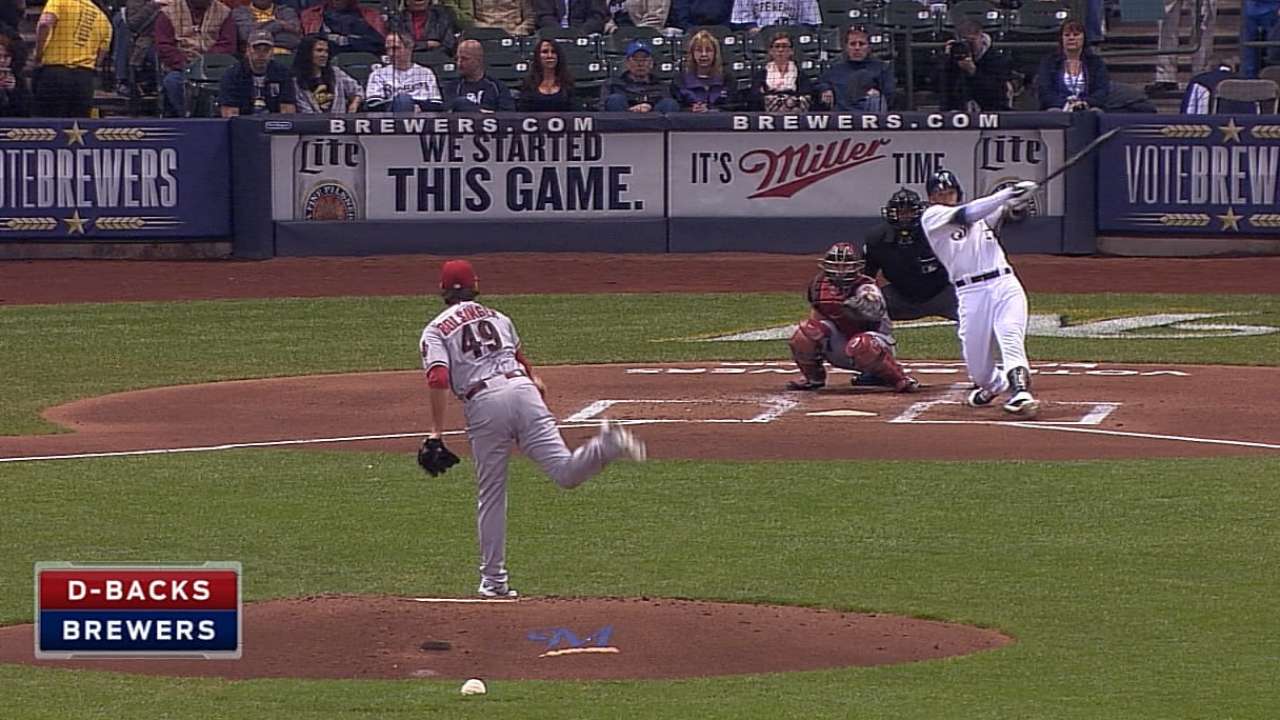 MILWAUKEE -- Brewers manager Ron Roenicke would love to see a lot more of what Carlos Gomez showed him in Monday's series opener against the D-backs.
In arguably his best all-around game this season, Gomez hit the first pitch he saw for a leadoff home run, then saw 26 more pitches on the way to finishing 2-for-2 with three walks and three RBIs in an 8-3 victory. It was only the second three-walk game of Gomez's free-swinging career, and also only the second time he reached safely five times in a game.
In terms of "win probability added," a stat that measures how a player contributed to his team's chances of winning a given game, it was Gomez's second-most impactful performance of the season. He scored his top WPA on Thursday, when Gomez delivered a tying double in the seventh inning of an eventual loss to the Reds.
"Carlos puts a lot of fear in the other side leading off," Roenicke said.
With the Brewers' offense coming off a poor showing in Cincinnati, Roenicke and his coaches considered dropping Gomez into the three-hole for Monday's game, but opted instead to keep him in the leadoff. Gomez was back atop the lineup Tuesday night, and has started there for all 34 of the Brewers' games.
Part of the reason, Roenicke said, is there are few better options. Shortstop Jean Segura "isn't comfortable" hitting first, according to Roenicke, and second baseman Scooter Gennett rarely walks.
At the end of Spring Training, Roenicke settled on Gomez as his pick to bat first, and urged Gomez to stick with his aggressive approach.
"When he gets a little crazy and swings at pitches out of the zone -- that's what [opponents] are hoping for," Roenicke said. "What he did last night, where he's really watching the ball, watching spin and not chasing, there's not a lot they can do."
Gomez said he had a special level of focus on Monday.
"I had a plan today before the game started," he said. "When I drove my car over here, I thought a little bit. The last five, six games, I feel so good that I was swinging at pitches out of the strike zone too much. [On Monday], when I hit [batting practice], I was looking for pitches I could [put a] good swing on it. That's how I started everything."
Adam McCalvy is a reporter for MLB.com. Read his blog, Brew Beat, and follow him on Twitter at @AdamMcCalvy. This story was not subject to the approval of Major League Baseball or its clubs.