Arenado's streak watched with ease by family, friends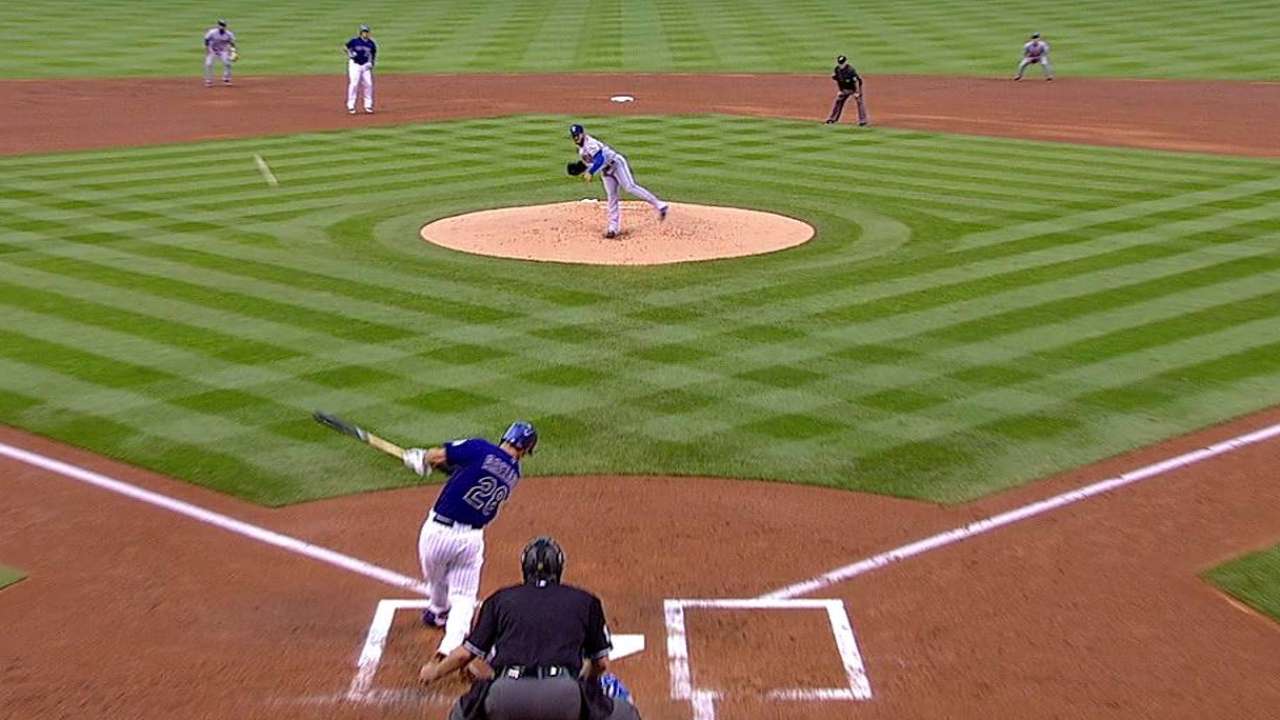 DENVER -- Seventy-three years ago, following a hitting streak meant huddling by the radio or waking up early to grab the newspaper out of the driveway, quickly flipping to the box scores in the sports section.
Such was the climate in the summer of 1941, when Yankees great Joe DiMaggio set a Major League record with a 56-game hit streak that captivated the nation, particularly his friends and family back in California.
As Rockies third baseman Nolan Arenado continues to build an impressive streak of his own -- he had hit safely in 25 straight games entering Tuesday's game against the Rangers -- family and friends in California are once again following along, albeit with much more ease.
"I follow him with the MLB [At Bat] app on my phone, and I see every game," Mike Gonzales, Arenado's coach at El Toro High School in Lake Forest, Calif., told MLB.com in a telephone interview Tuesday. "I'm checking every day, checking pitch by pitch."
Gonzales calls the real-time results from his former star "surreal" but not surprising. He watched Arenado hit safely in 28 of 29 games during his senior season, so he knows the 23-year-old is no stranger to torrid stretches at the plate. Still, Gonazles marvels at the heights Arenado has reached just short of five years since graduating from El Toro.
"I've known Nolan for a long time and watched him from a young age," Gonzales said. "I'm not surprised that he's had the success he's had. He's had success at every level. I'm not surprised, but when it actually does happen and he's on the biggest stage in the world with the best players in the world, and he's having the kind of success he's having, it is kind of surreal."
Arenado in high school commonly made the type of plays that earned him a Gold Glove as rookie last season, Gonzales said, but it was the maniacal preparation that led the coach to believe his pupil could become an All-Star level big leaguer.
"He made sacrifices to work out or go hit instead of going to the beach, so it doesn't surprise me," Gonzales said. "I knew, if he could stay healthy and all those other things, I believed that he could be an elite Major League athlete with the work ethic and the talent that he showed. Those were the things that average grade and high school kids couldn't do."
That work ethic hasn't faded. Even though the Rockies didn't take batting practice Tuesday, Arenado was on the field more than three hours before first pitch, working on his footwork while taking ground balls from third base coach Stu Cole.
"I think every great player has to have a certain level of OCD," Rockies manager Walt Weiss said. "He certainly qualifies."
Arenado put that determination into his offseason program. Shortly after the 2013 campaign ended, Arenado spent a day playing golf with Gonzales in California. His former coach was marveling at the season he had just completed, one in which he hit .267 with 10 home runs and 52 RBIs.
Arenado wanted much more out of his sophomore season.
"He goes, 'Coach, I know I can do better offensively,'" Gonzales said. "We all knew he could. It was just a matter of time."
Nick Kosmider is a contributor to MLB.com. This story was not subject to the approval of Major League Baseball or its clubs.