Crew's early lead doesn't hold up as Kintzler stumbles
Righty blows second save in as many outings; Schafer drives in two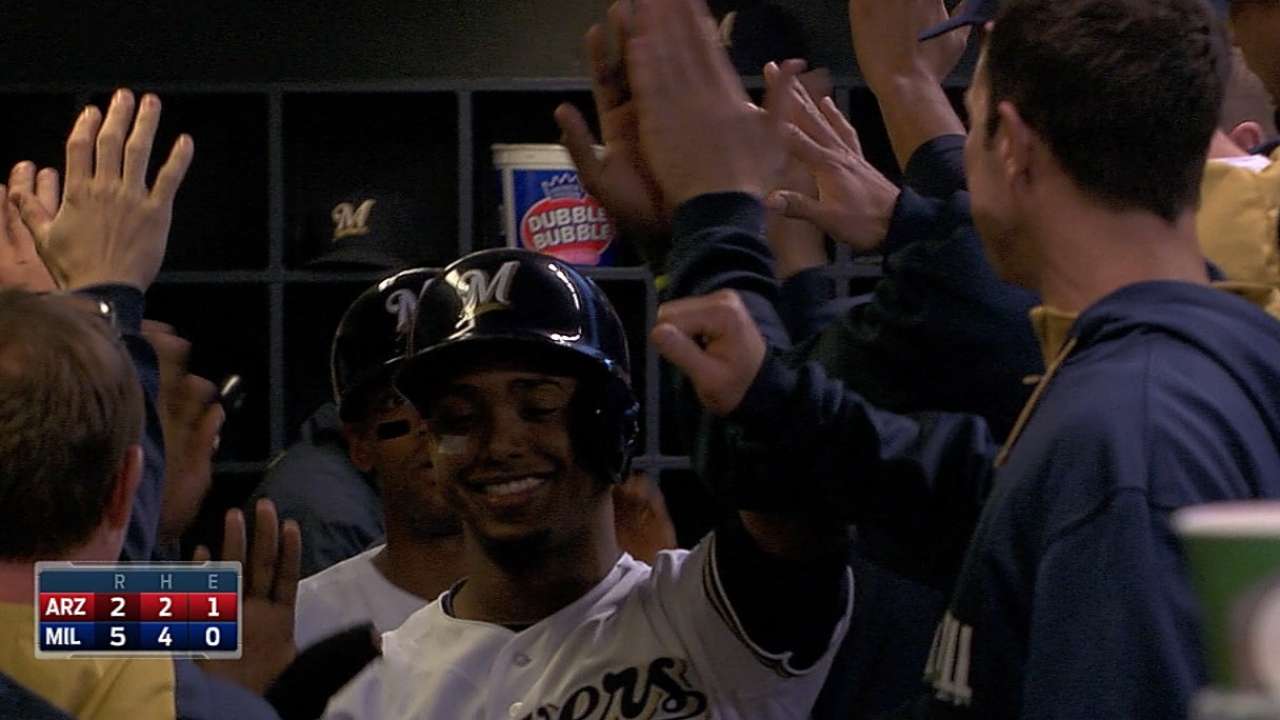 MILWAUKEE -- Two games in a row, Brewers setup man Brandon Kintzler has seen something he reckons he hadn't let happen in nearly four years.
"I mean, homers to righties on a fastball?" Kintzler said Tuesday. "I think the last time was 2010, and now I've given up two in two games. Obviously, it's not something I'm used to, but I'll definitely fix it. I feel terrible about letting the team down in that situation."
Kintzler let an eighth-inning lead slip away for the second straight outing, and this time was saddled with a loss as well after the Brewers fell to the D-backs, 7-5, at Miller Park.
Two days earlier, it was the Reds' Brandon Phillips who connected with one of Kintzler's signature sinkers, hitting a tying home run in the eighth inning of an eventual Brewers' loss in Cincinnati. On Tuesday, again in the eighth, again with the Brewers clinging to a one-run lead, Arizona's Paul Goldschmidt chipped a quality pitch for a double down the right-field line and Miguel Montero delivered a tying single before Aaron Hill hit one of those sinkers for a costly home run.
Hill's two-run homer cleared the wall easily in left field and gave the D-backs their first lead since the top of the first inning.
Goldschmidt and Chris Owings also homered and Arizona overcame a five-run Brewers rally in the bottom of the first inning. After scoring those runs with help from a two-out Owings error, the Brewers were limited to four singles and no runs over the final eight innings. The final 10 Brewers' batters were retired in order.
"[Monday] night's game, we won because we kept adding on," Brewers manager Ron Roenicke said. "We didn't do a thing after the first inning. We need to add on."
For most of the night, it appeared the Brewers' biggest inning all season would be enough.
Lyle Overbay had already put the Brewers on the board with an RBI single, and Owings' throwing error allowed the Brewers to tie the game at 2-2. Jean Segura followed with a go-ahead single, and Logan Schafer added insurance when he doubled over the right fielder's head for a 5-2 lead. The Brewers sent nine men to the plate in the inning.
They would not score again.
"True to [Josh Collmenter's] form, he hung in there and gave us 5 2/3 strong innings," Arizona manager Kirk Gibson said. "He's great at keeping his composure."
The D-backs didn't score again until the fifth, when Marco Estrada's inattention to A.J. Pollock at second base allowed Pollock to steal third ahead of Collmenter's run-scoring groundout. In the sixth inning, Owings hit his first Major League home run to make it a one-run game.
Estrada remained in line for a victory until Kintzler's letdown in the eighth, and took a no-decision after being charged with four runs on four hits and two walks in six innings.
"It was a tough game," Estrada said. "I thought I actually threw the ball pretty well today and they still ended up scoring four on me."
He survived an injury scare in the fifth, when Estrada drew a visit from head athletic trainer Dan Wright and Roenicke after fielding a bunt. Estrada, who has suffered several leg injuries in recent seasons, felt a tweak in his right quadriceps.
"I don't know what happened," he said. "I kind of went down to get the ball and, pushing off my right quad, just felt it grab. It's just something I've had to deal with since I strained it in 2012. It just kind of hasn't really gone away. I just need a little time."
The Brewers still led, 5-4, after Tyler Thornburg relieved Estrada and pitched a scoreless seventh inning. With lights-out left-hander Will Smith unavailable because of his recent workload, the Brewers had to decide whether to give the eighth inning entirely to Kintzler, or to mix and match with Kintzler, left-hander Zach Duke and right-hander Ron Wooten. The D-backs had two righties (Owings and Goldschmidt), followed by a lefty (Montero) due to bat, with another righty (Hill) to follow.
"Duke was up in case Kintzler wasn't throwing the ball well, but we liked the way he was throwing the ball [to Owings and Goldschmidt]," Roenicke said. "[Kintzler] is making some mistakes, but we need him. We need this guy to pitch well and pitch like he did last year. The only way to do that is to leave him out there for an inning.
"We can't keep switching guys in innings, use two guys that often in innings. We'll do it when we feel it's necessary, but we would have had to use three guys in that inning, and I didn't want to use three guys."
For Kintzler, it has been a struggle since he spent two weeks on the disabled list with a right shoulder injury. He has allowed a hit in all five of his outings since coming off the DL, and has allowed at least one earned run in three of them. With blown saves in two straight appearances, he is already halfway to his total from 71 appearances in 2013, when Kintzler logged 26 holds.
"I feel like last year I was never where I wanted to be, but I obviously had a good year. I think I'm just so hard on myself I'll never be where I want," he said. The main thing is just work down, throw my sinker down. That's my money pitch, and right now I'm leaving it up."
Is he 100 percent healthy?
"Yeah, I feel healthy, I feel strong," he said. "I mean, in Cincinnati, I hit 95 [mph], so obviously I better be feeling good. I wouldn't even go out there if I wasn't feeling good. If I couldn't give the team a chance to win, I wouldn't do it. But I feel healthy and I'll bounce back, hopefully, in the next outing."
Adam McCalvy is a reporter for MLB.com. Read his blog, Brew Beat, and follow him on Twitter at @AdamMcCalvy. This story was not subject to the approval of Major League Baseball or its clubs.