McGehee providing production behind Stanton
Third baseman sticks to his approach after pitchers intentionally walk slugger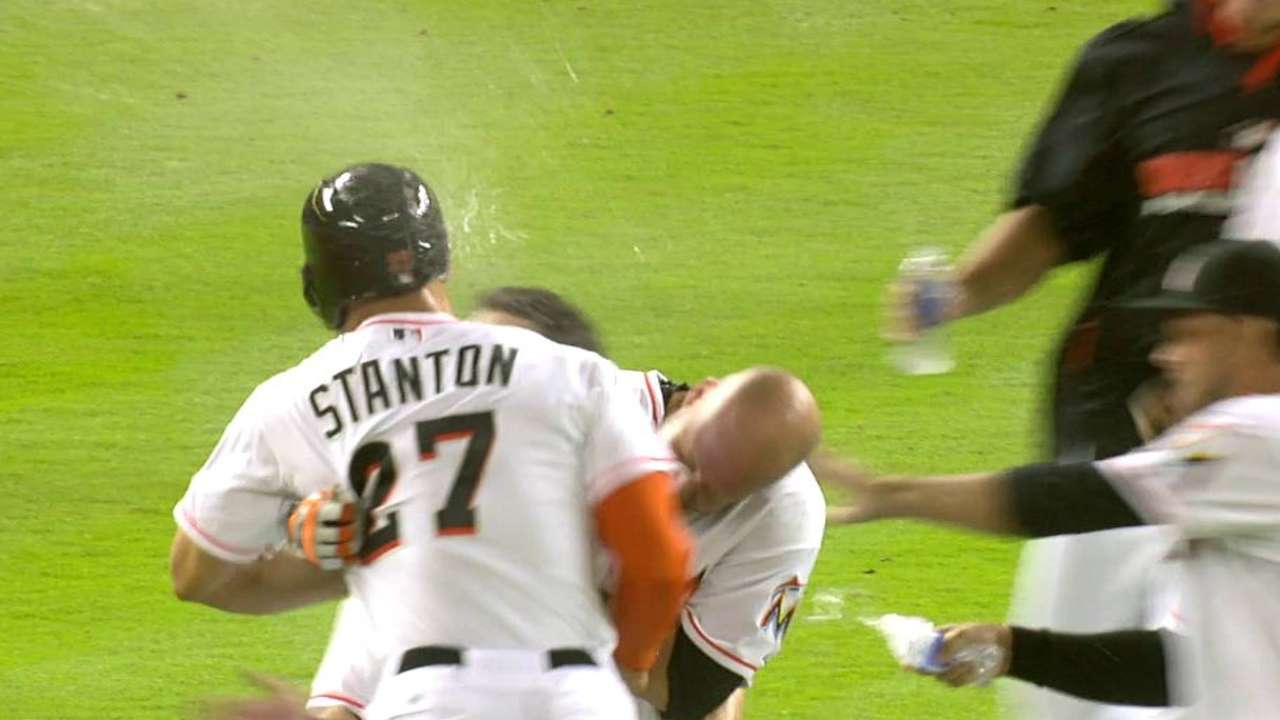 MIAMI -- Maybe at some point opponents will think twice about intentionally walking Giancarlo Stanton.
Actually, that's highly doubtful, but the Marlins' supporting cast still takes pride in trying to make the other team pay.
Casey McGehee did just that on Monday night, delivering a walk-off single in the ninth inning that rallied the Marlins to a 4-3 win over the Mets at Marlins Park.
The decisive hit came with Christian Yelich on second and Stanton, walked intentionally, on first.
Being the guy the opposition would rather face is nothing new for McGehee. During his years with the Brewers, he found himself often batting behind slugger Prince Fielder.
At age 31, McGehee's long over having his feelings hurt.
"It definitely helped me learning how to deal with those situations hitting behind Prince all those years," the Miami third baseman said. "I've taken the personal part out of it. I understand what is going on. Not trying to do too much, just settle down and try to have a good at-bat. That's all you can do up there.
"Hopefully, you'll have enough good at-bats over the course of the year, and maybe once or twice they will think about maybe trying to pitch to [Stanton]. You're never going to get it stopped completely."
McGehee has been a big contributor in the middle of the order. He was batting .309 with nine doubles, a triple and 21 RBIs entering Tuesday.
Surprisingly, he has yet to hit a home run in his first 137 plate appearances, but he isn't concerned too much about that fact. He did note that his teammates have poked fun, placing weights in front of his locker.
But no one is shrugging off his production, especially when given RBI chances.
With runners on base entering Tuesday, McGehee was hitting .411 (23-for-56), and his average with runners in scoring position was .406 (13-for-32). With two outs and runners in scoring position, he was 8-for-18 (.444).
The impact of Stanton can't be understated. He is a force, pacing the National League in homers with 10, and leading the Majors in RBIs with 37 entering Tuesday.
When Stanton is pitched around, McGehee takes it in stride.
"I really try to get past that feeling," he said. "It doesn't help you when you get into the box. I just really try to stick to my approach and hit the ball hard somewhere."
Joe Frisaro is a reporter for MLB.com. He writes a blog, called The Fish Pond. Follow him on Twitter Share This