Pena back on bench; Uggla starts at second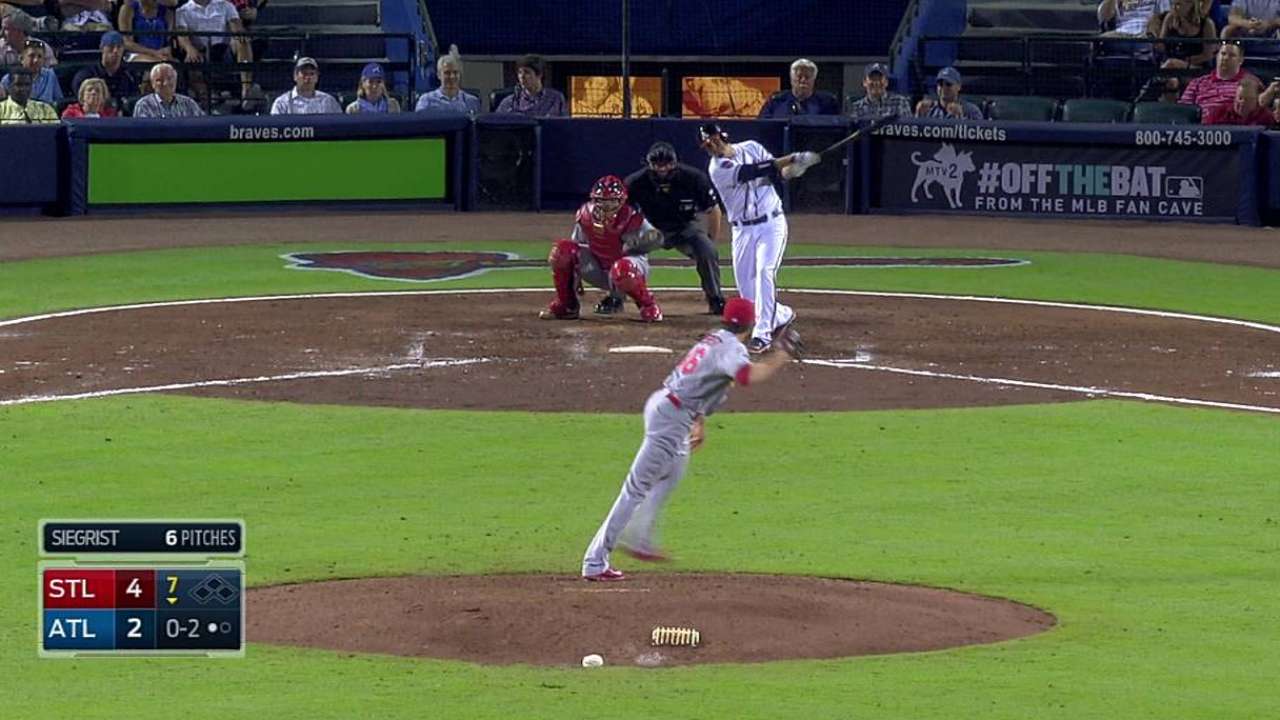 ATLANTA -- After providing the Braves' slumbering offense a spark with a home run and a double in Monday night's loss to the Cardinals, Ramiro Pena found himself back in a familiar reserve role on Tuesday night.
Such is life for many players like Pena, who have established themselves as valuable bench players whose time in the starting lineup is often limited to those occasions when they provide a favorable matchup against an opposing pitcher.
While it is often said that these players are susceptible to being "exposed" if they play on a regular basis, manager Fredi Gonzalez said he would not publicly use that term in reference to Pena, who served as a backup with the Yankees before coming to Atlanta last year to strength the Braves' bench.
"I don't think he's ever been given the opportunity to play every day," Gonzalez said. "You hate to label somebody when they're never given the opportunity. But I think with the right matchups and the right amount of games, he has been productive. If something happens to one our infielders and you have to run him out there for two or three weeks, you feel comfortable."
Gonzalez was comfortable to utilize the switch-hitting Pena during Monday night's matchup against Cardinals starting pitcher Shelby Miller, who has been most successful against right-handed hitters. But with St. Louis starting southpaw Tyler Lyons on Tuesday, Gonzalez opted to put his right-handed second baseman Dan Uggla back in the lineup for just the fifth time in the past eight games.
Though he recorded Monday night's home run from the right side, Pena has most often been paired against right-handed pitchers. Since the start of last year, he has batted . 192 (5-for-26) as a right-handed hitter and .291 (30-for-103) as a left-handed hitter.
"He gives you good at-bats," Gonzalez said. "You match him up with the right pitcher and he gives you really, really good at-bats. His defense is A-plus, whether he's playing short, third or second base. You never lose any defense. Sometimes, you're even better off with him at some defensive positions."
With speculation swirling that Uggla's days as a regular in the Braves' lineup might be numbered, the Braves have the option of platooning Pena and Tyler Pastornicky at second base. But they are also now evaluating the possibility of promoting Tommy La Stella from Triple-A Gwinnett.
If La Stella gets the call, he would likely be used on an everyday basis. This would mean Pena would continue to serve as a bench player, a role he does not mind as long as he gets the regular at-bats he needs to be productive when he is called upon to pinch-hit or make a spot start.
"You need to get a rhythm," Pena said. "It's not easy being on the bench and not getting [at-bats] for four or five days. It gets your timing off. Sometimes pitches look harder than they are, and the breaking balls look nasty. It's tough. But if you get more playing time, you get better."
Mark Bowman is a reporter for MLB.com. Joe Morgan is an associate reporter for MLB.com. This story was not subject to the approval of Major League Baseball or its clubs.