Altuve proud to draw praise from Vizquel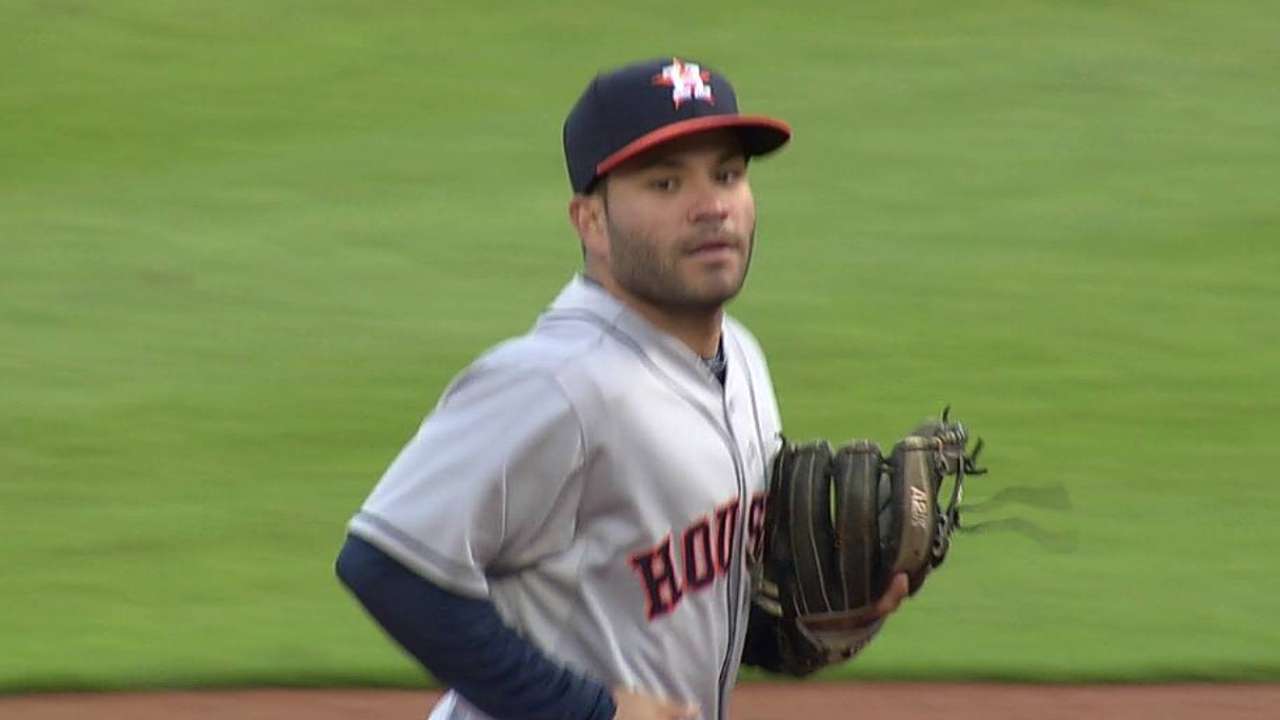 DETROIT -- When he was growing up in Venezuela, Astros second baseman Jose Altuve idolized Omar Vizquel, a fellow Venezuelan who played 24 seasons and won 11 Gold Gloves as a shortstop. Altuve worshiped Vizquel and wanted to be just like him.
When Altuve signed with the Astros at 16 years old, Vizquel came to the Astros' academy in Venezuela and spoke to a group of young players, including Altuve. Now Vizquel is the one admiring what Altuve is doing on the field, especially at 5-foot-6.
"I never thought that one of those guys was going to make it to the big leagues and become the kind of player that he is nowadays," said Vizquel, the Tigers' first-base coach. "I think he has impressed a lot of people -- especially because of his size -- and he can hit the ball a long way. He's a smart player. It's great to see a guy like that establish himself in the big leagues and play with the big guys."
Vizquel, who called Altuve one of the best second baseman in the American League, envisions more All-Star appearances in his future. Altuve, a National League All-Star in 2012, entered Tuesday leading the AL with 11 steals while ranking fifth with 27 hits.
"With the kind of ability he has, he can do whatever he wants," Vizquel said. "Being an All-Star only a couple of years in the big leagues is amazing. And then I saw him hitting fourth [in the lineup]. That's crazy. A guy that small, it shows you what kind of player he is that he's hitting fourth.
"I'm glad he's made the sacrifices he made to get here, and I'm glad somebody believed in his abilities. He's showing it right now."
Altuve smiled from ear to ear when he heard how much Vizquel respects the way he plays the game.
"I appreciate the way he's talking about me," Altuve said. "The only thing is I try to come here and play hard and help my team. Things like the All-Star Game and Gold Gloves, right now those are secondary to me. I'm trying to do everything I can to get the team to where it has to be."
Brian McTaggart is a reporter for MLB.com and writes an MLBlog, Tag's Lines. Follow @brianmctaggart on Twitter. This story was not subject to the approval of Major League Baseball or its clubs.