Tomlin wins in stellar return to mound for Tribe
Right-hander allows one run, four hits in 6 2/3 in '14 debut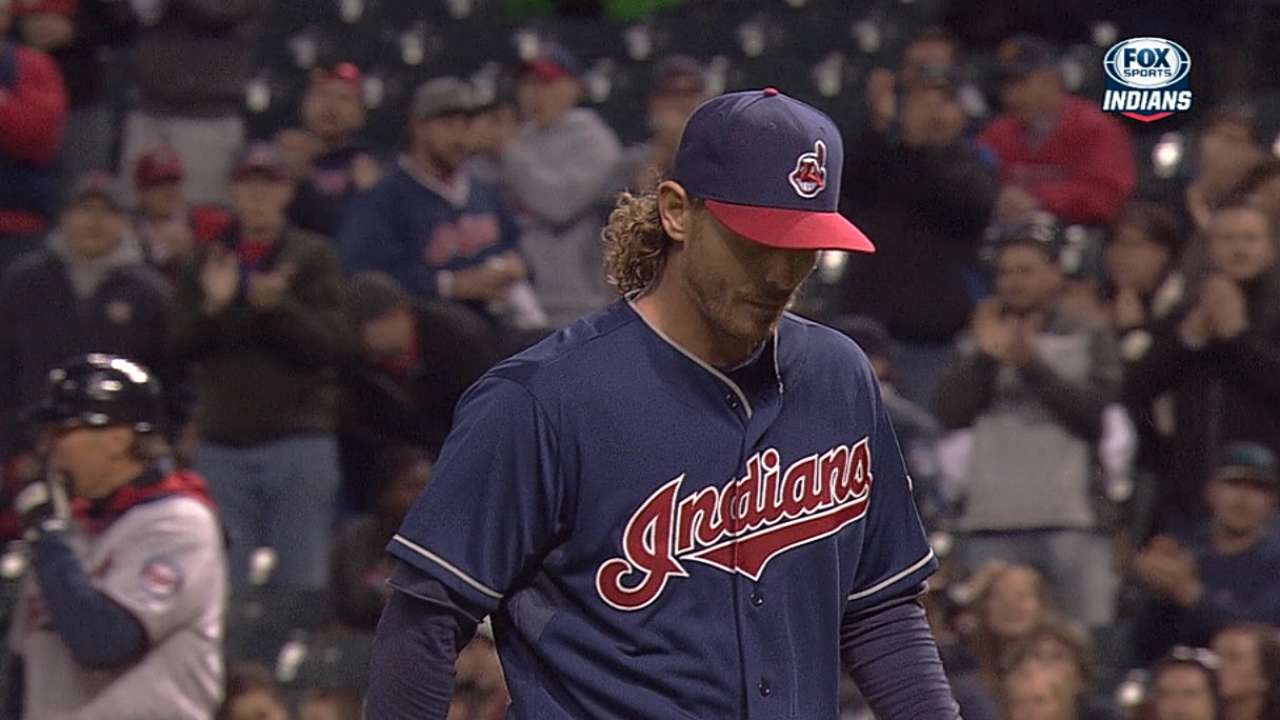 CLEVELAND -- Josh Tomlin had ample time to think about his past starts in the big leagues. The pitcher had countless hours in the training room and plenty of days down in the Minors to look back while recovering and returning from surgery on his right elbow.
It turns out that Tomlin was only looking forward.
He does not even remember the details of his last win in the Majors.
"I do not," Tomlin said. "This one. That's what I remember."
This one was a long time coming for Tomlin, who rejoined the Indians on Tuesday and then pitched with precision to lead Cleveland to a 4-2 victory over the Twins at Progressive Field. The Tribe's offense spotted the right-hander with an early lead and he did the rest, settling in and looking like his old self in front of the home crowd.
It had been 648 days since Tomlin last started for the Indians, and 670 days since he last collected a Major League win. He had Tommy John surgery -- performed on Aug. 22, 2012 -- to thank for those prolonged statistical droughts. Facing Minnesota, Tomlin pushed that past to the side and continued Cleveland's recent rotation resurgence.
All Indians manager Terry Francona knew of Tomlin were the stories he heard about the pitcher from those who were around when the righty was a rotation fixture in 2011. Francona then saw two innings from Tomlin last September, and watched the pitcher nearly claim a job with a solid performance in Spring Training this year.
It took until Tuesday for that job to fall to Tomlin, who was promoted from Triple-A Columbus before the game.
"I actually walked out to him before the game," Francona said. "I just said, 'Hey, man, enjoy the [heck] out of this.' He loves to compete. You can tell. We gave him the lead and he did exactly what you're supposed to do: threw strikes, used both sides of the plate, he worked ahead."
Tomlin did indeed savor the experience, which included a standing ovation when he walked off the mound in the seventh inning. He went on to win his first game since July 5, 2012, when he beat the Rays.
"It feels good," Tomlin said. "Any time you get the call to come up here, you want to do everything you can to help this team win. I definitely had some anxiety going before the game, but good anxiety. The same anxiety I've gotten in years past. To come out there and pitch well, pitch [deep] into the game, it was pretty special for me."
Cleveland's offense has labored of late, but the lineup ended a 14-inning scoreless drought in the first inning against Twins right-hander Samuel Deduno.
Nick Swisher began the rally for Cleveland with a double that snapped an 0-for-11 skid at the plate, and Michael Brantley followed with a run-scoring single to center. Brantley later crossed the plate when Colabello let a ground ball off the bat of David Murphy skip between his legs and into right field for an error.
The Indians added another pair of runs in the second inning, when Lonnie Chisenhall led things off with a single to right. Catcher Yan Gomes followed with an RBI double to left, and he later crossed the plate on a single up the middle by Swisher, putting the Twins in an early 4-0 hole.
"The name of the game is to score early," Brantley said. "Give the pitchers a lead so they can get a little more comfortable and even more aggressive. We need to do a better job of just continuing to put pressure on the defense and continue to put runs on the board."
The early cushion was sufficient for Tomlin, who scattered four hits and walked one in 6 2/3 innings and registered 66 strikes within 93 pitches thrown (71 percent). Tomlin threw a first-pitch strike to 17 of 24 hitters, and faced the minimum in five of the seven innings in which he worked.
Minnesota's best chance against Tomlin came in the second, when Kurt Suzuki and Eduardo Escobar delivered consecutive two-out singles off the pitcher. Tomlin then froze Chris Herrmann with a 90-mph fastball for an inning-ending strikeout.
"He kept the ball down and worked fast," Brantley said. "It's 10:15 [p.m. ET] and we were done 45 minutes ago. It's nice. We didn't play a four-hour game tonight. He gets the ball and works fast. That's one of the biggest keys for him. He works fast and gets us back in the dugout so we can get back on offense."
Tomlin was one of the final two candidates for the last spot in Cleveland's rotation during Spring Training, but the Tribe went with Carlos Carrasco, who was out of Minor League options. During the last road trip, the Indians changed course due to Carrasco's struggles, sending him to the bullpen and then electing to promote Tomlin from Triple-A.
At Columbus, Tomlin took his assignment in stride and excelled on the mound, turning in a 2.06 ERA through five starts. On Thursday, the right-hander spun a shutout against Durham on just 89 pitches, carrying a scoreless streak of 20 innings into his first start back with the Indians.
"I understand that," Tomlin said of Cleveland's initial decision to send him to Triple-A. "Organizationally, you try to do the best you can to put your team in the best situation to win. That's what happened in Spring Training, so I just went down there and tried to work hard to get back up here as quick as I could."
Tomlin continued his early-season success into the outing against the Twins, who managed only two hits off the righty in his first six innings of work. Finally, with one out in the seventh, Tomlin flinched. Minnesota first baseman Chris Colabello belted a 2-1 fastball from the starter to left-center field for a solo home run.
"It wasn't fast enough," Tomlin said with a smirk.
The pitcher said his lengthy return to Cleveland worked out as well as he could have imagined.
"It's very satisfying," he said. "There's never any guarantees."
Jordan Bastian is a reporter for MLB.com. Read his blog, Major League Bastian, and follow him on Twitter @MLBastian. This story was not subject to the approval of Major League Baseball or its clubs.