Giants fall to Pirates on overturned call in ninth
Posey, Bochy unsure if replays on play at plate were conclusive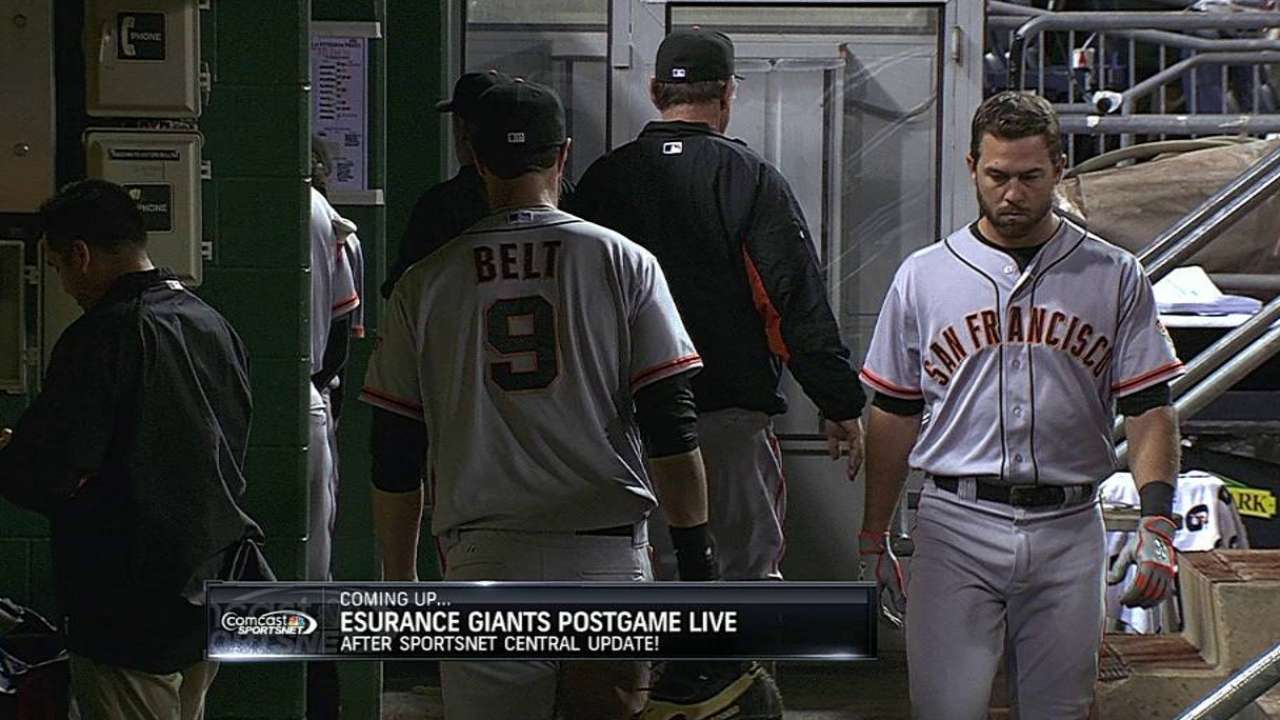 PITTSBURGH -- After Giants right-hander Tim Hudson and Pirates right-hander Charlie Morton hooked up in a tight pitching duel, Starling Marte smacked a ninth-inning triple and scored on a wild throw by Ehire Adrianza, giving the Pirates a 2-1 victory Tuesday night at PNC Park.
Marte was initially called out, which would have sent the game to the 10th inning, but the Pirates challenged and the call was overturned. It was the first game to be decided on a final-play video review.
"I couldn't really tell on the scoreboard," Giants manager Bruce Bochy said. "I couldn't see it that well, but obviously they thought it was conclusive enough. You're at the mercy of whether or not they consider it conclusive, and they did."
"That's the kind of baseball we live in, I guess, nowadays with the replay," Hudson said. "You never know what the outcomes going to be until you get the final conclusion, I guess.
"I've never been a fan of it from the beginning. It is what it is, we've got to accept all the stuff that comes along with it. We just happened to be on the wrong end of a call tonight that happened to cost us the ballgame. It's frustrating, it's tough, it was a pretty close play. I've seen closer plays not get turned over, so it was a little hard to swallow."
As for Giants catcher Buster Posey, who put the tag on Marte, he wasn't sure if the call should've been overturned.
"Honest opinion ... I mean, it's really close," Posey said. "I feel like most of the plays I've seen that could go either way they usually stay with the call on the field. I don't know if they saw a different angle than we had. I think the best shot is the one coming from behind me and you can see his hand and my glove, and to me, it's a little bit inconclusive whether my hand is on his chest before it hits the plate. That's just what I saw."
"I know I was safe," Marte said. "I felt my hand on the plate before I felt his glove tagging me. We had to wait to hear … I guess we had to make it more exciting."
"I love the aggressiveness of that play," Pirates manager Clint Hurdle said. "I felt he was safe, and while I was out there, I saw the thumb up [from bench coach Jeff Banister], so had them look at it."
Hudson felt that Marte hit a good pitch.
"It was a fastball away, he just put the barrel out there and got barrel on it and he hit it pretty good," Hudson said. "A decent pitch, four-seamer stayed out there and he got barrel on it. He got it pretty good."
Hudson and Morton share an interesting bit of history. They were both in Atlanta's rotation in 2008, and made consecutive starts once, Morton on July 22 and Hudson on July 23. That turned out to be Hudson's final start before being shut down with elbow pain and having Tommy John surgery.
"It was a good game," Hudson said. "A well-pitched game from both sides. Morton went out there and had a good sinker going. It was good to see him back out there looking healthy."
Hudson tossed 8 2/3 innings and allowed two runs (one earned) on five hits. He took the loss, falling to 4-2. Hudson became the first Giants pitcher to go seven-plus innings in his first seven starts since Vida Blue did it in nine in 1981.
"Hudson had an unbelievable game," Bochy said. "It's a shame to end a game like that, two outs, two strikes. And we shouldn't have thrown the ball to third in the first place, we made a mistake there, but he pitched his heart out."
Morton hurled eight innings and gave up one run, which was unearned. He surrendered three hits.
"We couldn't do much offensively," Bochy said. "I don't know if the boys were a little fatigued from the night before. Morton had good stuff and he had great movement on the ball and he's been tough on us before."
San Francisco jumped out to a 1-0 lead in the second, notching an unearned run off Morton. Brandon Belt singled, stole second and advanced to third on an errant throw by Pirates catcher Tony Sanchez. Belt scored on a sacrifice fly by Adrianza.
Pittsburgh tied it in the bottom of the inning. With one out, Marte singled. On Ike Davis' single, Marte went to third and scored on a groundout by Sanchez.
Pirates lefty Tony Watson who pitched a scoreless top of the ninth, got the win to improve to 3-0.
George Von Benko is a contributor to MLB.com. This story was not subject to the approval of Major League Baseball or its clubs.