Treinen solid, but errors costly in loss to Dodgers
Righty allows three unearned runs in first Major League start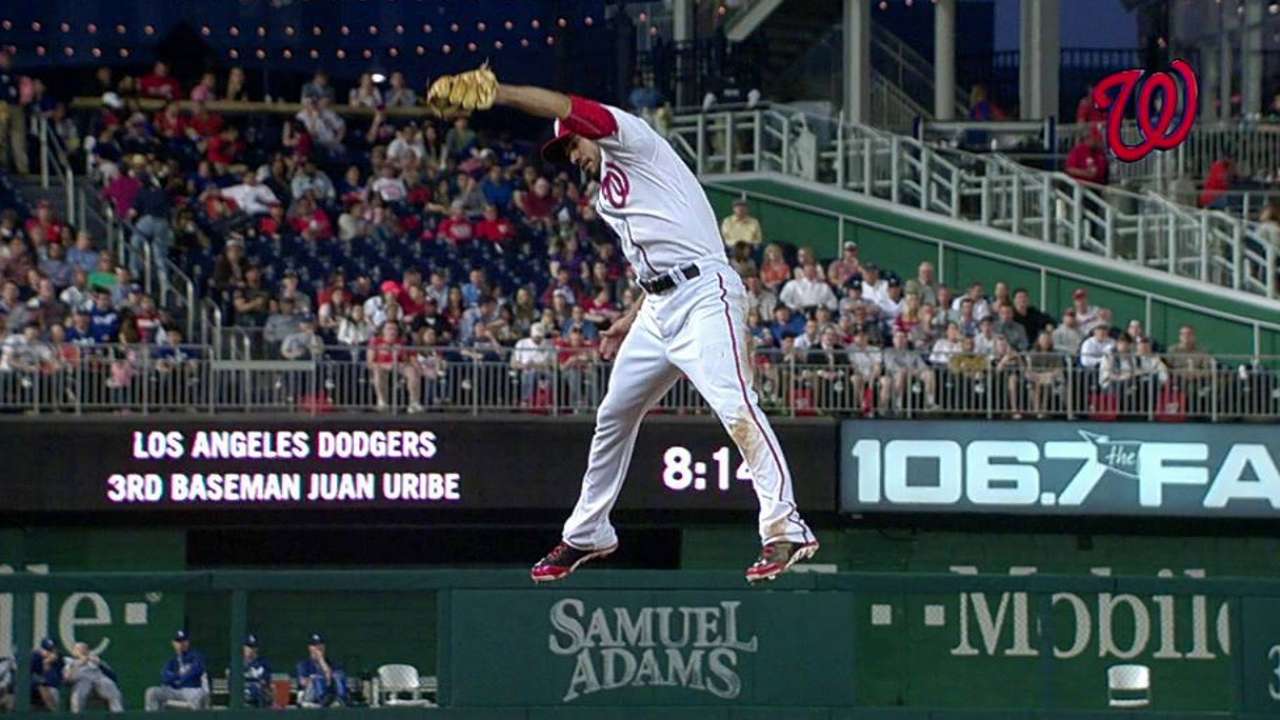 WASHINGTON -- The Nationals had problems fielding the baseball in the top of the sixth and seventh innings and lost to the Dodgers, 8-3, at Nationals Park on Tuesday night.
Nationals right-hander Blake Treinen, making his first Major League start, was in a pitchers' duel with left-hander Clayton Kershaw for five innings. In those five frames, Treinen had eight groundball outs. His sinker was clocked as high as 98 miles per hour. In the first four innings, he threw nothing but fastballs, but then started mixing in his slider by the fifth inning.
"I'm excited to get an opportunity to play with this team," Treinen said. "It's not so much nerves as it was to just try to give the team an opportunity to win this game."
But things started to unravel for the right-hander in the sixth inning.
It's not like the Dodgers were hitting the ball hard. The problems started with the first hitter in the inning. Treinen was charged with an error when he couldn't handle a routine ground ball hit by Kershaw.
"I was trying to focus on making the right pitches at the right time and I get a ground ball back to me. I just tried to make the throw before I fielded it," Treinen said.
Dee Gordon followed and was awarded an infield single when first baseman Adam LaRoche couldn't handle his grounder. Los Angeles then loaded the bases on an infield single by Carl Crawford.
Hanley Ramirez came to the plate and blooped a single to right field, scoring Kershaw for a 1-0 Dodgers lead. Treinen was then taken out of the game in favor of right-hander Craig Stammen.
"Treinen pitched so well," Nationals manager Matt Williams said. "He missed the first [chance to field the ball] in that last inning. We weren't able to get Dee at first. It kind of set the inning up [for the Dodgers]. A swinging bunt base hit. At that point, he reached his pitched count. We didn't want him to pitch past that. I think he pitched really well. I bet you if you ask [the Dodgers], they thought he pitch pretty well, too."
Treinen is headed back to Triple-A Syracuse. Williams is hoping that Treinen will get in a regular rotation instead of being called up at the last minute to fill a spot on the Major League roster. Williams did not announce the corresponding move. Catcher Wilson Ramos is the leading candidate to be activated from the disabled list.
"It's been kind of a hit and miss with [Treinen] because of a need up here and the decisions we had to make," Williams said. "It will be nice to get him in a normal rotation so he could take it from here -- from this start and move forward."
After Matt Kemp struck out, Andre Ethier hit into a force play with Gordon scoring to make it 2-0. Juan Uribe followed with a bloop single to left field, scoring Crawford for a 3-0 lead.
Washington continued to have problems on defense an inning later. After Gordon tripled with two outs, it looked like Crawford hit a routine fly ball to left fielder Scott Hairston. But Hairston dropped the ball, allowing Gordon to score the fourth run of the game.
In came reliever Ross Detwiler for the Nationals, and he had a tough time getting hitters out. Ramirez was the first hitter Detwiler faced and he hit a mammoth home run over the center-field fence.
Five batters later, Drew Butera hit a three-run homer to make it 8-0. Williams said Detwiler hasn't worked enough to be effective. Prior to Tuesday, the last time Detwiler pitched was last Wednesday against the Astros.
"We talked to him about having more of a role where we can get him in there more, but given today, we are looking at him saying, 'He could be the long guy for today.' That's kind of how he has been. We like to get him in there more. We'll make plans to do that."
But the Nationals made it interesting in the bottom half against right-hander Chris Perez. After he tripled to lead off the inning, Anthony Rendon scored the Nationals' first run on a single by Jayson Werth.
Later in the inning, Werth and Tyler Moore scored on a single by Jose Lobaton. The Nats then loaded the bases with two outs, but Denard Span grounded out to end the inning.
Kershaw, who was activated from the disabled list before the game, took advantage of the run support, throwing seven scoreless innings in his return from the disabled list, allowing nine hits and striking out nine.
"It's just good to be back," Kershaw said. "It felt good tonight. They've got a great team over there. They've got a lot of guys that are tough outs over there. They got their hits. I was fortunate to limit the damage."
With the loss, the Nationals dropped to 18-15.
Bill Ladson is a reporter for MLB.com and writes an MLBlog, All Nats All the time. He also could be found on Twitter @WashingNats. This story was not subject to the approval of Major League Baseball or its clubs.