Kershaw dominates Nats in return
Lefty strikes out nine over seven scoreless; Hanley, Butera homer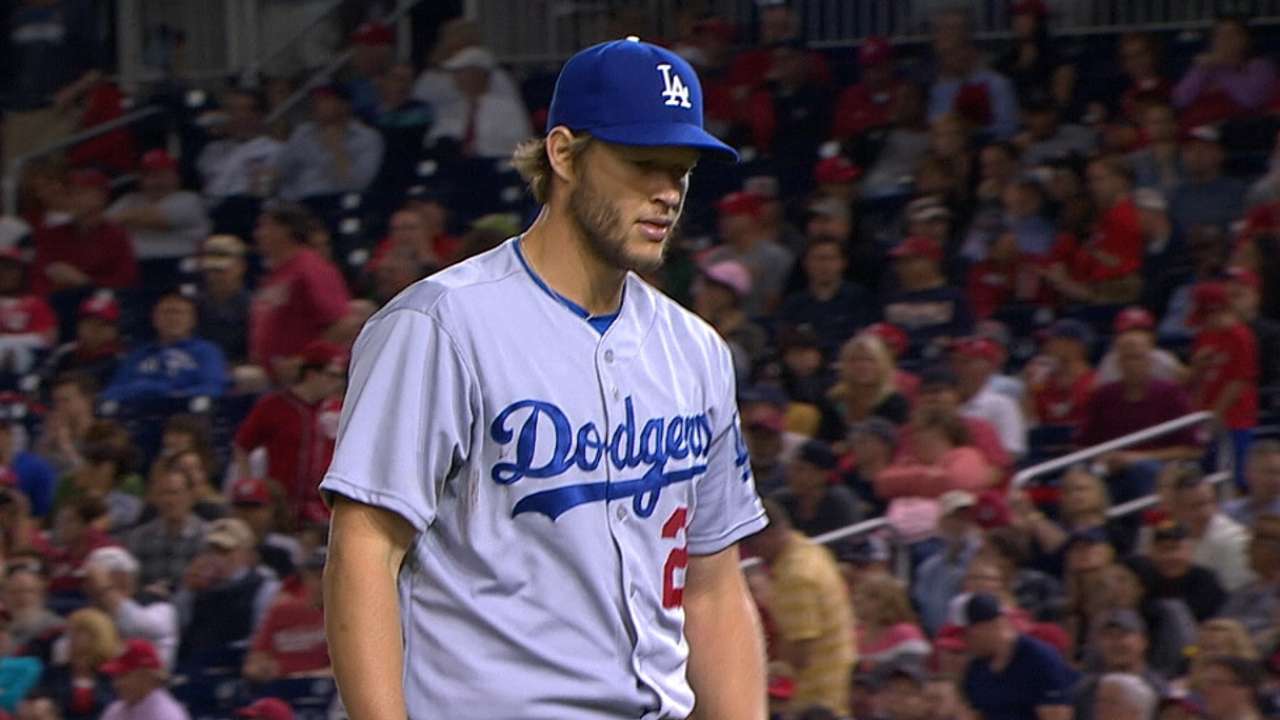 WASHINGTON -- Clayton Kershaw returned from the disabled list on Tuesday night, and the Dodgers were thrilled to get him back. The Nationals, on the other hand, probably weren't exactly overjoyed to see the left-hander.
Kershaw looked a lot like his old self in his first start since March 22. A muscle strain had put the Cy Young winner on the disabled list after that first start, but he tossed seven shutout innings on Tuesday night, while teammates Drew Butera and Hanley Ramirez each homered as the Dodgers defeated Washington, 8-3, at Nationals Park.
The last time Kershaw pitched in a Major League game was on Opening Day in Australia. But despite not having pitched since then, Kershaw (2-0) looked strong. He scattered nine singles with nine strikeouts and no walks as the Dodgers ended a two-game losing skid.
"It's just good to be back," Kershaw said. "Six weeks felt like a long time. I had fun and it's good to be back. It felt good tonight."
Kershaw's control and command kept the Nationals (18-15) quiet. The left-hander threw 89 pitches, 68 of which were strikes. Also, his variety of pitches, all of which he could throw for strikes, kept the Nationals off balance and eventually left them shaking their heads as Kershaw stayed ahead in the count time and time again.
"He was nasty," Nationals catcher Jose Lobaton said. "He was in the zone. He was aggressive with a big curve. He is a really good pitcher."
The Dodgers (19-15) needed all of Kershaw's skill early on, as Nationals starter Blake Treinen matched him pitch for pitch through five innings. In fact, the game remained scoreless until Los Angeles took the lead in the sixth, thanks to a bit of small ball, some Washington fielding issues and good hustle from Kershaw.
Kershaw led off and reached when Treinen (0-1) booted his grounder. The Dodgers pitcher ran hard down the line when he saw Treinen misplay the ball, and that effort helped Kershaw beat the rushed throw and set up a big three-run inning.
Dee Gordon then hit a grounder to Adam LaRoche, and the first baseman appeared to have trouble getting the ball out of his mitt. That delay allowed Gordon to beat LaRoche's toss to Treinen for an infield single. Carl Crawford loaded the bases with his infield single on a roller halfway up the first-base line.
Ramirez then lined a single to right that brought in Kershaw for a 1-0 lead and ended Treinen's first Major League start. Andre Ethier drove in a second run when he grounded into a forceout at second off reliever Craig Stammen. Juan Uribe followed with a broken-bat RBI single to short left that gave the Dodgers a 3-0 lead.
Washington got three straight singles in the sixth, but Kershaw bounced back to retire the next three batters and avoid trouble. The Nationals then gave the Dodgers some help again in the seventh. Gordon lined a two-out triple to right and would have scored if Stammen hadn't alertly backed up third base to catch a very high relay throw.
But Gordon did score when Crawford followed with a routine fly to left that Scott Hairston dropped. Ramirez then greeted Ross Detwiler with a homer to straightaway center on the first pitch of the eighth to give the Dodgers a 5-0 lead.
Butera added his three-run blast later in the inning off Detwiler to put the Dodgers up 8-0. The catcher deserved a break after he had fouled off a ball that bounced back and hit him in the face the previous inning. Moments later, Butera was hit by a pitch. He thought the home run was more enjoyable.
"I was looking for something up out over the plate, something that I could put the barrel on," Butera said. "I was fortunate enough to get a changeup out."
The Nationals touched up reliever Chris Perez for three runs in the eighth. Manager Don Mattingly needed to bring on Jamey Wright with the bases loaded and two outs to retire Denard Span to end the threat.
That ended any chance the Nationals had of rallying again and locked up the Los Angeles victory.
In the end, the main topic of discussion in the Dodgers clubhouse wasn't just how effective Kershaw was in his first game back -- but just that he was back and how happy that made the whole team.
"It's nice to have him back," Mattingly said with a smile. "He shows you right away what you've been missing."
Jeff Seidel is a contributor to MLB.com. This story was not subject to the approval of Major League Baseball or its clubs.