Puig says he's ready to return after headaches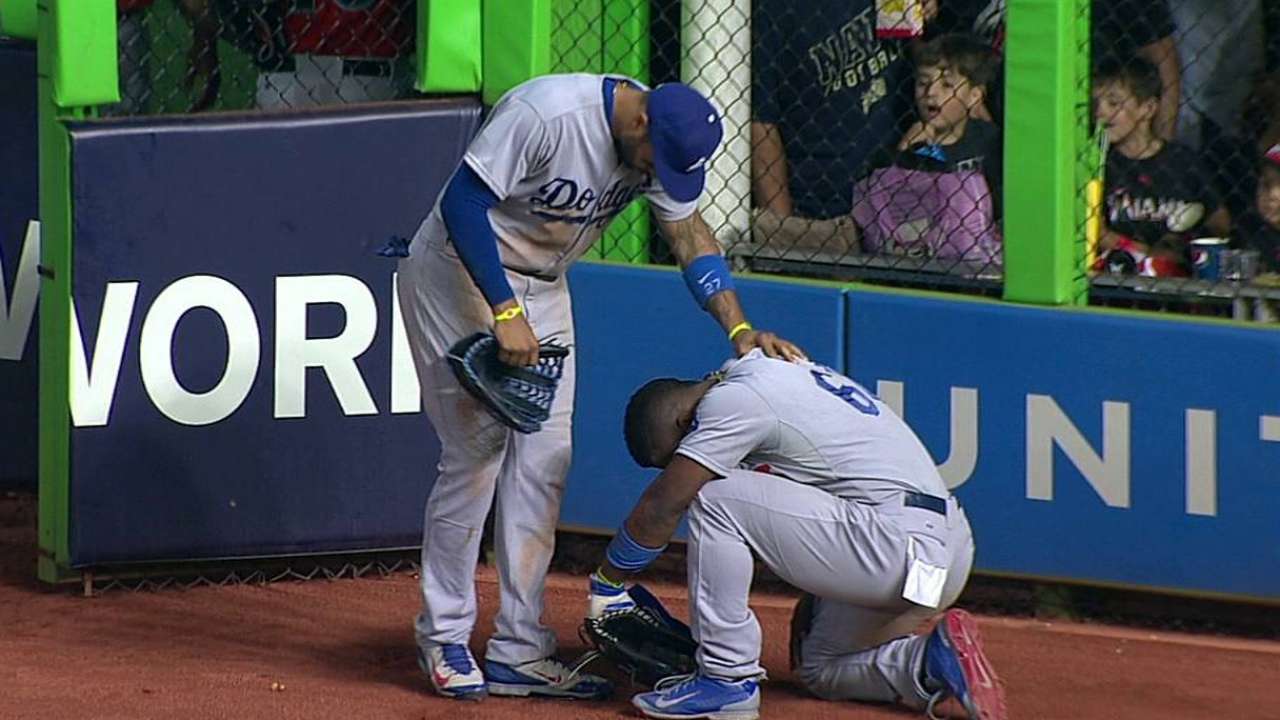 WASHINGTON -- Yasiel Puig wasn't in the Dodgers starting lineup for a second straight game on Tuesday, but made it clear when talking to the media before the game against the Nationals that he's feeling much better and is available if manager Don Mattingly needs him.
"I feel good," Puig said through an interpreter Tuesday. "My head's not bothering me anymore. My head doesn't hurt like it did yesterday."
Puig was shaken up at the end of Sunday's loss in Miami, violently crashing into the wall in right field and then needing help to get up and off the field.
Mattingly held him out of Monday's starting lineup and didn't play him throughout the long evening, which resulted in a 4-0 loss. But Puig said he's doing much better now.
"I feel good," Puig said. "If the team needs me to play, I'll play."
Puig is available if Mattingly wants to use him in a double-switch situation or as a pinch-hitter. Puig said that his shoulder was sore from the collision, but after a couple of swings today, "It feels better."
Puig did pregame field work with the rest of the team, going through drills and batting practice.
Mattingly said the Dodgers were still watching and checking Puig to make sure he's alright. Mattingly noted how hard Puig plays and, while he wants the young outfielder to be careful, the skipper doesn't want him to change what he does.
"Guys play; they play to win," Mattingly said. "That's why I think people get gravitated toward Yasiel -- because of the passion, [and] how hard he goes. I don't want him to run aimlessly into a wall, but I think when guys play the game, they want to make a great play [to help the team win]."
Jeff Seidel is a contributor to MLB.com. This story was not subject to the approval of Major League Baseball or its clubs.