Orioles' two-run charge after delay foils Rays
Flaherty delivers go-ahead single following power outage in eighth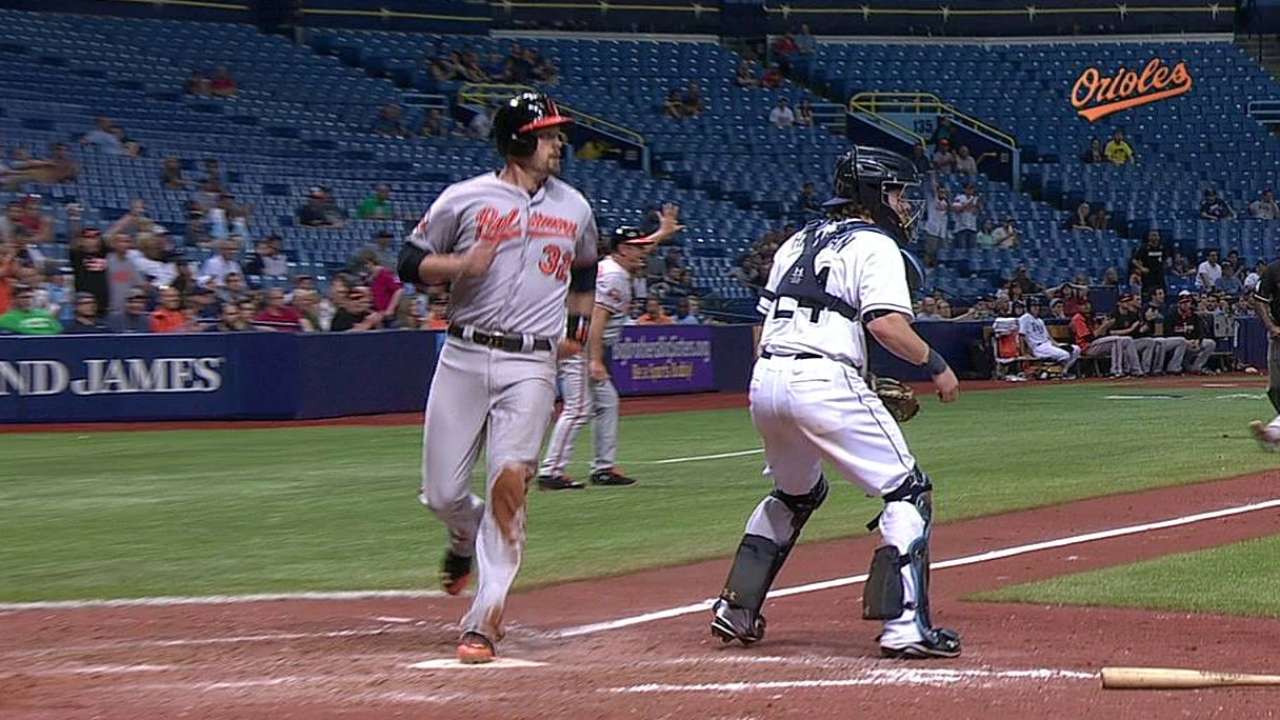 ST. PETERSBURG -- When the lights went out, the Orioles stepped up.
After squandering several chances to break the game open, Baltimore posted its first multi-run inning of the night in a two-run eighth inside a darkened Tropicana Field to seal a 5-3 series-opening win against the Rays on Tuesday night.
The Orioles (16-14) remained atop the American League East standings and received a solid six-inning outing from starter Chris Tillman, who gave the club its 10th quality start this season.
"Any time you come in and get the first win of a series is big, especially against a club like this," Tillman said. "A good ballclub, always plays us well, plays us tough. It's a good feeling to come out of that first one with a win."
After both teams waited out a 19-minute power delay caused by a transformer being struck by lightning, play resumed without part of the lights on in the catwalk. The O's, who had runners on second and third, kept that momentum going with Steve Pearce drawing a bases-loaded walk and Ryan Flaherty poking a ball into right field off Joel Peralta for the go-ahead RBI.
"I saw it happen in the Super Bowl, but that was the only experience I've had watching lights go out," Flaherty said. "I saw a couple of their guys sitting in the outfield. Looney Tunes was on the scoreboard. It was kind of a bizarre moment.
"But we picked up where we left off and got a couple of runs in in that inning."
Nick Markakis drove in the second run off Juan Carlos Oviedo -- beating out a double-play ball thanks to Yunel Escobar's off-base throw.
Things started in the eighth when Orioles catcher Matt Wieters, who made pregame headlines with his pending visit to Dr. James Andrews on Wednesday, turned in his second hit of the night. One out later, backup Steve Clevenger crushed a ball into right-center field for a double to put the potential go-ahead run 90 feet away before the lights went out.
"They don't want it to happen," manager Buck Showalter said. "It hurts them as much as it does us, I'm sure. Zach [Britton] hadn't been in the game yet so he's fine. Peralta is the one who had to sit around for a while."
Britton pitched a scoreless eighth inning, while closer Tommy Hunter navigated around a bases-loaded jam to secure his ninth save in 10 chances.
Tillman, just the second starter in six games to go more than 5 1/3 innings, set the tone in turning in his longest outing in nearly a month.
After allowing a two-run homer to Evan Longoria in the first inning, Tillman hunkered down from there. Tampa Bay didn't have another hit until Ryan Hanigan's two-out fifth-inning single and Ben Zobrist followed with a hit to put the Rays in business. But Tillman retired AL Player of the Week Desmond Jennings on a groundout.
"He looked like a guy who hadn't been sitting around for six days," Showalter said. "He was a lot crisper and sharper."
Markakis robbed Matt Joyce of a leadoff double in the sixth, making a fantastic grab at the wall to help Tillman's effort. But the right-hander wasn't as fortunate in the seventh as the Rays tied it at 3 on Zobrist's sacrifice fly.
At 84 pitches to start the seventh, Tillman allowed a leadoff single to Wil Myers and a 10-pitch walk to David DeJesus ended his night in favor of righty Darren O'Day. After a heads-up play by first baseman Pearce to nab the lead runner on a bunt, O'Day hit Hanigan on the hand to load the bases for Zobrist.
"You always like to get deeper but they put some good at-bats together, laid off some tough pitches when they were behind in the count. That's a credit to them," said Tillman, who allowed five hits and a pair of walks. "I had a little better fastball command tonight and I was able to throw my offspeed pitches off that. But too many walks, too many deep counts. I'd like to have gotten deeper there."
Twice the Orioles scored a run after loading the bases with no outs, keeping Rays starter Chris Archer on the ropes but in the game for five innings.
After Pearce homered to open the third inning, Nelson Cruz and Adam Jones started the fourth with a pair of singles. Wieters reached on an error and J.J. Hardy's sacrifice fly tied the game at 2. But that was all the O's got as Archer struck out Clevenger and got Pearce to ground out.
"He wasn't as sharp as can be, but nevertheless he pitched in a manner that could've permitted us to win that game," Rays manager Joe Maddon said. "He's making some great pitches and not so great. The fastball, overall command is just a little off."
The O's threatened again in the fifth, taking the lead, but they stranded a pair of runners as Jones' sacrifice fly scored the only run as Flaherty, who opened the inning with a double, scored. Archer struck out Cruz and Wieters flied out as the Orioles went 1-for-6 with runners in scoring position against Archer.
Brittany Ghiroli is a reporter for MLB.com. Read her blog, Britt's Bird Watch, and follow her on Facebook and Twitter @britt_ghiroli. This story was not subject to the approval of Major League Baseball or its clubs.