Newcomer Davis gives Bucs another power bat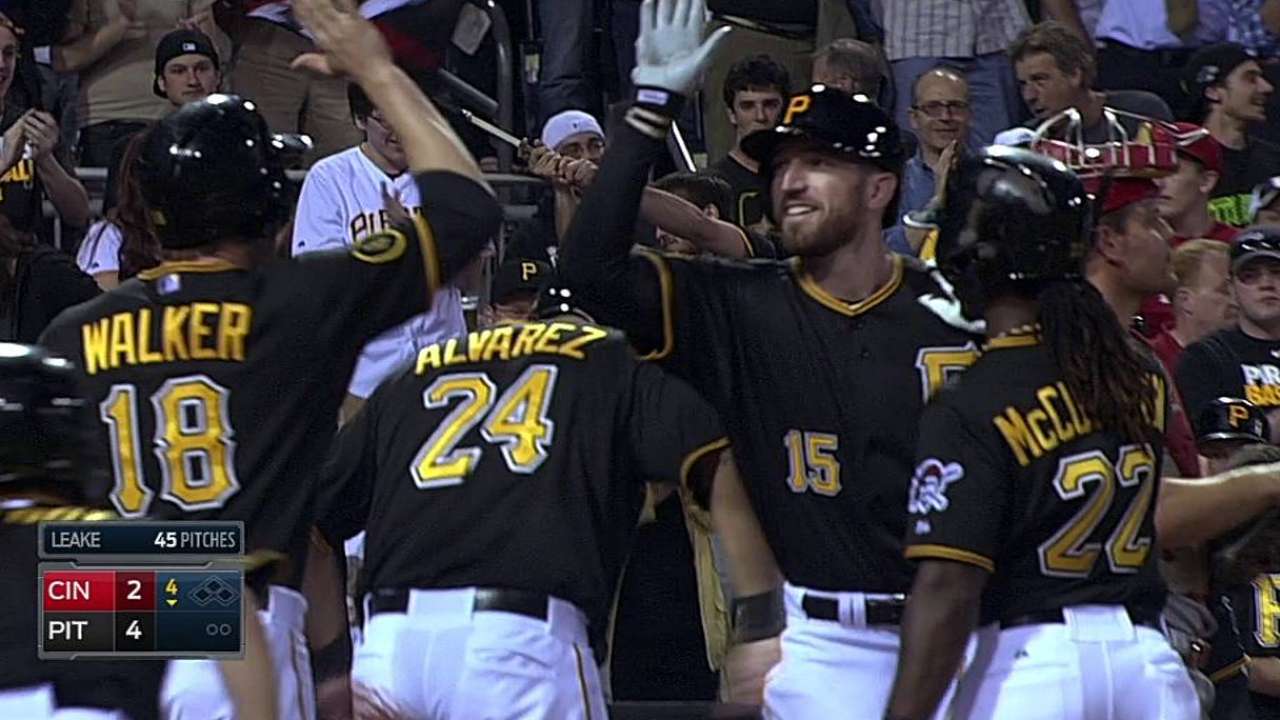 Ike Davis was the New York Mets' first-round Draft pick in 2008 out of Arizona State University -- the same school that produced prolific home run hitters such as Reggie Jackson and Barry Bonds plus a fine group of current big-league hitters that includes Dustin Pedroia, Ian Kinsler, Andre Ethier and Jason Kipnis.
Despite coming out of a college baseball powerhouse, Davis insists that he didn't know how long it would take him to get to the Majors.
"You don't even know if you're ever going to make it," said the big first baseman, who was acquired by the Pirates on April 18. "I just worked and tried to play as well as possible and I happened to make it fairly quickly."
Davis' big-league debut came on April 19, 2010 and he went on to hit .264 with 19 homers and 71 RBIs in 147 games for the Mets that year. An ankle injury limited him to 36 games the following season, but in 2012 the 6-foot-4, 220-pounder led the team with 32 homers and his 90 RBIs were second on the club behind David Wright's 93.
New Yorkers can be mighty rough on athletes who have down years, as Davis did in 2013 when he hit .205 in 103 games and spent part of the season at Triple-A Las Vegas, but he has nothing but good things to say about his time in the Big Apple.
"I like to look at everything as positive," Davis said. "I made my dream come true, becoming a Major League player. I made a lot of good friends. I lived in Manhattan for a couple years as a young kid. So I feel like it was a really great experience for me."
Wright, the Mets' third baseman, is one of the National League's finest all-around players and Davis has a great deal of respect for the seven-time All-Star.
"You know, there's Derek Jeter for the Yankees and there's David Wright for the Mets," Davis said. "He (Wright) is very similar in that way to that organization. He's an amazing player, a very good guy and definitely a leader in the clubhouse."
With the Pirates, Davis will have the opportunity to play with another power-hitting third baseman, Pedro Alvarez -- who made the All-Star team for the first time last year and led the N.L. with 36 homers.
"Pedro, I would say, is more of a true power hitter than David," said Davis, who is currently sharing the Pirates' first base job with Gaby Sanchez. "David hits for average and he does hit home runs, but Pedro has some of the most pop I've seen. Just hitting BP with him, the guy has ridiculous power. It's a nice thing to have on your team. Any pitch to him can go out of the stadium."
Because it's only 320 feet down the right-field line at PNC Park and the bleachers out that way make an inviting target, the ballpark is considered by many to be ideal for left-handed power hitters such as Alvarez and Davis. But as former Pirate Adam LaRoche once said, it's not a joke out there either.
"It's a nice park to hit in, but I don't know if I'd say it's a hitters' park," Davis said. "It's not a band box by any means. You've still got to hit the ball pretty good to get it out. You're not going to get jammed or pop it up and hit it out of the park. You still have to make good contact, but it plays fair. That's all you can ask for."
The 27-year-old Davis has yet to hit a ball or bounce a ball into the Allegheny River at PNC Park, but he's big enough and strong enough to do so. He has, however, found McCovey Cove beyond the right-field wall at AT&T Park in San Francisco.
"I don't know if it hit concrete first or not, but there was a ball that ended up in the water there," Davis said. "I don't know if it got there on a fly or not, but I've hit a couple (long) home runs in that stadium."
Naturally, the Pirates are looking forward to him hitting a bunch of home runs -- whether they reach water or not.