Jump for joy: Sizemore hits walk-off single in 12th
Pedroia, Victorino make stellar defensive plays to snuff out rallies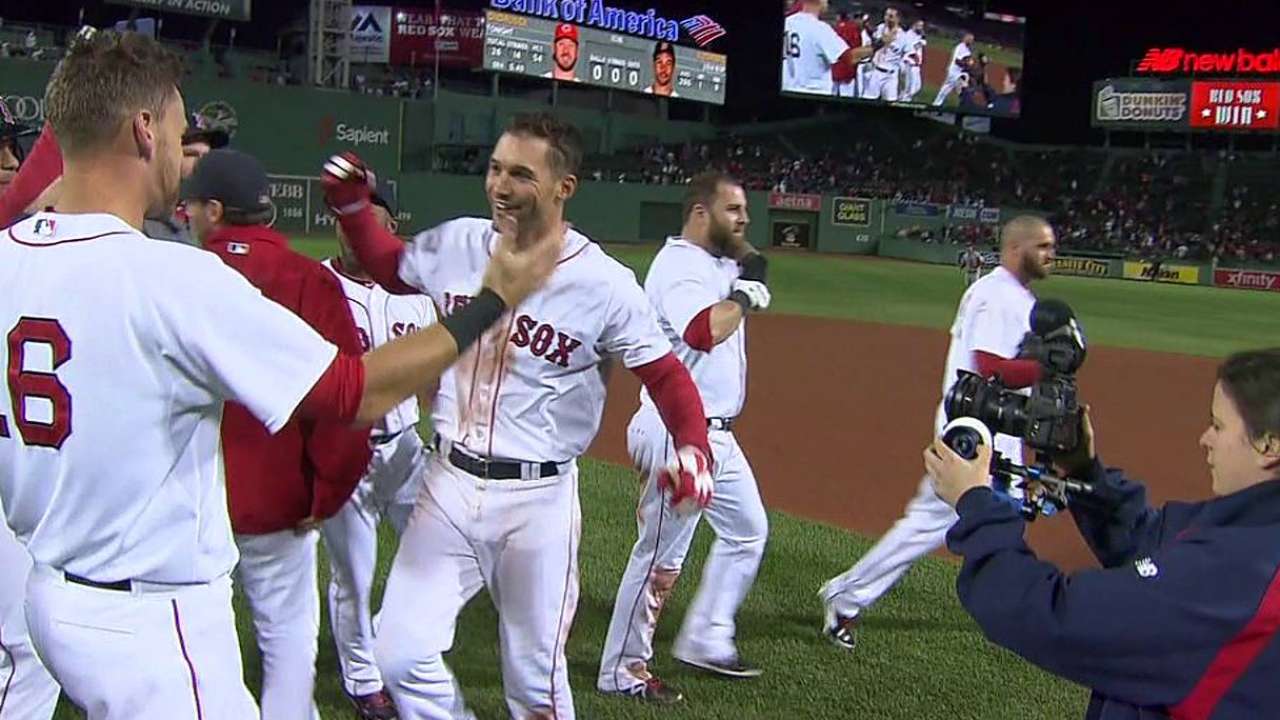 BOSTON -- Grady Sizemore isn't the most emotional guy on a baseball field. Instead, he has almost always kept an even demeanor through good times and bad.
But after belting a walk-off single off the Green Monster to lead the Red Sox to a 4-3, 12-inning victory over the Reds on Tuesday night, the veteran let loose the joy that had been absent during monotonous comeback attempts in recent years.
Sizemore is indeed back, and he jumped into a collection of teammates in celebration of his satisfying hit.
"I was pretty psyched," said Sizemore. "It was a good feeling. I try not to get too emotional out there, try to keep it on the same level, but right there, I let it out a little bit."
And who could blame him?
It was the fourth walk-off hit of Sizemore's career, but first since Aug. 11, 2006.
"Oh gosh, that was a long time ago," Sizemore said. "It never gets old with walk-offs. It was fun and an exciting moment, and I'm just glad I could come through."
Playing the Reds at Fenway Park for the first time since 2005, it was fitting that the game went 12 innings, the same distance as that legendary Game 6 of the 1975 World Series.
Though there was no Carlton Fisk homer off the foul pole, Shane Victorino made a catch that had shades of Dwight Evans against Joe Morgan in Game 6 of 1975.
In the top of the ninth, the Reds had a golden chance to take the lead when Tucker Barnhart crushed one to right. But Victorino got a great jump and hauled it in just in front of the wall between the visiting bullpen and the right-field stands to save a run.
"If there's anything that's going to stay in the ballpark, there's always confidence that Vic is going to get under it," said manager John Farrell. "Barnhart puts a good swing on a ball off of Koji [Uehara], but Vic seemingly is all over the field on defense."
Zach Cozart tagged and went to third. Chris Heisey reached on a bunt single, but Cozart wasn't able to advance. Uehara got out of the inning by getting Joey Votto on a popup to third.
David Ortiz and Mike Napoli set the table for Sizemore's winning hit with singles.
With nobody out, Sizemore took aim at the first pitch he saw from Logan Ondrusek and Ortiz scored easily from second.
"He has been doing great," said Ortiz. "He's not out there every day, but every time he is, he does something special. I think as the season goes, you start getting more confident and more comfortable and things start getting better, especially in a player like him."
When Ortiz reached second on Napoli's hit, he looked toward the dugout, thinking Farrell might send in a pinch-runner.
"It is a situation where John had a better idea about things," said Ortiz. "He's the manager, the one who makes decisions. We all respect that. Whatever he did, it worked because we wound up winning the game -- and that's what matters."
Felix Doubront gave the Red Sox 5 1/3 innings, allowing five hits and a run. He walked three and struck out three, throwing 97 pitches.
With Doubront in trouble after walking to batters in the sixth, Farrell called on Burke Badenhop, hoping for a double play.
And with his first pitch, Badenhop did the job, thanks to a nice sliding stop by Dustin Pedroia, who flipped the ball out of his glove to Xander Bogaerts to complete the 4-6-3 double play.
"You don't get to be an MVP playing second base without being an awesome defender and making ridiculous plays," said Badenhop. "He's an absolute godsend over there at second. To go backhand, diving, make a glove flip and turn a double play at a great time, just awesome."
However, the Reds were able to come back against Junichi Tazawa in the eighth. Votto started the rally with a one-out walk. Brandon Phillips followed by lining a double. Todd Frazier's line single to left brought home Votto and it was a one-run game. Ryan Ludwick's fly ball to right was plenty deep enough to be a sacrifice fly, tying the game.
The Red Sox did have an early lead. Pedroia led off the bottom of the first with a walk and Victorino followed with a single up the middle. Napoli made it 1-0 with a fielder's-choice groundout.
The Reds answered in the top of the second. Frazier led off with a walk. Ludwick stepped up next and belted a double to center. Skip Schumaker came through with an RBI single to tie the game.
Pedroia again going the Red sox going in the third, this time with a double that moved Jackie Bradley Jr. to third with nobody out. With one out and first base open, Reds manager Bryan Price called for an intentional walk of Ortiz. That move did not have the desired effect, as Homer Bailey walked Napoli to force in a run. Sizemore laced an RBI single to make it 3-1.
The game still had some drama left, but the Red Sox ultimately took care of business.
"It feels good," said Ortiz. "We have to get that offense going. It feels good to have the end of the game go like this."
Ian Browne is a reporter for MLB.com. Read his blog, Brownie Points, and follow him on Twitter @IanMBrowne. This story was not subject to the approval of Major League Baseball or its clubs.