'Pen lets down Cubs starter for second straight night
Ramirez gives up go-ahead HR; Jackson works seven strong innings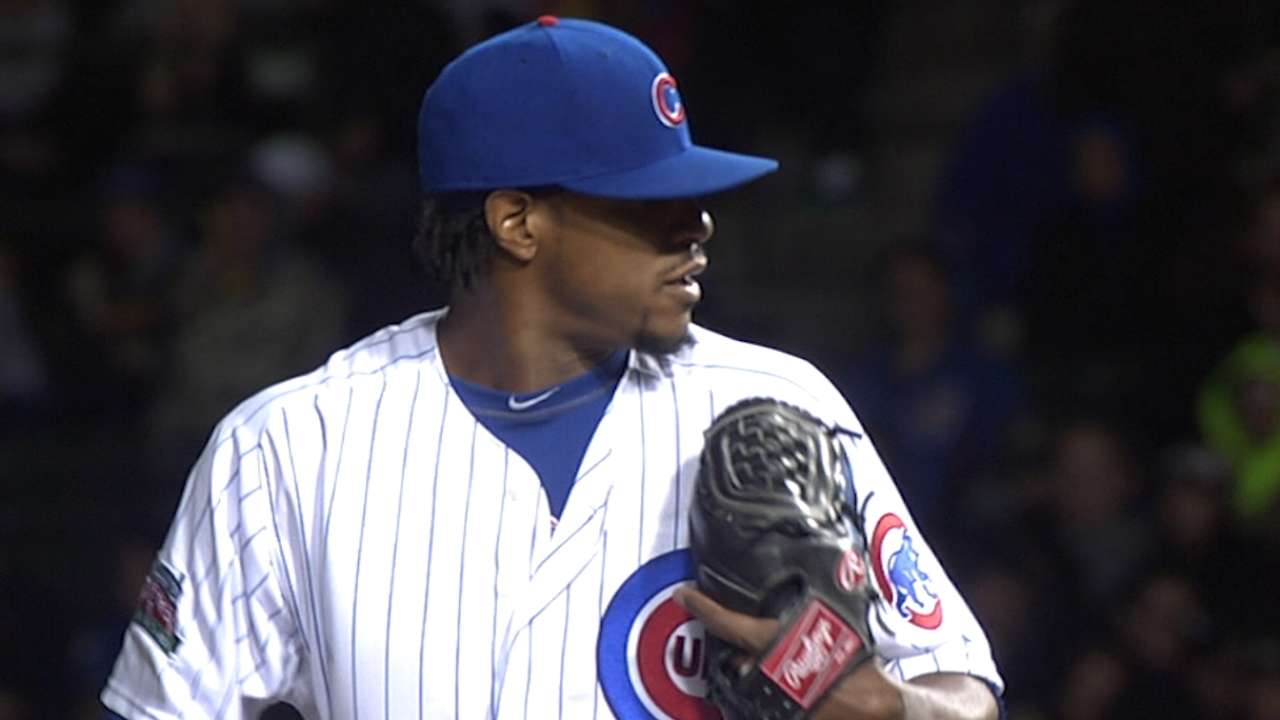 CHICAGO -- The Cubs began their Interleague series against the White Sox hoping to keep rookie sensation Jose Abreu in check, but the guy they had trouble with Tuesday night was .167-hitting Gordon Beckham.
Beckham matched a career high with four hits, including a tiebreaking solo home run with two outs in the eighth, to lift the White Sox to a 5-1 victory over the Cubs and take a 2-0 lead in the intracity series.
The Cubs wasted a solid outing by starter Edwin Jackson, who scattered six hits over seven innings, striking out nine.
"Tip your hat to him," Cubs manager Rick Renteria said of Jackson. "It was an outstanding performance by our starter."
Jackson admitted he was inspired by Jeff Samardzija's outing on Monday, when the right-hander threw 126 pitches and held the White Sox to one run over nine innings.
"This is probably the best game I've thrown," Jackson said. "The game [Monday], Samardzija threw a [great] game. I can't lie and say that didn't give me some extra motivation to follow that up with a strong outing. You see a guy go out and bust his butt like that and throw a [heck] of a game, it gives you confidence the next day to come in and try to follow that up with another great game. That's what winning teams do -- you see pitchers feed off each other from outing to outing."
In the first two games of this series, the Cubs starting pitchers have a 0.56 ERA, giving up one earned run over 16 innings.
The White Sox scored the game-winning runs off the Cubs' bullpen. With the game tied at 1 and two outs in the eighth, Beckham lofted a 1-2 pitch from rookie Neil Ramirez into the left-field bleachers for his first homer of the season in front of 34,305 chilled fans.
Maybe it's the Wrigley Field mystique. Beckham has a .326 career average on the North Side.
"Yeah, I got a better feel today," Beckham said. "I mean it was bound to happen. ... I wasn't panicked. It was one of those things. I've kind of been here before, so just had a good game. Glad I happened to do it."
The White Sox won, 3-1, in 12 innings on Monday, and the series now shifts to Chicago's South Side for two games at U.S. Cellular Field. Renteria has downplayed his first crosstown showdown.
"I could hear the chanting going on in the stands, I'll admit that," Renteria said.
Jackson faced the minimum in the first three innings, and needed just six pitches to get through the third. In the fourth, Beckham singled to lead off and moved up on a wild pitch. One out later, Dayan Viciedo was hit by a pitch, but he was forced at second on Alexei Ramirez's fielder's choice while Beckham scored on the play.
"I was able to come out today and make pitches when I needed to, especially with men on base," Jackson said. "Making pitches with men in scoring position is the difference between giving up runs and not giving up runs."
This was Hector Noesi's second start this season for the White Sox, and his longest outing since he went 4 1/3 innings in his only start last year with the Mariners on May 16 against the Yankees. On Tuesday, the right-hander set season highs with six strikeouts over five innings.
With one out in the fifth, Junior Lake singled and Chris Coghlan walked. After Jackson struck out trying to bunt, Emilio Bonifacio singled past an outstretched Beckham to drive in Lake and tie the game.
The White Sox created a cushion in the ninth as Tyler Flowers hit an RBI double and Jordan Danks added a two-run double off Pedro Strop, who had to leave after facing five batters. Strop was checked by athletic trainer Ed Halbur, then pulled with a 1-1 count against Alejandro De Aza.
Strop will have an MRI on his left groin Wednesday. He injured it five days ago while doing lunges when he was working out.
"If I was right, maybe I could've made my pitches, execute better pitches," Strop said. "I couldn't throw my slider at all. Every time I rotated a little bit, it was bothering me."
The Cubs have scored two runs on eight hits in the last two games, and stranded 13 baserunners. They're 2-14 this season when they score less than four runs a game. The approach, which Renteria and hitting coach Bill Mueller have stressed, hasn't been working too well.
"Not very good -- and the guys know it," Renteria said of the offense. "We had a chance to work Noesi a little bit. We did not do that, obviously. He actually threw better -- and I don't know if he was gaining confidence as he was pitching -- but he threw better than his last outing, and had better command of the zone."
It's tough to generate anything when the game-time temperature is in the 40s, as it's been the last two nights at Wrigley Field.
"It's been tough the last few days," Starlin Castro said of the lack of offense. "The wind kills you, it's right in your eyes. It's not an excuse -- we have to do more. That's the game. We'll see tomorrow over there [at U.S. Cellular]."
Carrie Muskat is a reporter for MLB.com. She writes a blog, Muskat Ramblings, and you can follow her on Twitter @CarrieMuskat. This story was not subject to the approval of Major League Baseball or its clubs.