MLB.com Columnist
Jonathan Mayo
Shortstop Turner thriving for NC State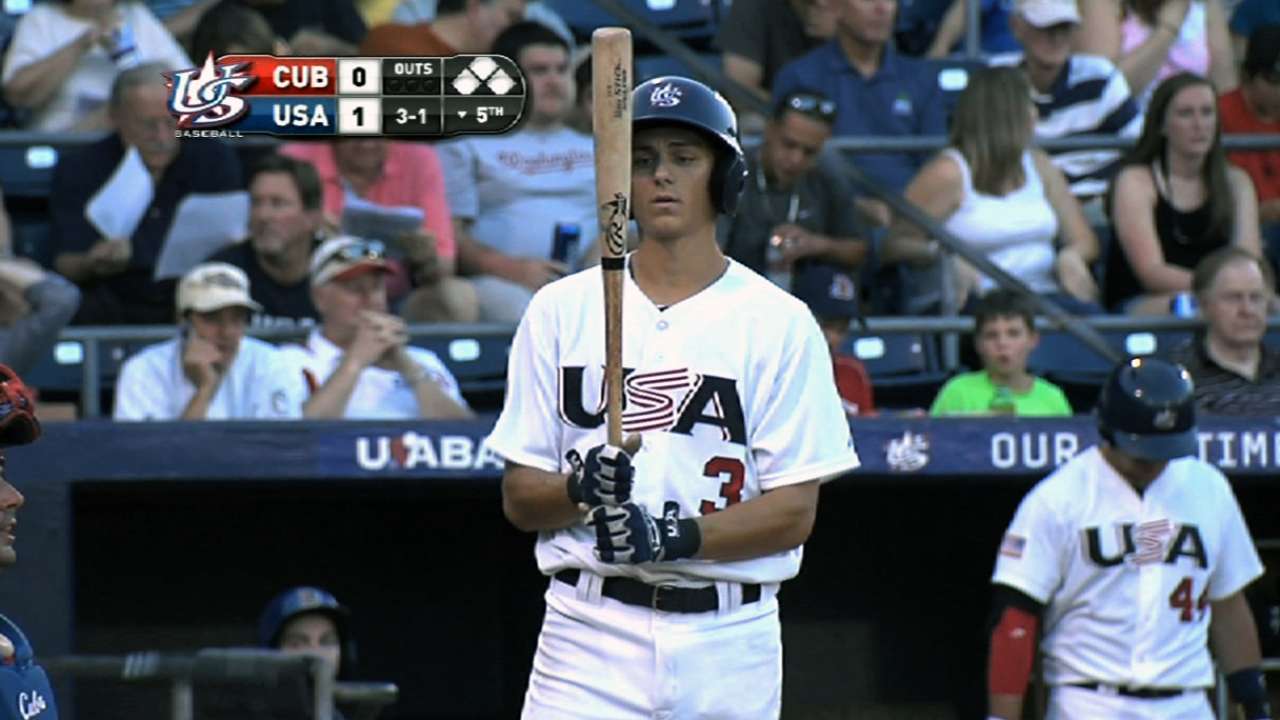 This past weekend, a North Carolina State star who was expected to be a very high pick but got off to a slow start performed up to expectations.
No, we're not talking about lefty ace Carlos Rodon, though the description certainly fits the potential No. 1 pick. While Rodon has been starting to dominate on the mound once again, shortstop Trea Turner also raised the level of his play.
Turner won Louisville Slugger National Player of the Week and ACC Player of the Week honors thanks to his weekend performance in a sweep of Coastal Carolina. The Wolfpack's leadoff hitter wreaked havoc in all three games, going a combined 9-for-11 with 11 runs scored, three RBIs and six stolen bases. Turner's performance on Saturday was a sight to behold, as he went 4-for-4 and finished a triple shy of the cycle. He scored three runs and stole four bases.
The explosion raised Turner's season line to .330/.424/.523 in 45 games. After a slow start on the basepaths, he's used his plus speed to go 21-for-23 in stolen-base attempts. In other words, Turner is looking more like the player some thought was a certain top 10 pick before the year began.
"He's getting it going," said one scouting director who was on hand for Turner's performance this past weekend. "Maybe the Draft pressure has worn off a little, or he's just getting used to it. He came in as a very high-profile guy. Most think he and Nick Gordon are the best middle infielders in the Draft. Maybe he's just relaxing a little. The last two weekends, he's played really well."
If that continues, Turner has the chance to reclaim most, if not all, of his Draft stock, though some were unsure if he could catapult back into the top 10 conversation. Teams picking in the back half of the first round that at first probably thought they didn't have a shot at Turner, but then were hopeful due to his slow start, may have those dreams dashed if he continues playing this well.
Not everyone is convinced, even with Turner's resurgence. The biggest question is his bat and whether it will play at the next level.
"It's a scary bat," an area scout said. "He has an elite tool with his speed and he can play shortstop, he'll stay there. But he might be a bottom-of-the-order bat with little pop. Will he bat first or will he bat eighth? He has a long swing and needs strength. He has good discipline and makes contact, but there's no pop."
Jonathan Mayo is a reporter for MLBPipeline.com and writes a blog, B3. Follow Share This