Missed chances scuttle Kendrick's solid start
Righty gives up three runs in seven; hitters stifled by Blue Jays' Happ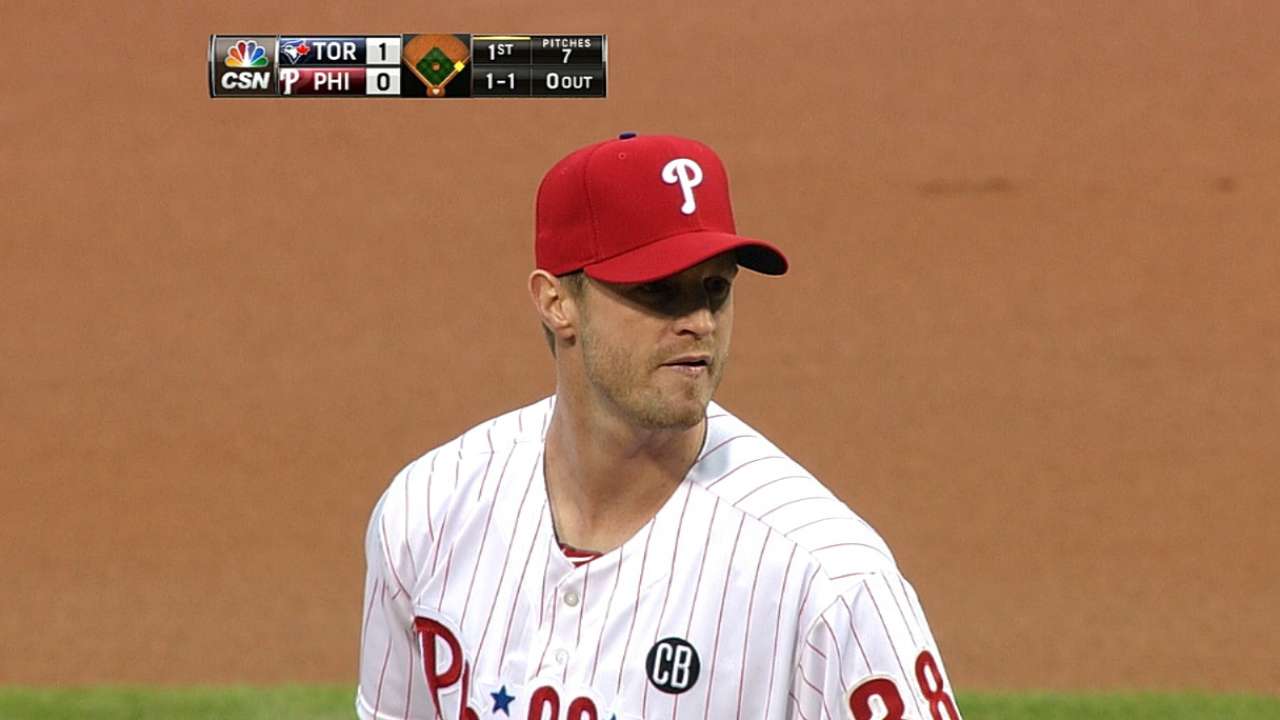 PHILADELPHIA -- J.A. Happ lost his job in the Blue Jays' rotation before the season started because of a 20.57 ERA in four Spring Training starts and back issues, which ultimately led him to the disabled list.
He made two of those Grapefruit League starts against the Phillies, who picked up seven hits, five walks and scored five runs against him in just 3 2/3 innings.
"We faced him a lot this spring," Phillies center fielder Ben Revere said following Monday's 3-0 loss to the Blue Jays at Citizens Bank Park. "We thought we could get out there and get after him."
Happ made his first start of the season Monday, after returning from the disabled list last month as a seldom-used relief pitcher. He had thrown just 4 1/3 innings this season and had not pitched since April 23. The Phillies traded the left-hander to the Astros in July 2010.
He looked just fine against the Phillies, throwing five scoreless innings.
"I do like coming back here," Happ said. "Some of my favorite baseball memories are from there. So this park, stadium and fans are pretty special. It's great to come back."
It helped that the Phillies played without Jimmy Rollins, who did not start Monday after tweaking his right groin Sunday. Phillies manager Ryne Sandberg also started right-handed hitters Jayson Nix and John Mayberry Jr. at third base and left field, respectively.
Galvis, Nix and Mayberry finished the night hitting a combined .126 (12-for-95) with one double, two home runs, seven RBIs, nine walks and 33 strikeouts on the year. Put Phillies pitcher Kyle Kendrick's 1-for-11 season into the mix, and 44 percent of the team's starting lineup Monday finished with a combined .122 average.
The Phillies still had chances, but they stranded 11 runners and went 0-for-6 with runners in scoring position as they faltered in their fourth attempt this season to improve to two games over .500. Happ stranded the bases loaded in the second and left runners on first and second in the third. He retired seven of the final eight batters he faced following a two-out walk to Marlon Byrd in the third.
Byrd hit a leadoff triple in the sixth but was thrown out at the plate after tagging from third on a fly ball to right. The umpires reviewed catcher Josh Thole's blocking of the plate, but ultimately, the out call stood.
Perhaps the momentum would have changed if Byrd had scored there. Instead, the Phillies have not scored a run since the first inning Sunday against the Nationals.
Kendrick allowed seven hits, three runs and three walks and struck out four in seven innings to drop to 0-3 with a 3.58 ERA.
The Phillies skipped Kendrick's turn in the rotation last week following Wednesday's postponement against the Mets because of rain, which meant he had not pitched since April 24, when he allowed two runs in 5 2/3 innings in a victory over the Dodgers at Dodger Stadium. The Phillies wanted to keep Cliff Lee, A.J. Burnett and Cole Hamels in turn to face the Nationals over the weekend.
Blue Jays shortstop Jose Reyes hit Kendrick's third pitch of the night to right field for a solo home run. Melky Cabrera followed with a single to left-center field and scored when a ball dropped in front of Mayberry, just inside the left-field line, to make it 2-0.
The Blue Jays added another run in the second to take a 3-0 lead.
It has been a rough road for Kendrick. He is in the midst of an eight-game losing streak, dating to Aug. 11, 2013. He has a 4.78 ERA (40 earned runs in 75 1/3 innings) in that 13-start span, although the Phillies' bullpen has blown a win for Kendrick three times, and his 2.63 run-support average in the first 12 starts of that stretch ranked fifth-lowest in baseball.
"The record is kind of out of your control sometimes. You just want to go out there, take the ball every fifth day, give your team a chance to win, make your starts and be healthy," Kendrick said. "That's the main thing. Obviously, you want to win the game, that's why you play, but some of those as a starting pitcher are out of your control. So keep battling, stay after it."
Todd Zolecki is a reporter for MLB.com. This story was not subject to the approval of Major League Baseball or its clubs.