Happ states his case in Blue Jays' shutout win
Southpaw tosses five scoreless innings; Reyes homers to lead off game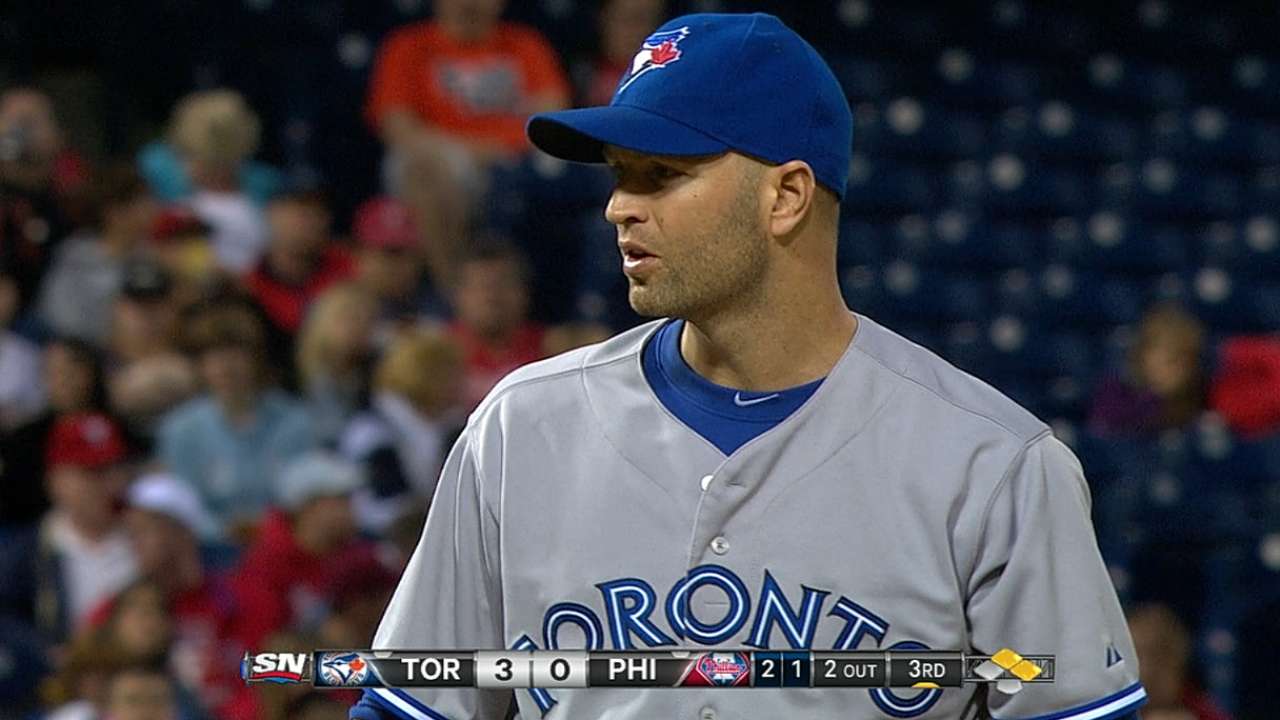 PHILADELPHIA -- J.A. Happ has been very open about his desire to be in the starting rotation, but on Monday night, he let his pitching do the talking for him.
One day after Dustin McGowan made a strong case to remain in the starting five, Happ responded with a statement of his own. The veteran left-hander wasn't perfect, but every time he encountered some difficulty, Happ found his way out of the jam.
Happ made his first start of the season a positive one by tossing five scoreless innings, while Jose Reyes homered and Colby Rasmus had a pair of doubles in the Blue Jays' 3-0 victory over the Phillies.
"I sure hope so," Happ said when asked if he thought a point had been made with his outing. "I'm just trying to go back out and do what I feel like I'm best at, get comfortable, and I feel like today was good step towards that."
Happ's outing was particularly impressive, considering he hadn't pitched since April 23. After being activated off the disabled list in the middle of April, he became the forgotten man in the bullpen and made a total of three appearances before getting an opportunity in Philadelphia.
The original plan was to have Happ make a spot start. Toronto only has one off-day in May and manager John Gibbons wanted to give his starting five an extra day of rest between appearances. That concept changed when right-hander Brandon Morrow tore a tendon sheath in his right hand Friday night and was placed on the 60-day disabled list.
Morrow's injury opened a spot in the starting rotation for Happ. There has been some speculation that the job could eventually go to rookie Marcus Stroman, but following Happ's strong performance vs. his former Phillies team, that seems unlikely to happen, at least in the immediate future.
"I am happy to be in there now," Happ said. "I'm trying to take advantage of the time now. Of course, I would have liked to be in there at the beginning. Before spring started, I felt great and then had a little issue with the back, and I feel good now. Happy to be where I'm at."
Considering it had been almost two weeks since Happ last appeared on a mound, there were very legitimate concerns Happ wouldn't be very sharp and that rust would have a major impact during his outing.
That didn't end up being the case, as Happ faced the minimum during the first inning and was able to escape a series of jams later in the game. He stranded the bases loaded in the second, left two runners on in the third and stranded another one in the fourth.
Happ's night eventually came to an end following a three-up, three-down fifth inning. He allowed three hits, but did walk four batters while throwing 48 of his 80 pitches for strikes. It might have seemed to some like a quick hook by Gibbons, but the outing was never expected to be very long, considering the extended layoff.
"We thought we could get out there and get after him," Phillies outfielder Ben Revere said. "He was kind of sneaky. He was kind of going in and out. The catcher back there called a good game for him. He was going to both sides of the plate and using offspeed really well. Kind of one of those deals where you focus on one place and then you overguess and it messed you up a little bit."
Reyes gave the Blue Jays some early run support with a solo home run on the third pitch of the game off right-hander Kyle Kendrick. It was the 19th leadoff homer of Reyes' career and his 181st hit vs. the Phillies. Toronto went on to add an additional run in the first inning when Juan Francisco hit a bloop single to left field which scored Melky Cabrera from second base.
The Blue Jays started another rally in the second inning when Rasmus led off with a walk. Catcher Josh Thole then hit an RBI double to the gap in left-center field, and Rasmus scored all the way from first base. All three runs were charged to Kendrick, who managed to get through seven innings and allowed seven hits and three walks.
Right fielder Jose Bautista didn't have a hit, but he was hit by a pitch during the seventh inning. He has reached base in all of Toronto's 32 games this season, which is the longest streak to start the year since Cincinnati's Joey Votto did it for 33 games in 2011.
The three runs ended up being all the Blue Jays would need following Happ's strong start and a bounceback performance by the club's beleaguered bullpen.
Esmil Rogers, Aaron Loup and Steve Delabar each tossed a scoreless inning before left-hander Brett Cecil came in for his second save of the year and the third of his career. It was a welcome change of pace for a team that had coughed up seven leads of two or more runs in the past 17 games.
"That's big, especially what they've been through the last couple of weeks," Gibbons said. "They're good down there, it's not like they've never been successful. Sometimes you hit those ruts, and it's been an extreme rut, but those guys are pretty good down there."
Gregor Chisholm is a reporter for MLB.com. Read his blog, North of the Border, and follow him on Twitter @gregorMLB. This story was not subject to the approval of Major League Baseball or its clubs.