Scherzer K's nine as Tigers push win streak to six
Timely defense, Romine's sacrifice bunt, Davis' key hit boost fireballer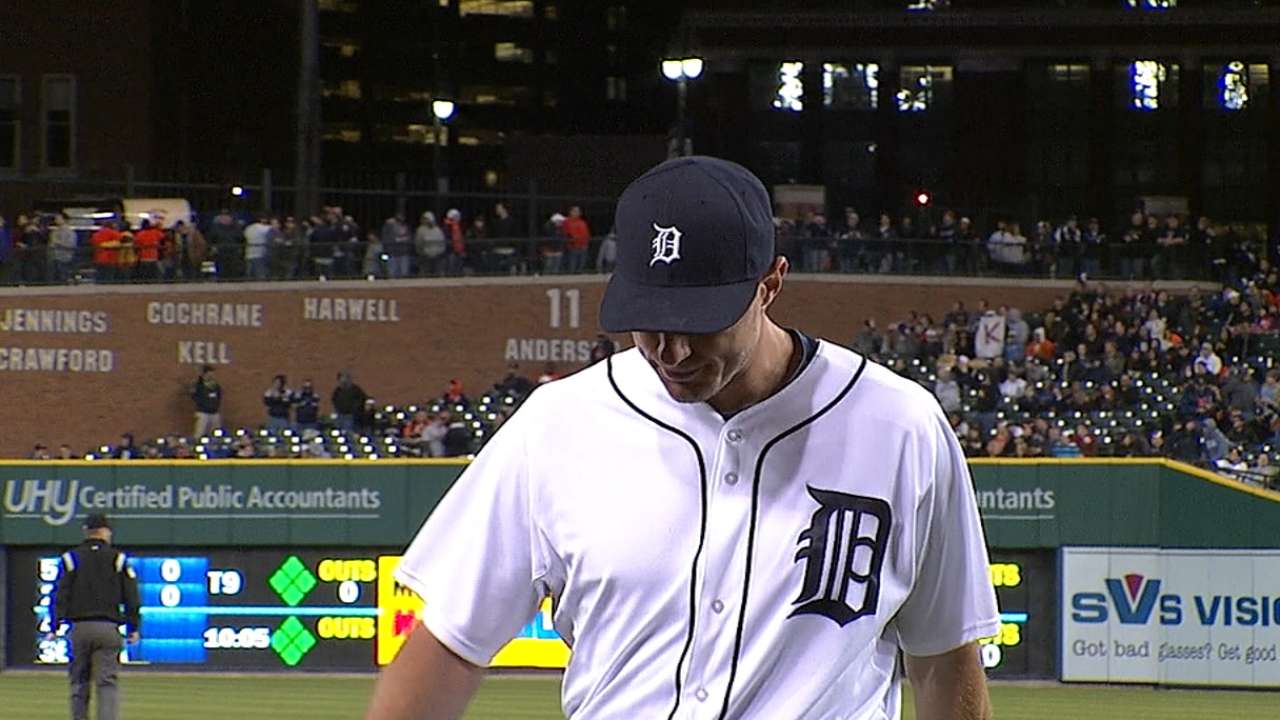 DETROIT -- Andrew Romine somehow had 57 plate appearances as a member of the Tigers before laying down a sacrifice bunt. His first was one of the differences on Monday night. So, too, was a running catch in deep right-center field from Austin Jackson, a difficult judge on a tricky hop by Nick Castellanos at third base, all before a go-ahead RBI single in the seventh inning by speedster Rajai Davis.
Few would've expected that thin of a margin with the Tigers coming home on a winning streak to face the Astros. Fewer would have expected a pitching duel between Max Scherzer and Jarred Cosart.
The end result of a 2-0 Tigers victory went as many figured. It just took more than expected to get there.
"In the [pregame] meeting, it was talked about -- they don't give up," Romine said. "They have been battling all the way through the end of the game. We knew that going in, that they're not going to give up.
"Ironically, we're very similar in the way that we play. It was a good matchup."
There's more irony than Romine meant in that statement. It's not just the competitiveness of the Astros, but the fundamental plays from the Tigers.
They're two teams at the exact opposite ends of the standings -- Detroit with the best winning percentage in the American League, Houston with the worst. They were separated by a few defensive plays and a manufactured rally, plays this year's Tigers have a habit of making.
When Davis sent a ground ball through the left side to send home Castellanos, it was the only hit of the go-ahead rally, the first Tigers hit since the third inning and just the fourth of the game. When Victor Martinez welcomed Detroit-area native Anthony Bass home with a drive over the right-field fence for an insurance run in the eighth, it was the only extra-base hit of the game.
With eight shutout innings from Scherzer, capped by a strike-'em-out-throw-'em-out double play with the potential tying run in scoring position, it was enough for Detroit's sixth consecutive win.
"We were hitting the ball off the end of the bat all night," Torii Hunter said of Cosart. "He pitched a really good game. We just came through at the end."
For Scherzer (4-1), it was another gem in a season that's erasing any lingering doubt whether his Cy Young Award-winning 2013 season was simply a career year. He allowed three singles and a walk while striking out nine -- including five of the first eight Astros he faced. More importantly, he struck out his last.
Scherzer had runners at first and second with one out for All-Star leadoff man Jose Altuve, who has more walks than strikeouts on the year. He saw Altuve work the count full, a chance for the Astros to put runners in motion, and threw an offspeed pitch in a fastball situation.
Altuve swung in front for the second out. Alex Avila pounced and threw pinch-runner Marwin Gonzalez out at third for the other. He was the second of three baserunners Avila threw out on the night.
"It's a little bit like when you hit a home run, sometimes you don't feel it," Avila said. "When the runner's going, it's just a reaction."
It was the second straight inning in which Scherzer, owner of baseball's highest run support in 2013, took advantage of defensive support. Jackson's catch over his shoulder and Castellanos' play helped him retire the side in order in the seventh. Moments later, Marc Krauss' errant drop at first base on Castellanos' leadoff grounder started the rally that gave Scherzer his offense.
"I think I just took my eye off it a little too soon, and it never stuck to my glove," Krauss said. "It's bad time for an error like that, leading off an inning. Cosart is pitching such a great game in a tight battle."
Cosart (1-3) pitched seven innings with one earned run or less three times last year, and he had only one win to show for it. This time, Cosart's downfall was an unearned run from the error. He just missed on a full-count offering to Avila, moving Castellanos to second, then seemingly had nullified Romine's chances to bunt.
"I was just trying to get something out over the plate," Romine said. "He threw that first one, a nice cutter inside, which was tough to get to. Obviously, I'm just trying to get it down and hope that they're not crashing to the right place or in the right area at the right time. There's just so many variables that happen with it."
Cosart's 1-1 fastball was high and outside enough that it didn't look like a pitch to bunt. Romine put down a slow roller down the third-base line that easily moved both runners and nearly put him on first.
"It was a very good bunt," manager Brad Ausmus said. "It looked like Houston was trying to hold Nick at second so he wouldn't get a very good jump."
Up came Davis, whose grounder through the left side improved him to 10-for-23 with nine RBIs this year with runners in scoring position.
"You know what, man? He threw a great game," Martinez said of Cosart. "You have to give credit. He deserves credit."
Jason Beck is a reporter for MLB.com. Read Beck's Blog and follow him on Twitter @beckjason. Matt Slovin is an associate reporter for MLB.com. This story was not subject to the approval of Major League Baseball or its clubs.