Mariners' rook helps Young keep A's in check
Romero puts Mariners on top for good with first big league homer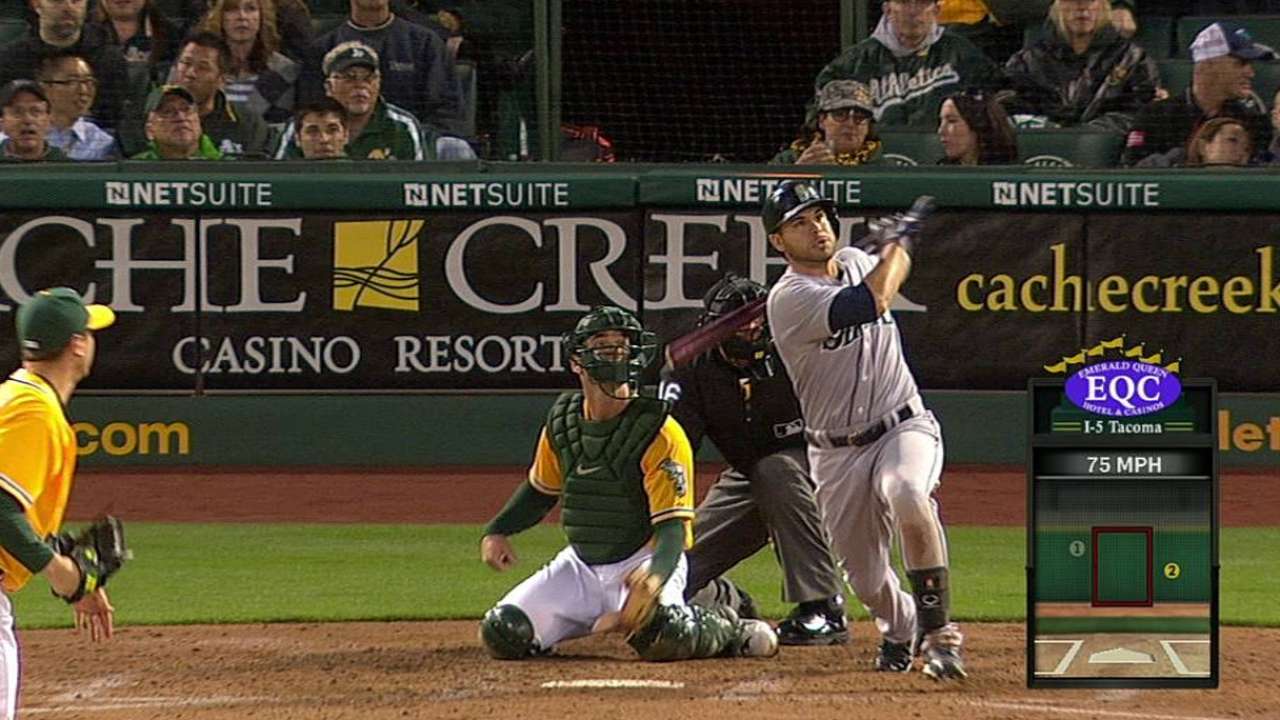 OAKLAND -- Stefen Romero knew his teammates were up to something once he got back to the dugout in the top of the fifth inning.
The rookie had just belted the first home run of his Major League career, a solo shot to left field off Scott Kazmir to break up a tie game. As he trotted to the end of the dugout to put away his batting gloves and helmet, Romero's teammates gave him the silent treatment.
But the Mariners soon mobbed Romero and his homer would eventually serve as the game-winning run in a 4-2 victory over the American League West-leading A's on Monday night.
"When everyone was quiet, I knew what they were doing," Romero said with a smile.
And what about that feeling of his first Major League dinger?
"Like a hot knife cutting through butter," Romero said. "That's the best way I could explain it."
Romero's homer was just one of the many highlights on the night for Seattle, which received a strong start from right-handed veteran Chris Young. He faced the minimum through three innings and bounced back from Brandon Moss' two-run homer in the fourth before the A's chased him from the mound after two batters reached with no outs in the seventh.
Young (2-0) allowed just two earned runs on three hits and two walks while striking out a pair, lowering his ERA to 3.03 on the year.
"It looks like he's throwing soft and the radar gun says he's throwing soft, but the way he pitches up and down, it makes it tough," Moss said. "It's so rare that you see something like that. ... I think it's his arm angle and his height. He's 6-foot-10 and he's throwing out of the sky."
Young also accomplished a bit of personal history, as he has now won consecutive starts for the first time since May 2009. The 34-year-old missed all of last season due to shoulder issues and hasn't made 30 starts in a season since '07, but he said he feels like he's regaining his form.
"Health-wise, yes," Young said. "Stuff-wise I'm not there and I don't know if I'll ever be; I've had three shoulder operations. There are some differences I'm seeing where I'm getting a little bit quicker contact which is allowing me to pitch deeper into games as compared to in the past when my stuff was a little bit better. I think that could be advantageous, but it's a long season."
Young also benefited from a Seattle lineup that jumped all over Kazmir in the early going.
Michael Saunders and Romero started off the game with consecutive hard-hit singles. Saunders eventually came around to score on Corey Hart's single to right field before Kyle Seager drove home Romero with a fielder's choice, giving Young a 2-0 lead before he even stepped on the mound.
"I try not to get too wrapped up in the score," Young said. "But certainly when you have that lead you get a little more aggressive and you don't second guess yourself. You just try to stay aggressive and put the pressure on them."
Brad Miller drove in another run off Kazmir in the sixth when he lined a ball to left field and Moss appeared to lose it in the lights, allowing Cole Gillespie to score from second. The Mariners were able to hand Kazmir (4-1) his first loss after he gave up four runs on eight hits and two walks while striking out three.
It was a stark contrast to the Kazmir's past two outings against the Mariners dating back to last year, as he didn't allow an earned run in 14 innings during those appearances.
"We had better at-bats," Mariners manager Lloyd McClendon said. "He's a real good pitcher and he had his way with us the two outings in a row. I thought our guys were probably a little bit more determined tonight -- better at-bats and better approach and we were able to get his pitch count up a little bit."
Even though McClendon said struggling reliever Charlie Furbush wouldn't be used in high-pressure situations before Monday's game, the skipper called on Furbush after Josh Donaldson's single and Moss' walk started the seventh against Young. A day after giving up two runs on two hits without retiring a batter, Furbush induced a key 6-4-3 double play.
"I'm just sticking the course and believing in myself," Furbush said. "Just having that confidence that I'm all right, you know? Things aren't as bad as they may seem sometimes, so you've just got to do what you can to keep things simple and keep attacking."
Fernando Rodney struck out one in a perfect ninth inning to earn his eighth save in nine tries this season and third against the A's. With the victory, Seattle (15-15) moved its record 5-1 on the current road trip to the Bronx, Houston and Oakland.
Alex Espinoza is a contributor to MLB.com. This story was not subject to the approval of Major League Baseball or its clubs.