Bullpen squanders strong start from Niese
Lefty hurls shutout ball before Dice-K blows lead, Marlins walk off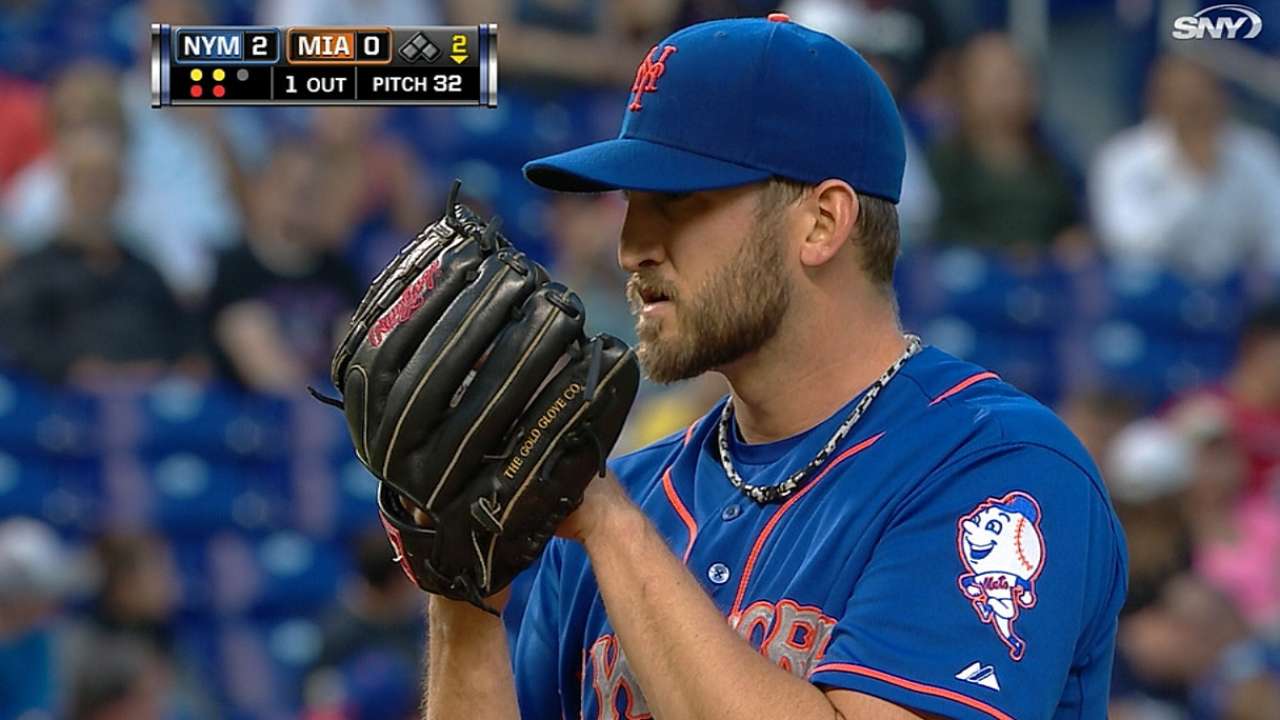 MIAMI -- Like any starting pitcher on any given night, Jon Niese did not particularly want to come out of Monday's game against the Marlins. Yet having thrown 108 pitches through seven shutout innings, Niese did not have any reasonable right to complain. Plus, Niese said, "I figured our bullpen's been doing great, so it's the right move."
Instead, what could have been an uplifting Mets victory morphed into a nightmarish, 4-3 walk-off loss to the Marlins, resulting in their fourth defeat in five games and ensuring that they will not enjoy a winning road trip. New York's bullpen, which has alternated between terrific and terrible this season, melted down in the hands of Daisuke Matsuzaka, Scott Rice and Gonzalez Germen.
"If you use them right and you use them in situations that are good, they pitch good," manager Terry Collins said. "But those other guys have got to step up."
Though Casey McGehee ultimately tagged Germen for the walk-off hit, the game's primary culprit was Matsuzaka, who, in Collins' words, simply "didn't have it." Matsuzaka suspected as much warming up in the bullpen, unable to locate pitches with his usual precision. Nothing changed when he took the mound, walking the first two Marlins he faced with a three-run lead in the eighth.
The next batter, Giancarlo Stanton, hit an RBI single back up the middle with such velocity that it nearly drilled Matsuzaka in the head. Still, Matsuzaka had a chance to escape the inning relatively unscathed before McGehee followed with another hard-hit ball right at shortstop Omar Quintanilla, who barely touched it as it ricocheted into left field for an error, scoring Miami's second run.
"It knuckled a little bit," Quintanilla said. "I still should have caught it. I saw it knuckling for a while and I tried to get in front of it, and it just went under my glove. That was a big play and it changed the game."
Jarrod Saltalamacchia followed with a game-tying double, and the Marlins might have taken the lead there had Kyle Farnsworth not entered and wriggled out of the jam. But the Mets, who had not scored since the fourth inning, were hardly free from trouble.
"I felt if we got to the ninth with a chance to win it, we'd win it," Marlins manager Mike Redmond said. "Sure enough, we did."
As a result, Monday's game spotlighted two areas -- shortstop and relief pitching -- that the Mets declined to address to any great extent this offseason, relying instead on internal options and Minor League signees.
It also marked the fourth straight game in which Mets relievers gave up runs -- now 10 earned runs over their last 12 1/3 innings -- resulting in two bullpen losses over that span. It is a significant reason why the Mets are 16-15 despite holding a lead at some point in 27 of their 31 games.
Monday's lead came courtesy of Daniel Murphy and Curtis Granderson, who both hit solo homers in the first. An insurance run came home on Bobby Abreu's sacrifice fly in the fourth, but Marlins starter Nathan Eovaldi was otherwise sharp in striking out 10 Mets over seven innings. After the fourth, the Mets never seriously threatened to score.
Such inconsistency from the offense and bullpen spoiled what would have been an uplifting win for Niese, who scattered five singles and a walk while lowering his season ERA to 1.82. After pitching around a hit and a walk in the first inning, Niese did not allow another man past first base until the seventh.
On his 108th pitch of the night, Niese coaxed a double-play ball from pinch-hitter Marcell Ozuna, dropping his ERA to 1.01 over his last four starts while handing a three-run lead to his bullpen. Collins normally might have given the ball to Carlos Torres at that point, but Torres was unavailable after throwing 43 pitches over the previous three days. So instead, the responsibility fell to Matsuzaka.
"That was a fun way to end it," Redmond said. "Give Niese a lot of credit. He looked good out there. We had a tough time trying to figure him out. He pretty much shut us down, but we were able to hang in there and mount a late rally."
Anthony DiComo is a reporter for MLB.com. Follow him on Twitter @AnthonyDicomo. This story was not subject to the approval of Major League Baseball or its clubs.