Kazmir takes first loss as A's bats go cold
Moss' fifth homer is all Oakland manages vs. Seattle's Young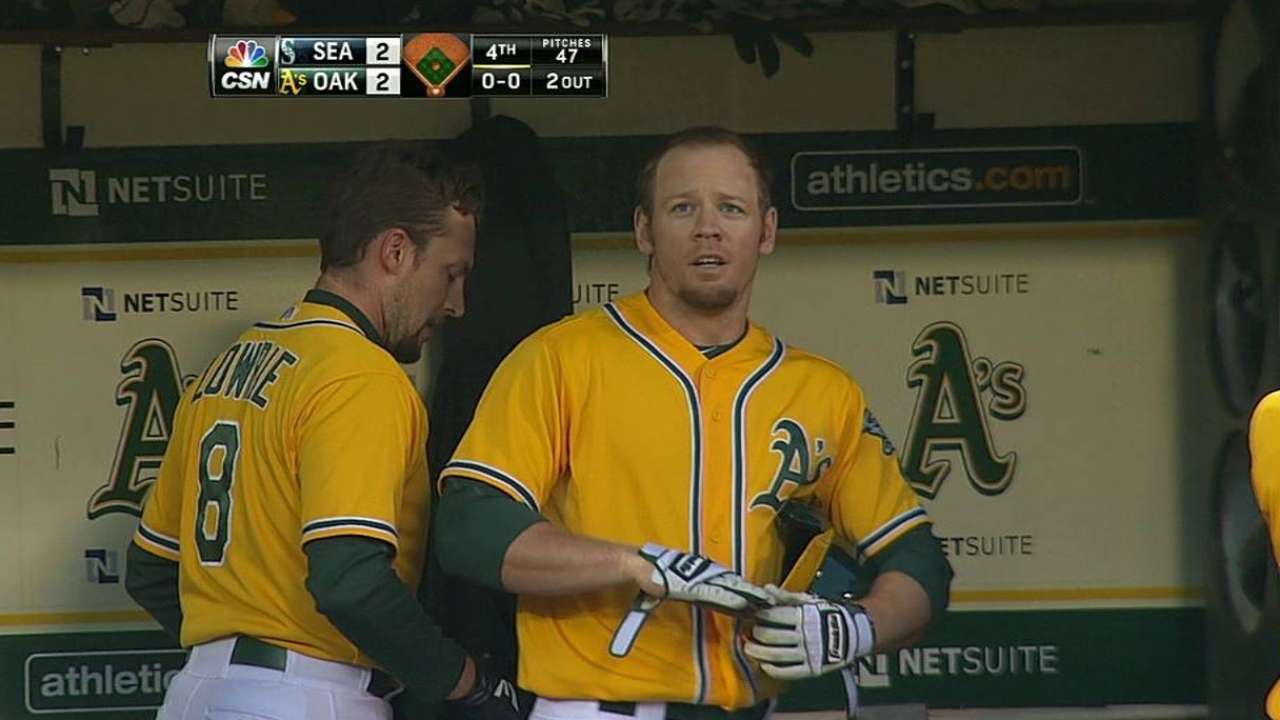 OAKLAND -- Scott Kazmir may not have been the dominant pitcher he was in April, though he still pitched effectively over six innings for the Athletics on Monday night at the O.co Coliseum.
"It was more just my putout pitches," Kazmir said after suffering his first loss of the season, a 4-2 decision to Chris Young and the Seattle Mariners. "They weren't in the location and didn't necessarily have the action I needed."
Kazmir (4-1) allowed a season-high four runs on eight hits. He walked two and struck out a season-low three.
"They got on him early and got him out of his rhythm a little bit," A's manager Bob Melvin said. "It was probably not his best stuff, but he still kept us in the game."
Kazmir, who had a career best six-game winning streak snapped, may have gotten away with the performance had Eric Sogard been an inch or two taller, or Alberto Callaspo didn't hit the ball so hard.
"Those things happen," Kazmir said regarding a couple of key plays that went Seattle's way. "I can only worry about things I can control. It wasn't my best of days. A couple of pitches that I wanted back, that changeup for the home run. The first inning was a couple of pitches that I left right over the plate and they ended up getting a base hit when I was ahead in the count."
With the exception of Brandon Moss' two-run homer the A's did very little against Young, who allowed two runs on three hits in his six-plus innings.
"I try not to get too wrapped up in the score," Young said. "Certainly when you have that lead you get a little more aggressive and you don't second guess yourself. You just try to stay aggressive and put the pressure on them."
The Mariners took a 2-0 lead in the first inning when Corey Hart's soft liner into right field just evaded Sogard's glove for an RBI single. Kyle Seager's groundout plated another run.
Young (2-0) retired nine of the first 10 batters he faced before Jed Lowrie broke up the no-no with a single in the fourth. Moss followed with a towering home run to tie the game.
"It was a mistake," Moss said. "It was just a middle-middle pitch. He had thrown me one right there earlier in the at-bat and I was a little out in front of it. The more pitches I saw against him, the better my timing got."
Young retired the next seven A's hitters before Josh Donaldson singled leading off the seventh. Moss then worked a walk, and Young was removed as Seattle manager Lloyd McClendon called on left-hander Charlie Furbush.
"He's tough," Moss said of Young. "It's just different than a lot of guys you face. It looks like he's throwing soft and the radar gun says he's throwing soft but the way he pitches up and down, it makes it tough. It's so rare that you see something like that."
Callaspo hit into a double play against Furbush and the A's failed to score in the inning.
"That was a big double play," Melvin said. "Sometimes you can square it but hit it right to somebody. That was a little bit of a momentum-shifter."
Seattle, meanwhile, regained the lead when Stefen Romero hit his first Major League home run in the fifth, and Brad Miller added an RBI single in the sixth.
"It feels like a hot knife cutting through butter," Romero said. "That's the best way I could explain it."
A's reliever Fernando Abad took over for Kazmir in the seventh and extended his scoreless-innings streak to 13 1/3 with a 1-2-3 frame.
Donaldson, who went 1-for-4, reached base for the 27th consecutive game.
Ryan Cook allowed one hit and struck out two in scoreless eighth and ninth innings.
Rick Eymer is a contributor to MLB.com. This story was not subject to the approval of Major League Baseball or its clubs.